Geschrieben am 09.12.20 02:00
6 Min Lesezeit
---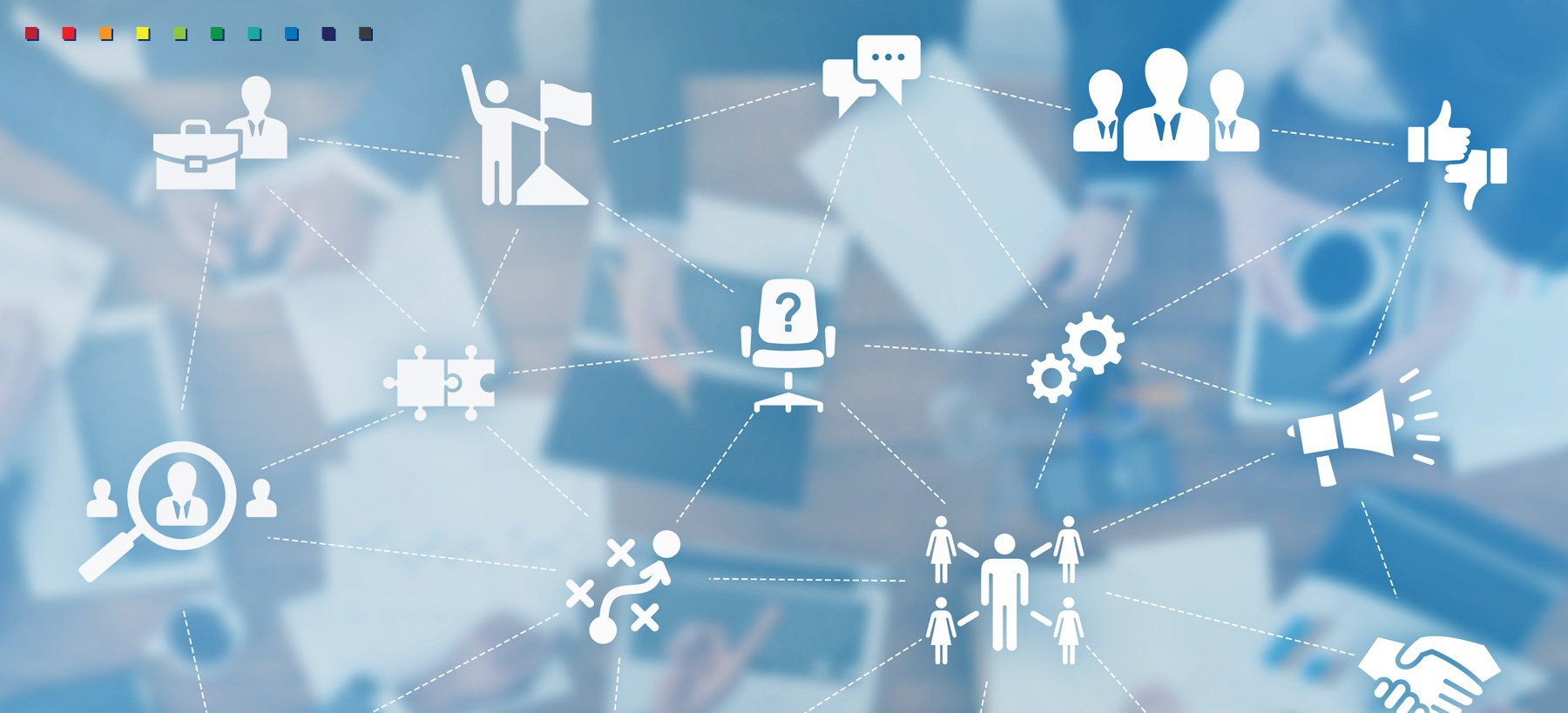 Ich habe in letzter Zeit über viele Neuerungen in SAP SuccessFactors People Analytics geschrieben. Jetzt kam eine weitere dazu: Report Stories sind nun für Kunden verfügbar. Weitere Updates zu SAP SuccessFactors People Analytics finden Sie in diesen Blogs:
Was sind Report Stories?
Report Stories ist die neue Bezeichnung für die Embedded Analytics Edition in SAP SuccessFactors People Analytics. People Analytics ist nicht der Name eines Reporting Tools, sondern eher ein Überbegriff für alles was Reporting, Analytics, Intelligence und Strategie für Human Capital Management in SAP SuccessFactors betrifft.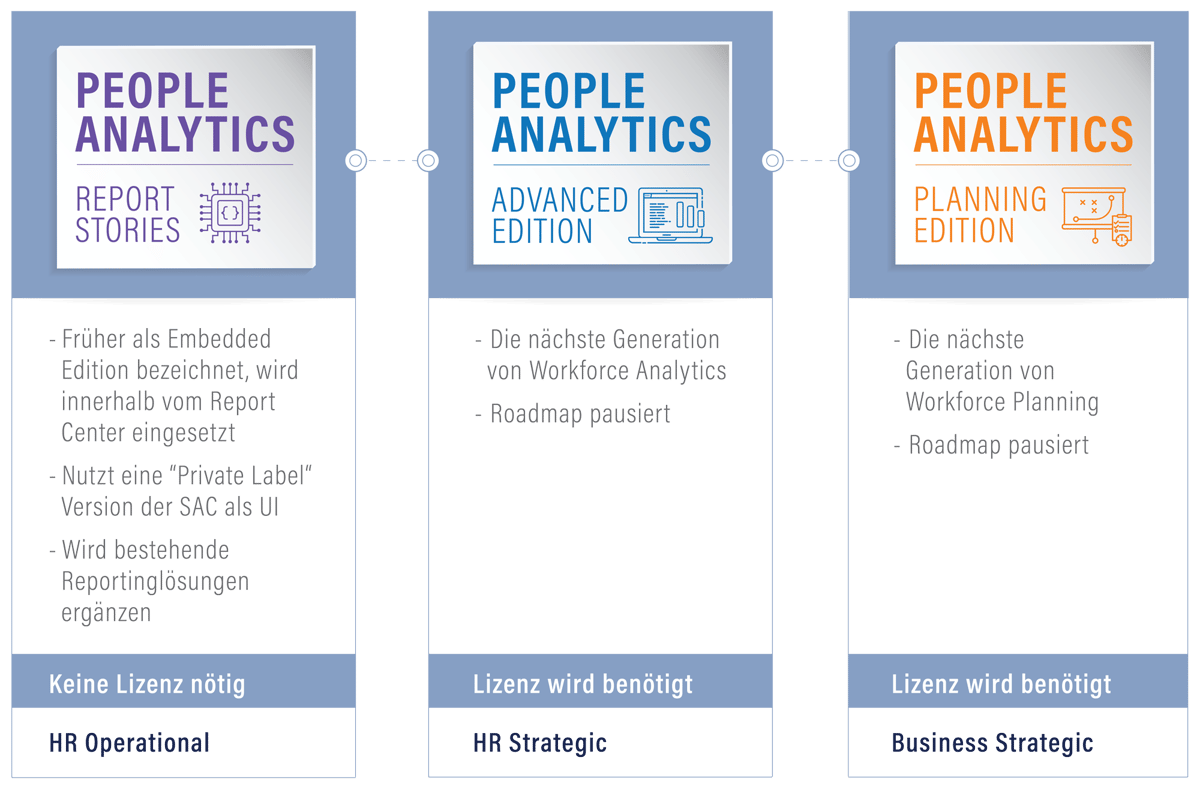 © EPI-USE Labs
People Analytics setzt sich aus den drei Lösungen Report Stories (früher Embedded Edition), Advanced Edition und Planning Edition zusammen. Jede Lösungen ist auf einen anderen operationalen Schwerpunkt ausgelegt, wie in der oberen Grafik beschrieben.

Report Stories kombiniert alle bisherigen transaktionsbezogenen Reporting Lösungen aus SuccessFactors zu einem einzigen Tool für Reporting, Insights und Dashboards. Es ermöglicht ein Suiten-übergreifendes Reporting mit Transaktionsdaten in Echtzeit, innerhalb der SuccessFactors Suite. Report Stories für People Analytics wird als Zukunft des operationalen Reportings in SAP SuccessFactors beworben und ist in einer Kunden Produktlizenz für SuccessFactors enthalten, d.h. es ist keine weitere Lizenz zur Nutzung nötig.

Report Stories wird als Paradigmenwechsel und als nächstes Level in der Erfassung von Informationen gesehen. Es soll die der einzige, standardisierte Reporttyp in SAP SuccessFactors werden. Im Sommer 2020, etwas hinter dem Zeitplan, wurde es für Produktionsumgebungen bestimmter Kunden zur Verfügung gestellt. Eine breitere Bereitstellung war bereits für Ende Q3 2020 geplant und ist abhängig von der Lieferung einer vollständig skalierbaren, API-basierten Konfiguration.

Wie funktionieren Report Stories?
Nutzer greifen in Report Stories auf das SucccessFactors Report Center zu, über die bekannte SuccessFactors Navigation. Von hier können sie den Query Designer nutzen. Wie in der nachfolgenden Grafik dargestellt, werden Nutzer so im Prozess der operationalen Report Erstellung unterstützt.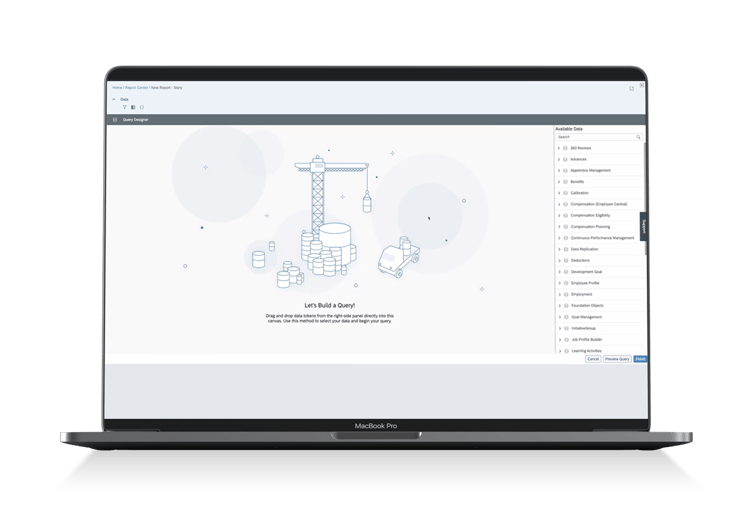 © SAP SuccessFactors 2020
Kunden die Report Stories aktiviert haben (siehe Voraussetzungen unten), sehen eine Option zum Erstellen einer Report Story im Query Manager Designer. Sie können dynamische und interaktive Stories erstellen, wie im unten gezeigten Beispiel dargestellt.
© SAP SuccessFactors 2020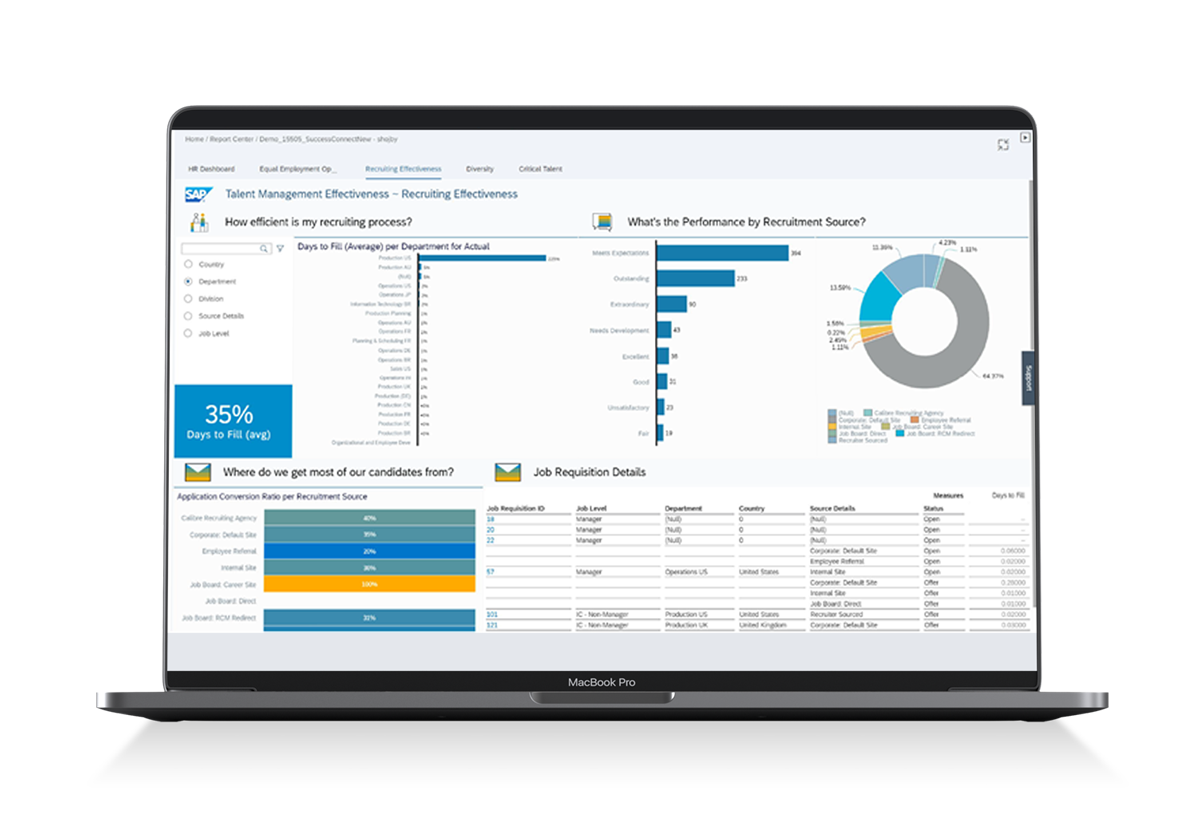 © SAP SuccessFactors 2020
Welche SuccessFactors Daten sollen in Report Stories verfügbar sein?
In SuccessFactors gibt es viele verschiedenen Module und Submodule sowie verschiedene funktionale Arten von Daten. In der von SAP SuccessFactors veröffentlichten Roadmap, werden drei verschiedene Zeitrahmen für die Verfügbarkeit von Daten in der Report Story Edition angegeben:
Geplant bei Veröffentlichung (Planned at Launch)
Geplant nach Veröffentlichung (Planned Post Launch)
Wird an andere Stelle abgedeckt (Not Planned)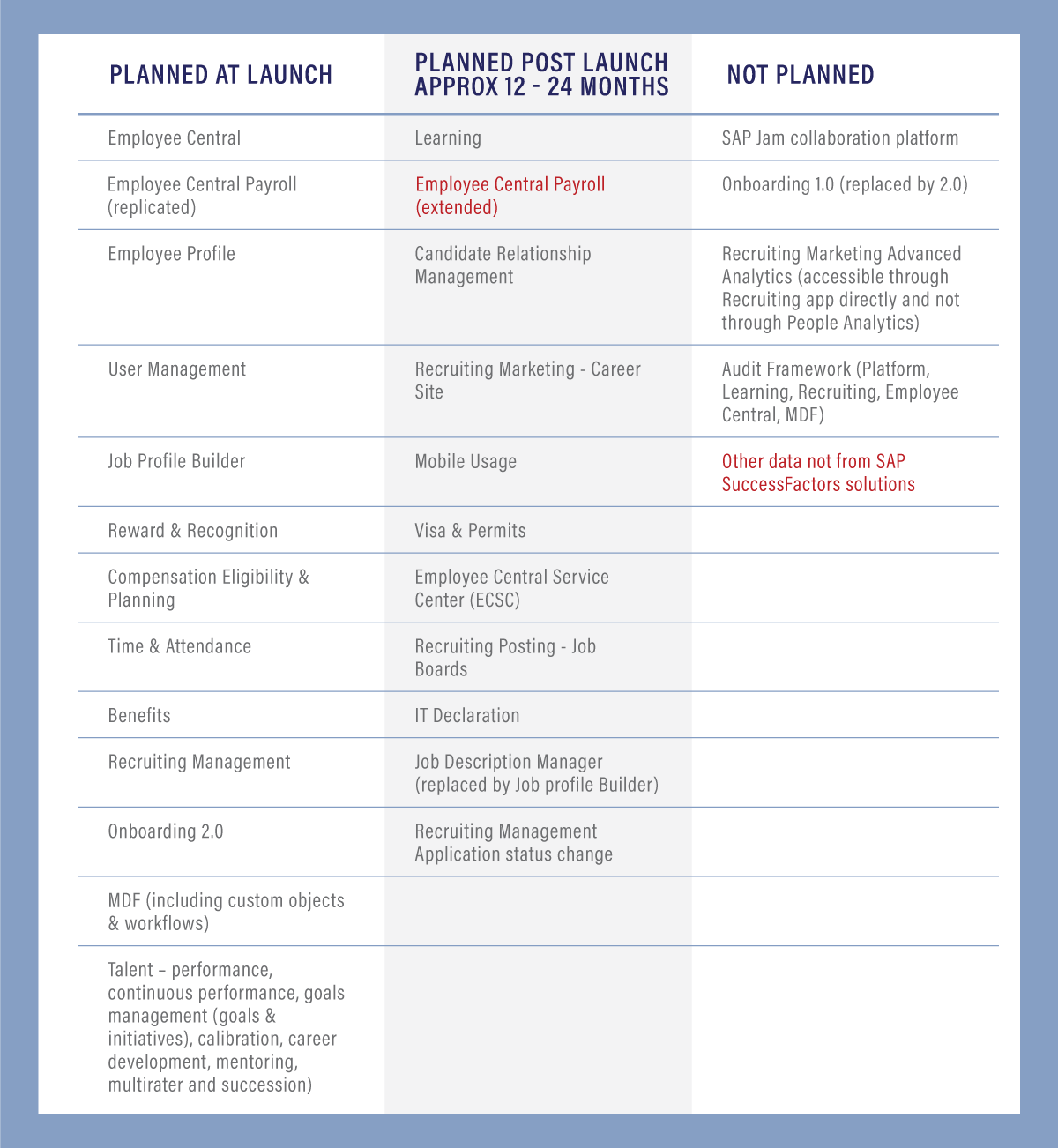 © EPI-USE Labs
Wenn Sie sich Spalte 2 der Grafik ansehen, werden Sie feststellen, dass etwa die Hälfte der Datenquellen erst nach der initialen Einführung geplant ist, d.h. 12-24 Monate später.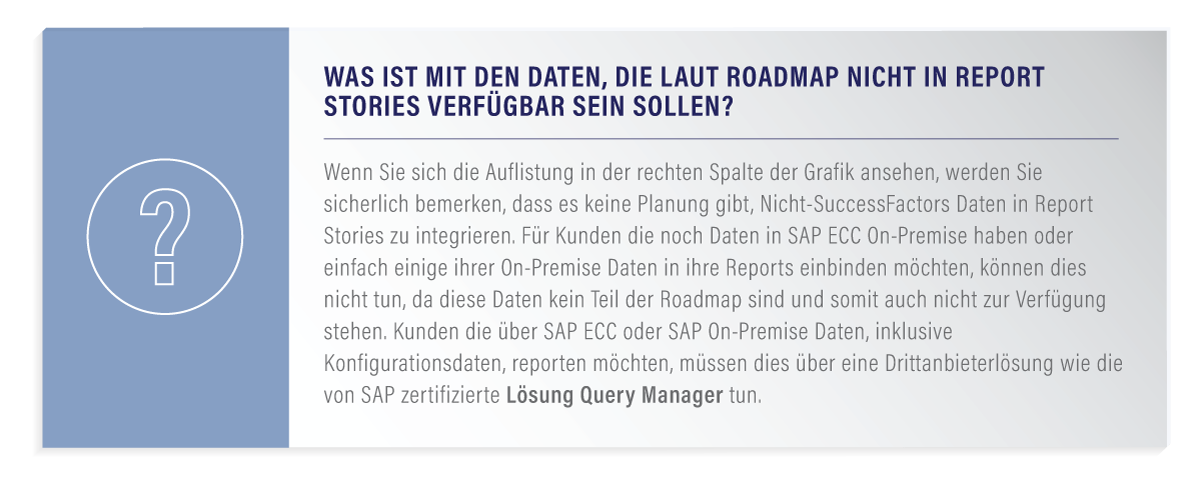 Wie beginne ich mit Report Stories?*
Schritt: Stellen Sie sicher, dass alle Voraussetzungen erfüllt sind (Report Center und SAP Cloud Platform Identity Authentication Service).
Schritt: Starten Sie mit dem People Analytics Upgrade Center. Hinweis: Stellen Sie sicher, dass der Benutzer der das Upgrade einleitet, über eine gültige E-Mail-Adresse verfügt, die in der Instanz konfiguriert ist (erforderlich).
Schritt: Logen Sie sich bei IPS ein, um Nutzer von SFSF mit People Analytics zu synchronisieren. (Die S User ID Information des Nutzers, der die SAP Cloud Identity Authentication konfiguriert/aktiviert hat, muss vorliegen)
Schritt: Fügen Sie rollenbasierte Berechtigungen für People Analytics hinzu.


*Bitte beachten Sie, dass gültige SAP- oder SuccessFactors-Anmeldeinformationen erforderlich sein können.
Weitere nützliche Links für den Anfang:*
Customer Community Article: SAP Cloud Identity Authentication Article. Migration to SAP Cloud Identity Authentication With IAS/IPS from Existing Systems - Innovation Alert
Customer Community Article: Report Center Upgrade Beginning Q3 2019 - Innovation Alert
Implementation Design Principles: SAP SuccessFactors People Analytics: Report Story Design & Implementation Considerations
SAP Knowledge Base Note 2877303: Quick Guide to Enable People Analytics Embedded Edition (valid SAP credentials may be required)
Online Learning: THR92 SAP SuccessFactors People Analytics Embedded Edition Academy (valid Learning Hub ID required)
Templates: Standard Story Templates
*Bitte beachten Sie, dass gültige SAP- oder SuccessFactors-Anmeldeinformationen erforderlich sein können.