Join us and connect with the world's most trusted community of SAP thought leaders, product experts, and like-minded peers at the SAPinsider conference in Las Vegas on July 19th-21st.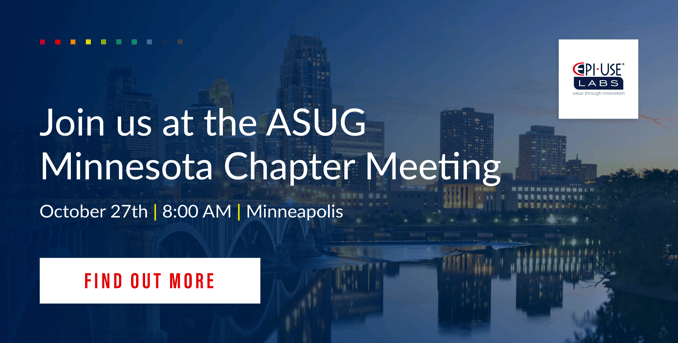 Join EPI-USE Labs at the ASUG Minnesota Chapter Meeting on October 27th!
Join us at the ASUG Minnesota Chapter Meeting on Thursday, October 27th in Minneapolis. This meeting brings together a community of SAP users looking to gain insight through thought-provoking sessions, networking, and highlighting excellent Human Experience outcomes. We can't wait to connect and network face-to-face
Don't miss our presentation with JetBlue
JetBlue modernizes their test data management solution for HANA Enterprise Cloud
Attend our presentation on Thursday, October 27th at 12:30 PM in Track 3 - Waterford III to learn how JetBlue came to understand their needs for a test data management solution, their historical processes prior to using Data Sync Manager, and the benefits they are achieving today using the EPI-USE Labs products to save time, money, and resources.
Follow @EPIUSELabs on Twitter for event updates and all the latest #ASUGChapter news!
We can't wait to chat with you in person!