Live Webinar: It's a confusing time in SAP HCM & Payroll - what are your reporting options?
Presenter: Danielle Larocca, Senior VP HCM Solutions, EPI-USE Labs
Date and time: Thursday, June 14th at 2:00 PM (EST) / 11:00 AM (PST)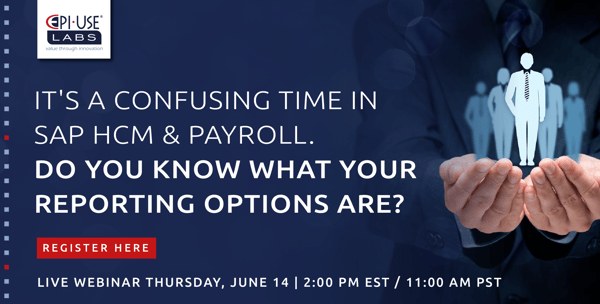 It's a confusing time in SAP HCM & Payroll. Do you know what your reporting options are?
With the rise of cloud-based HR solutions, there is a lot for the 14,000 SAP HCM customers to consider...stay on-premise, move to a hybrid model or fully integrate to the cloud? Regardless of where customers are in their journey, reporting on HCM and Payroll data continues to be a challenge.

When it comes to SAP HCM reporting, HR departments need to produce accurate and detailed reports on time. HR Managers often struggle to get the information they need from disparate modules and systems with limited reporting functionality. Add in the complexities of moving to the cloud... and it can get even more difficult and confusing.

During this session, SAP mentor Danielle Larocca will cover:
The SAP HCM evolution

The future of SAP HCM reporting and analytics

Best practice recommendations for SAP HCM Reporting

A look at reporting options, and integrated reporting between multiple systems (SAP & SFSF)

How to easily create reports within your on-premise, hybrid or cloud HR solution on-demand
We'd love you to join us. Even if you can't make it on the day, all registered participants will have access to a recording of the webinar after the event.