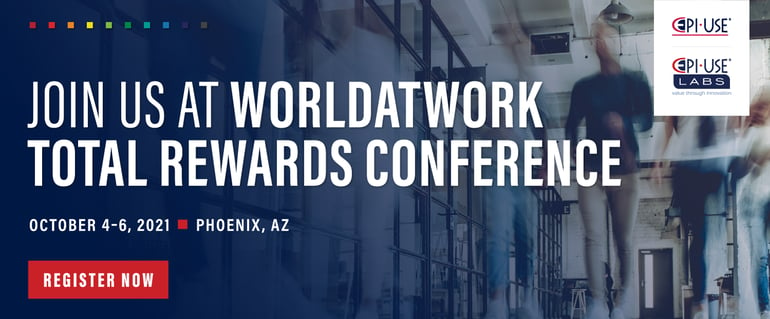 Join us and other HR executives and business leaders from leading organizations at the WorldAtWork Total Rewards Conference in Phoenix, October 4-6th. Come see us us at booth #409 for your chance to win a raffle prize and for additional goodies!
Rewards for the Speed of Change
Never have we experienced more disruption and change in the way we work and live. Change and the speed at which it occurs today demands that our approach to Total Rewards quickly and continuously evolves and adapts to attract, engage and retain the talent to drive organizational success. Join us in Phoenix Oct. 4-6, to learn practical strategies from HR and Total Rewards leaders who are adapting quickly and shaping productive and engaged workforces for today and the future.
We will have our HR and Total Rewards experts on hand to answer all your questions, provide demos, and update you on the latest solutions like:
Discover actionable and measurable solutions from the experts at these companies, and more:
Chewy, Comcast, DocsOnDemand, Edward Jones, Ernst & Young, Fidelity, Grant Thornton, IKEA, Intel, Lockheed Martin, Merck, Micron, PetSmart, UBS, Unilever, Roche, Trusaic, University of Maryland
See the full schedule of sessions and speakers, including a keynote by Danica Patrick,
Entrepreneur, Author,
Podcast Host and Retired Racecar Driver:
Who attends?
This is THE event for professionals who have responsibility for any aspect of Total Rewards, including compensation, benefits, sales compensation and executive compensation. Programming is geared toward those at all experience levels, from emerging practitioner to expert thought leader, and anyone who has a goal to enrich their cross-functional expertise and overall Total Rewards competence.
Phoenix Convention Center
100 North 3rd Street
Phoenix, AZ 85004
We can't wait to be back together again - hope to see you there!