Download the latest ebook from Danielle Larocca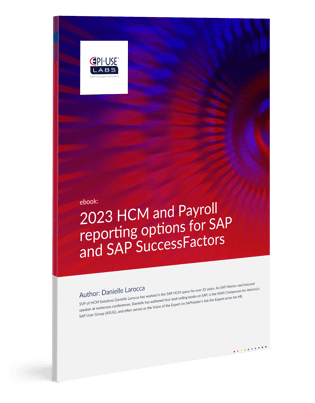 "I have been talking about HCM reporting since 1995, when my employer decided to implement an SAP HR and Payroll solution, and I was – quite randomly – put in charge of reporting. Since then I have been making an effort to share what I have learned with the marketplace who also love all things reporting and analytics for HCM and Payroll. You may have read some of my previous publications including ebooks on SAP Ad Hoc Query, a three-part ebook series on People Analytics, or my HCM Reporting options guide.
My latest ebook talks about the options customers have today as of August 2023.
I encourage you to download your free copy and stay in the know about what is available today, and where reporting analytics and intelligence for all things HXM is headed in the future."
Danielle Larocca, our Senior Vice President of HCM Solutions, has been working in the SAP HCM space for over 25 years. A distinguished SAP Mentor and SuccessFactors Confidant and featured speaker at international conferences on SAP, SuccessFactors and HCM, Danielle has authored four best-selling books on SAP, and served as the Technical Editor for the SAP Professional Journal. She is also an expert in the SAPInsider Community.
Complete the form to download your free copy today