Download Free White Paper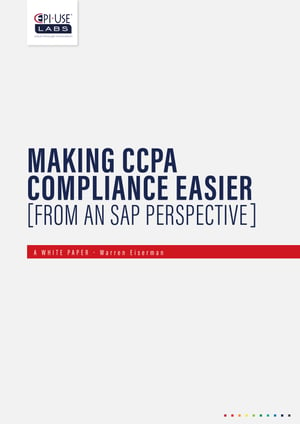 With GDPR in full force and reaching well beyond the European Union, data protection and privacy has become a priority for businesses all over the world. Starting in 2020, businesses in the United States and elsewhere will also need to support the California Consumer Privacy Act (CCPA).
For those companies running SAP ERP, a number of approaches need to be considered to support the CCPA. It is likely that business processes, access control, code and infrastructure components will need to be re-engineered.
We have developed a white paper to help you get prepared and compliant before the January 1, 2020 deadline.
DOWNLOAD YOUR WHITE PAPER: 'MAKING CCPA COMPLIANCE EASIER - FROM AN SAP PERSPECTIVE' TODAY!