Get the latest white paper from Danielle Larocca and Paul Hammersley
"For those of us who started in an On-Premise SAP world, it's easy to see how the concept of instance management in the cloud is confusing. If there are no boxes and no transport truck, how does it work? With the help of Paul Hammersley, who looks after our Application Lifecycle Management business, I made an effort to simplify the details in a quick white paper that explains the fundamentals. Whether you are like me, transitioning from an on-premise world, or simply new to cloud instance management in SuccessFactors, this should be a great place to get started".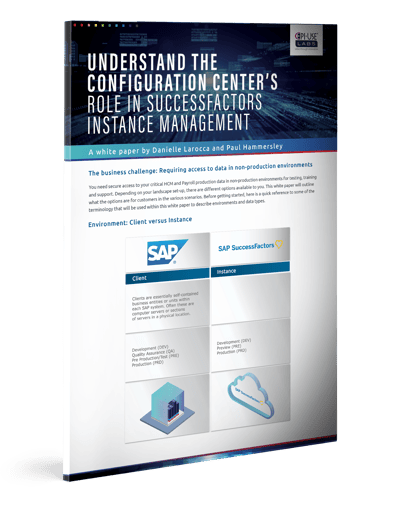 Danielle Larocca, our Senior Vice President of HCM Solutions, has been working in the SAP HCM space for over 25 years. A distinguished SAP Mentor and SuccessFactors Confidant and featured speaker at international conferences on SAP, SuccessFactors and HCM, Danielle has authored four best-selling books on SAP, and served as the Technical Editor for the SAP Professional Journal. She is also an expert in the SAPInsider Community.
Paul Hammersley has for many years been a remarkable technical force at EPI-USE Labs. As SVP of the ALM Products, his portfolio includes System Landscape Optimization, and his hands-on experience of implementing Data Sync Manager and helping clients to manage data across the breadth of their SAP landscapes is unique.
Download your free copy today