2019
Payroll options for SAP SuccessFactors Customers
There have been a few attempts to create decision trees to assist customers in making the appropriate decision for their payroll, including the samples from ASUG and SAP SuccessFactors, shown below:

The latest version from SAP (February, 2019) is shown below:

The attempts to provide decision trees for customers has evolved, as you can see in SAP's messaging on the previous page. One message that has remained consistent from the start is that the following customers should not feel an urgency to move to SAP SuccessFactors Employee Central Payroll:
those who have made a large investment in their Payroll
those who have a complex or highly customized Payroll
those with complex time and benefits.
There was a period of time where those customers thought their only option was to move to the Side Car option when it became available in 2023 with a guaranteed support end date through calendar year-end 2030.
SAP Makes Major Changes to their Payroll Offerings in September 2019
At the annual SuccessConnect Conference held in Las Vegas, SAP announced changes that impact existing Payroll Customers, as detailed in this blog. Two of these changes are included below.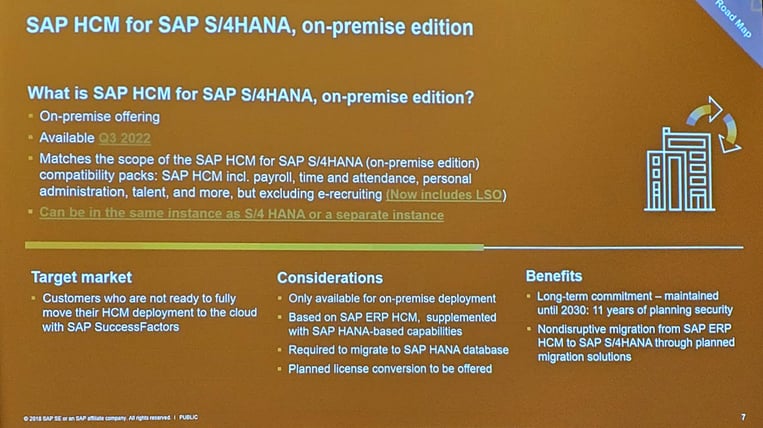 – Source SAP SuccessFactors SuccessConnect 2019 Presentation
1. 11 More Years of On-Premise Support for SAP Payroll available via SAP Human Capital Management for SAP S/4HANA, on-premise edition (no Sidecar required)

The announcement explained that the Sidecar option was no longer a requirement. Customers did not need to carve out their existing HCM systems to move to S/4HANA in those cases where it was embedded within other SAP applications or on the same box.
Instead, customers could leverage an option called SAP Human Capital Management for SAP S/4HANA, onpremise edition. This is not a new option; rather it's the next evolution of a solution designed to give customers more time to migrate to SuccessFactors and Employee Central Payroll. The recent announcement was focused on a few changes to the original announcement from 2018: the ability to run it single instance, and an earlier availability date.
To summarize:
SAP HCM S/4 HANA on-premise edition is scheduled to be available two quarters earlier than planned, in 2022 rather than 2023




SAP HCM for S/4 can be operated within the S/4 HANA Suite and thus follows the general maintenance commitment for the S/4 HANA Suite (beyond 2025

through at least 2030)



This now includes the LSO offering

This change has no impact on the SAP SuccessFactors Cloud strategy; SAP still sees this as a bridge solution for customers to move to the cloud by allowing them at least eleven more years of guaranteed on-premise support


SAP Blog, SAP Human Capital Management for SAP S/4HANA, on-premise edition – Updates: Available in 2022 with a technical co-deployment in SAP

S/4HANA here

SAP News article is updated here.
Accordingly, SAP SuccessFactors shared a vision for Payroll and a new model options diagram, (see below).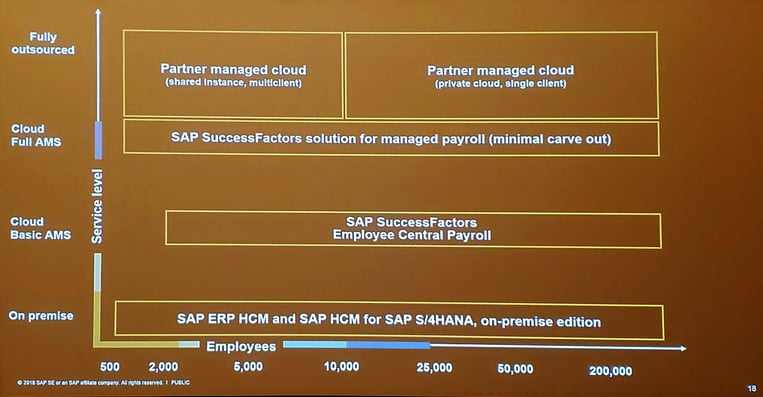 – Source SAP SuccessFactors SuccessConnect 2019 Presentation
2. New Licensing Model
SAP SuccessFactors has also added an option to enable customers who do not use Employee Central (EC) as their core HR system of record to use Employee Central Payroll (ECP) as a standalone deployment. It will require a limited implementation of EC, leveraging the Functional User commercial option.
These changes now bring the number of options for existing SAP HCM On-premise customers to eight. The last look at the options had six landscape scenarios for customers. With the addition of the new licensing model, that brings us to seven and the option for outsourcing, which has always been available, brings us to eight, as detailed below.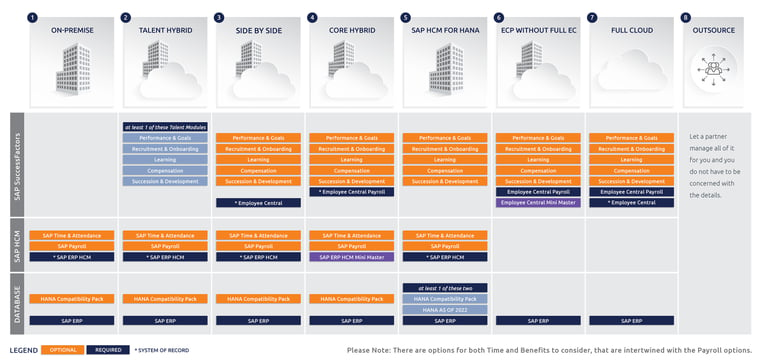 Ultimately, there is no one-size-fits all for SAP's existing HCM and Payroll customers, as each will have their own requirements, roadmaps etc. to consider. What you can be sure of is that SAP SuccessFactors will continue to adapt along the way to ensure that there is no interruption of your critical HR and Payroll processes, as they have to date, as shown below.

Here at EPI-USE Labs we also made an effort to create a quick reference for the updated options as shown below.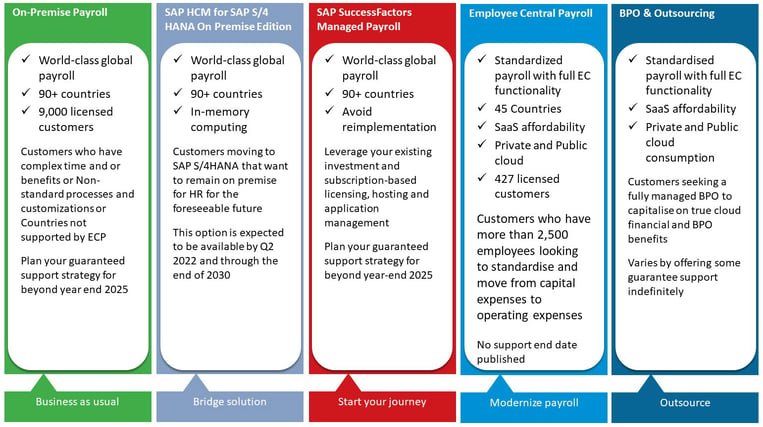 More importantly, EPI-USE Labs is here to help you regardless of which journey you take.
The number of Employee Central Payroll customers doubled from 2018 to 2019



– Source © SAP SuccessFactors SuccessConnect
Twice each year, SAP SuccessFactors shares the number of active licenses purchased for SAP SuccessFactors Employee Central Payroll, as shown in the images above. Looking at year-end 2018 and the numbers shared this week at SuccessConnect 2019 in Las Vegas, you can see that the number of customers grew quite substantially.
Employee Central Payroll Customer Growth Model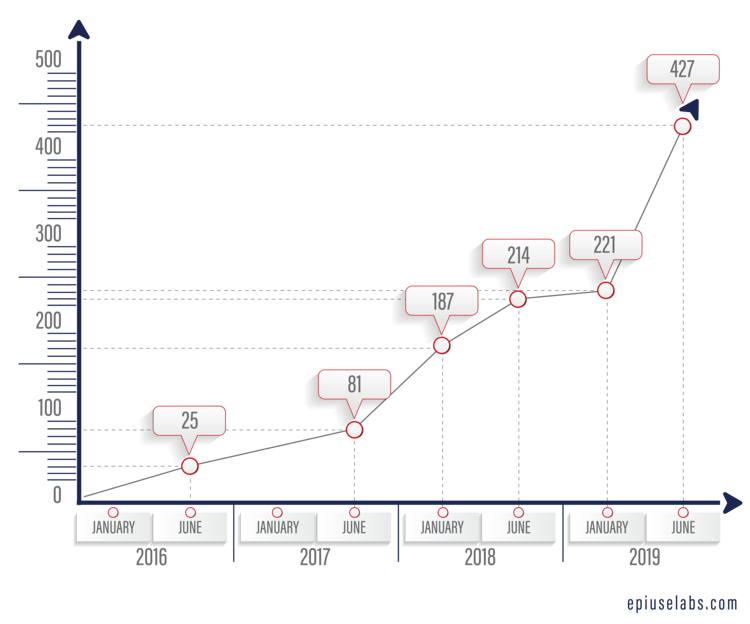 What is not included in those numbers, however, is which percentage of those customers purchasing the Employee Central Payroll solution are net new customers and which percent are conversions from existing customers using SAP On-Premise SAP Payroll.

To speculate a conversion rate estimate and to get an idea of the payroll migration for existing payroll customers, let's over-generalize and pretend that ALL 427 licenses sold to date for SAP SuccessFactors Employee Central Payroll are conversions from on-premise SAP. Of course this is not true, but it's easier from a math perspective. And also let's assume that there are closer to 7,500 active SAP On-Premise Payroll licenses rather than the published 9,000. That would lend to a less than 6% conversion rate. A conversion percentage that has picked up considerably within the last year, but still has a long way to go.

What I believe contributed to that spike between year-end 2018 and today is:
SAP has changed direction on Time Management in SuccessFactors
It's easier than ever before to move from on-premise Payroll to ECP
Additional licensing model added


A) SAP has changed direction on Time Management in SuccessFactors
As originally announced, if customers had complex Time and Attendance requirements, they were not an ideal candidate for SuccessFactors Employee Central Payroll. I specifically recall the messaging from SAP that said that they had no intention to duplicate the complex functionality available in On-Premise SAP Time but rather only offer the simple basics in Employee Central.

In January 2018, SAP shared that approximately 4% of its 14,000 customers had moved from SAP to SuccessFactors with an even smaller percentage making the shift to Employee Central Payroll. As you can imagine, that was certainly a roadblock for many customers with complex Time and Benefits configuration. Shortly thereafter SAP SuccessFactors launched a SuccessFactors Time solution as detailed in my blog titled SAP SuccessFactors launches Employee Central Time Management.

It's my opinion that this continuing investment in Time Management functionality in SuccessFactors was the first contributing factor to the increase in Employee Central Payroll sales.


B) It's easier than ever before to move from on-premise Payroll to ECP
In the early days many customers viewed the migration from on premise SAP Payroll to Employee Central Payroll as a complete re-implementation, which I suspect demotivated many who had made a large investment in their implementation and deployment and who did not wish to consider redoing it.

It does not however require a re-implementation and customers are finding the process uncomplicated and direct. Especially customers leveraging the PRISM migration service offered by EPI-USE Labs which offers a high-speed, low-risk route to SuccessFactors' Employee Central Payroll with no re-implementation required.

We have been doing this type of migration for quite a while now. We here in the EPI-USE family have the expertise and tools to assist customers in migrating their complete history to SuccessFactors' Employee Central Payroll with no re-implementation required via our migration service called PRISM.

PRISM combines leading-edge SAP Landscape Transformation software with world-class SAP Payroll domain expertise. It is a turnkey service to help customers move their on-premise SAP Payroll to SuccessFactors' Employee Central Payroll (ECP) quickly and easily, without requiring a full re-implementation.

The reason why it is so easy for us is that we use our SAP-certified tools (Data Sync Manager™ and Variance Monitor™) to surgically carve out a customers Payroll into the SuccessFactors Employee Central Payroll system and provide auditable pay run results, so customers can mitigate risks and reduce payment errors. Data transfer includes client-dependent customizing, custom objects, PA/OM data, PY/TI results, benefits and compensation management. We even offer a Free Assessment that allows you to determine how complex your system is to get you started thinking about your migration.
SET UP YOUR FREE PRISM ASSESSMENT
Choosing your path to SuccessFactors? Try this free assessment
Deciding on your migration strategy from your SAP on-premise HCM or HCM/Payroll solution to SuccessFactors can be complicated. There is quite a bit going on in the marketplace, and you want to make sure you make the right decision and start the migration at the right time, and at the right pace.
There is no one-size-fi ts-all strategy for every customer, and there are items that will impact which direction you should go, and how fast or slow you should do so.
A lot of this is going to depend on the complexity of your specific SAP HCM or Payroll system. For example, you may have heard in the past that customers with complex Time and Benefits configuration might be a good fit for the SAP HCM for SAP S/4HANA On-Premise Edition, and that customers looking forward to an affordable SaaS model might be a great fit for SAP SuccessFactors Employee Central Payroll.
We have a free assessment tool that will give you information about your SAP system to help you understand what your migration path might look like. This free assessment is simply a download which includes an SAP transport that will run on your SAP environment.
It's essentially a transport that collects key structural data from your system including things like:
Number of Countries configured for payroll
How many custom tables are in use
Which Wage Types are Configured versus which are in Use
Custom programs
Custom infotypes
Many more
The transport does all of this without exposing any of your employee or confidential system data. The data that is returned back from the assessment can be viewed via an interactive web dashboard. Samples shown to the below: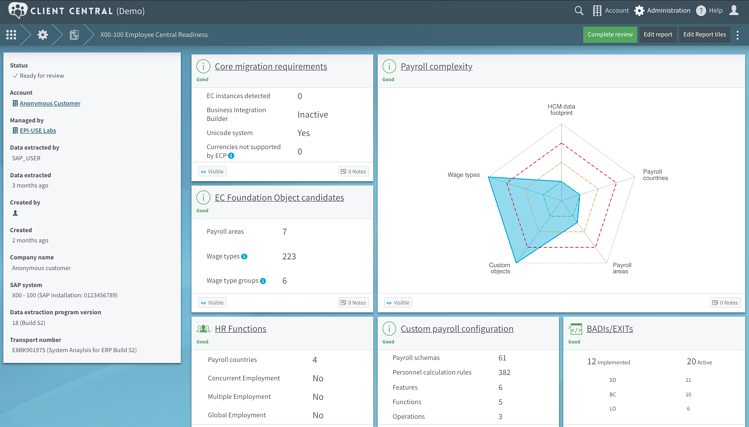 Having a clear analysis of your system's complexity is the first step in choosing your next step in your SAP SuccessFactors migration. Get your free assessment
today:
If you have already decided that you intend to move to Employee Central Payroll, we have a high-speed, low-risk route to get there called PRISM.
Recommended solutions for your challenges
EPI-USE Labs solutions have universal value regardless of your landscape model to assist you in getting to an intelligent HR and Payroll.
Your high-speed, low-risk route to SuccessFactors' Employee Central Payroll
EPI-USE labs offers an On-Premise Payroll to SuccessFactors' Employee Central Migration Service called PRISM. PRISM is a boutique combination of proprietary EPI-USE Labs solutions and EPI-USE Payroll experts to migrate your existing SAP HCM On-Premise Payroll to SuccessFactors Employee Central Payroll (ECP). EPI-USE Labs has the proven software products including Data Sync Manager and Variance Monitor to facilitate a painless and automated migration whilst EPI-USE has the world's best Payroll consultants to migrate the Payroll.
LEARN MORE ABOUT PRISM

Solve your biggest SAP HCM Challenge… Reporting
The largest challenge for SAP On-Premise HCM customers is that multiple tools (Ad Hoc Query, SE16, Custom ABAP, Wage Type Reporter and others) are required to report on critical HR and Payroll data. Often this data is collected via these multiple tools and consolidated offline in an application like Excel, Access or BW, requiring a large amount of manual effort and consuming both valuable time and resources. This also poses security and data integrity risks as the data is taken outside of your SAP system. Query Manager™ solves this challenge. The brilliance of the Query Manager solution is that it provides access to all of the data users need in an easy-to-use format, so that end users can be empowered to create reports on their own, live in SAP, without reliance on technical resources.
LEARN MORE ABOUT QUERY MANAGER
Work with your SAP HCM Data Live in Microsoft Excel
With Query Manager's Microsoft Plug-in, you can refresh, analyze, share, and present your critical SAP HCM data, live in Microsoft Excel. What is unique about this web app is that once you have built an Excel worksheet with all the formatting and formulas that you need, you can simply click a button to refresh your spreadsheet with live data from SAP. This functionality, which is delivered with Query Manager 4, allows you to automate your Excel reports; no more uploading and downloading data between systems. It also negates the need to send the latest copy of data to recipients; they can simply open up their Microsoft Excel and click the "Refresh" button to see the latest live data from your SAP system. The Microsoft Plug-In works with Excel for Mac, Excel for Windows and Excel for the Web.
LEARN MORE ABOUT THE MICROSOFT PLUG-IN FOR QUERY MANAGER

Automate the generation of richly formatted documents and employee contracts and letters
Employers send thousands of letters to employees each year including Benefits Confirmation Statements, Employee Paycheck Explanations, Total Compensation Statements, Annual Review Letters, Employment Contracts, New Hire or Offer Letters, Training Completion Certificates, Recognition Service Award Letters, W2 address confirmations etc. The creation of these letters is manual, time-consuming and error-prone. Document Builder enables you to design, generate and distribute professional HR documents automatically, live from your SAP HCM system.
LEARN MORE ABOUT DOCUMENT BUILDER

Highlight inconsistencies in your ever-changing HCM data and ensure all your HR, Payroll and Time data is accurate
Variance Monitor gives you the ability to compare HR and Payroll data between systems and across periods. And because it's automated, it eliminates manual comparisons, speeds up your processes and enables your managers and test teams to be much more productive.
LEARN MORE ABOUT VARIANCE MONITOR

Enjoy convenient, secure copying of SAP® HCM data
Data Sync Manager™ (DSM) for HCM empowers all SAP® HCM users to copy and scramble HCM production data in non-production systems for testing, training and support. DSM gives you the data you need, when you need it. This SAP-certified solution allows you to select and transfer specific HCM data objects easily and accurately, as needed, and to mask sensitive data for confidentiality, security and governance compliance.
LEARN MORE ABOUT DATA SYNC MANAGER FOR HCM


Updates from SuccessConnect 2019: Major changes for SAP Payroll Clients
SAP SuccessFactors made a few announcements at the SuccessConnect 2019 event regarding the journey to the cloud for its customers. Read more in this blog.
Hybrid reporting across on-premise SAP and SuccessFactors
Query Manager's Add-on for SuccessFactors Integration allows you to report on data from both your on-premise SAP system and your SAP SuccessFactors solution. SuccessFactors data is available as a data source in Query Manager, so it can be combined with any data in SAP, or any external system. So clients in a hybrid model, who have some of their data in an on-premise SAP system and some in the SAP SuccessFactors system, can extract data from both systems to run consolidated reports. As it is real-time and on-demand, there is no duplication of data.
REPORT ON SAP AND SUCCESSFACTORS