2019
Payroll options for SAP SuccessFactors Customers
There have been a few attempts to create decision trees to assist customers in making the appropriate decision for their payroll, including the samples from ASUG and SAP SuccessFactors, shown below:

The latest version from SAP (February, 2019) is shown below:

Here at EPI-USE labs we also made an effort to create a quick reference for the options as shown below: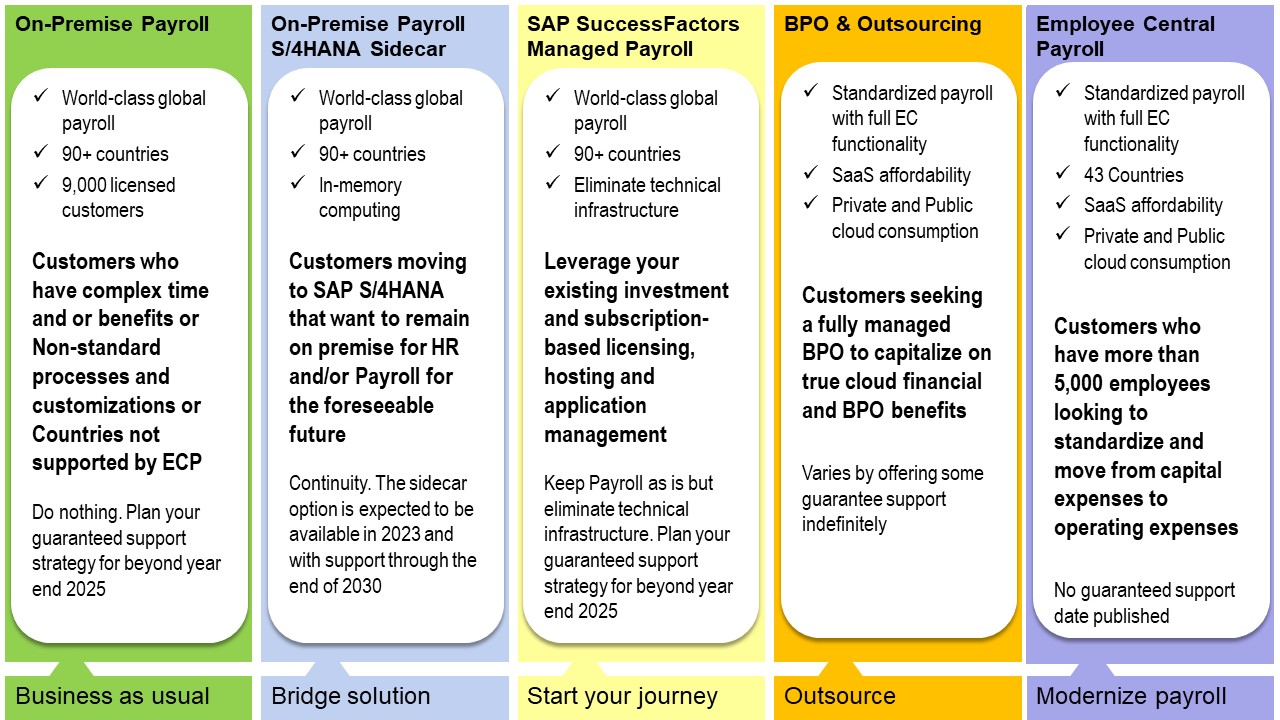 Ultimately, there is no one-size-fits all for SAP's existing HCM and Payroll customers, as each will have their own requirements, roadmaps etc. to consider. What you can be sure of is that SAP SuccessFactors will continue to adapt along the way to ensure that there is no interruption of your critical HR and Payroll processes, as they have to date, as shown below.

More importantly, EPI-USE Labs is here to help you regardless of which journey you take.
Recommended solutions for your challenges
EPI-USE Labs solutions have universal value regardless of your landscape model to assist you in getting to an intelligent HR and Payroll.
Your high-speed, low-risk route to SuccessFactors' Employee Central Payroll
EPI-USE labs offers an On-Premise Payroll to SuccessFactors' Employee Central Migration Service called PRISM. PRISM is a boutique combination of proprietary EPI-USE Labs solutions and EPI-USE Payroll experts to migrate your existing SAP HCM On-Premise Payroll to SuccessFactors Employee Central Payroll (ECP). EPI-USE Labs has the proven software products including Data Sync Manager and Variance Monitor to facilitate a painless and automated migration whilst EPI-USE has the world's best Payroll consultants to migrate the Payroll.


Keep your existing SAP Payroll solution
SAP SuccessFactors Managed Payroll allows you to lift-and-shift your existing SAP HCM On-premise Payroll to the cloud, without a costly, lengthy and risky reimplementation. It is designed for customers who have made a large investment in their on-premise HCM solution, and want to leverage that, while also enjoying the benefits of hosting and management in the cloud
LEARN MORE ABOUT SAP SUCCESSFACTORs MANAGED PAYROLL

Solve your biggest SAP HCM Challenge… Reporting
The largest challenge for SAP On-Premise HCM customers is that multiple tools (Ad Hoc Query, SE16, Custom ABAP, Wage Type Reporter and others) are required to report on critical HR and Payroll data. Often this data is collected via these multiple tools and consolidated offline in an application like Excel, Access or BW, requiring a large amount of manual effort and consuming both valuable time and resources. This also poses security and data integrity risks as the data is taken outside of your SAP system. Query Manager™ solves this challenge. The brilliance of the Query Manager solution is that it provides access to all of the data users need in an easy-to-use format, so that end users can be empowered to create reports on their own, live in SAP, without reliance on technical resources.
LEARN MORE ABOUT QUERY MANAGER
Work with your SAP HCM Data Live in Microsoft Excel
With Query Manager's Microsoft Plug-in, you can refresh, analyze, share, and present your critical SAP HCM data, live in Microsoft Excel. What is unique about this web app is that once you have built an Excel worksheet with all the formatting and formulas that you need, you can simply click a button to refresh your spreadsheet with live data from SAP. This functionality, which is delivered with Query Manager 4, allows you to automate your Excel reports; no more uploading and downloading data between systems. It also negates the need to send the latest copy of data to recipients; they can simply open up their Microsoft Excel and click the "Refresh" button to see the latest live data from your SAP system. The Microsoft Plug-In works with Excel for Mac, Excel for Windows and Excel for the Web.
LEARN MORE ABOUT THE MICROSOFT PLUG-IN FOR QUERY MANAGER

Automate the generation of richly formatted documents and employee contracts and letters
Employers send thousands of letters to employees each year including Benefits Confirmation Statements, Employee Paycheck Explanations, Total Compensation Statements, Annual Review Letters, Employment Contracts, New Hire or Offer Letters, Training Completion Certificates, Recognition Service Award Letters, W2 address confirmations etc. The creation of these letters is manual, time-consuming and error-prone. Document Builder enables you to design, generate and distribute professional HR documents automatically, live from your SAP HCM system.
LEARN MORE ABOUT DOCUMENT BUILDER

Highlight inconsistencies in your ever-changing HCM data and ensure all your HR, Payroll and Time data is accurate
Variance Monitor gives you the ability to compare HR and Payroll data between systems and across periods. And because it's automated, it eliminates manual comparisons, speeds up your processes and enables your managers and test teams to be much more productive.
LEARN MORE ABOUT VARIANCE MONITOR

Enjoy convenient, secure copying of SAP® HCM data
Data Sync Manager™ (DSM) for HCM empowers all SAP® HCM users to copy and scramble HCM production data in non-production systems for testing, training and support. DSM gives you the data you need, when you need it. This SAP-certified solution allows you to select and transfer specific HCM data objects easily and accurately, as needed, and to mask sensitive data for confidentiality, security and governance compliance.