2020
SAP extends its innovation commitment for SAP S/4HANA, provides clarity and choice on SAP Business Suite 7
On February 4th, 2020, SAP announced a maintenance commitment for SAP S/4HANA until the end of 2040. At the same time, SAP promised to provide mainstream maintenance for core applications of SAP Business Suite 7 software* until the end of 2027, followed by optional extended maintenance until the end of 2030.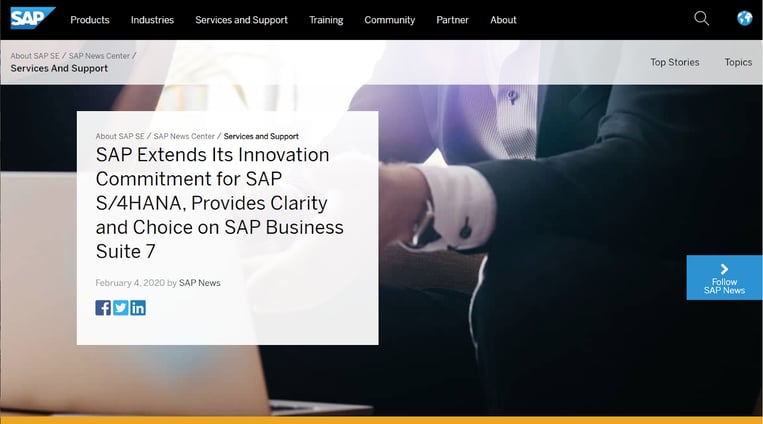 – © SAP 2020
Those of you who have been keeping an eye on this space know that the migration to HANA or S/4HANA has been slower than SAP anticipated. Most general SAP events over the past couple of years have started by asking for a show of hands from customers indicating where they are in their S/4HANA journey.
SAP reports that approximately 13,800 customers have already chosen S/4HANA, with chosen being the key word, while there are a couple of thousand who are actually live or in the midst of an active deployment. DSAG reports that almost half of the attending customers indicated that they plan to migrate to SAP S/4HANA within the next three years. ASUG launched a poll called 'the Pulse of the SAP Customer 2020' that asked 625 US customers where they were at, and almost 60% said they were considering it as well.
*Core applications of SAP Business Suite 7 software include SAP ERP 6.0, SAP Customer Relationship Management 7.0, SAP Supply Chain Management 7.0, and SAP Supplier Relationship Management 7.0 applications and SAP Business Suite powered by SAP HANA.
So, what does this mean for Human Capital Management?
SAP's Ralf Wagner followed up with a detailed blog titled SAP Business Suite 7 Extension: What This Means for SAP ERP Human Capital Management Customers on February 17th. This blog included an updated diagram that shows how long customers can stay on-premise, and it has been updated until 2040 as shown below. The SAP ERP HCM & Payroll are part of the SAP Business Suite 7, so the extension of mainstream maintenance as announced in the press release applies to HCM.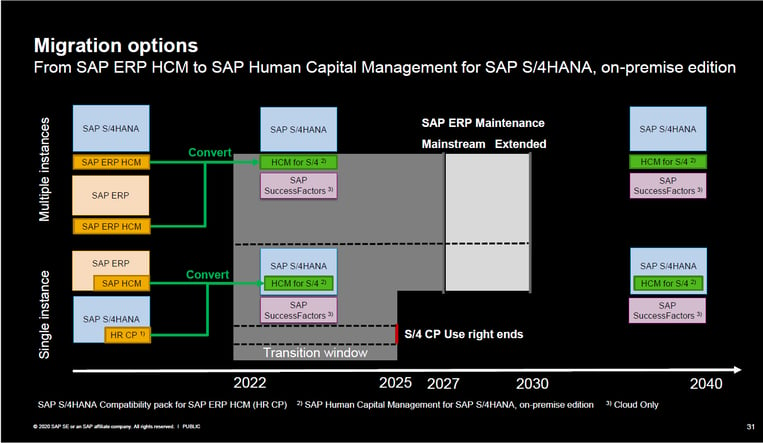 – © SAP 2020
What's interesting is for those customers wanting to keep their current solution beyond 2030, they have the choice of migrating from SAP Business Suite 7 to SAP Human Capital Management for SAP S/4HANA, on-premise edition when it becomes available in Q3 2022.
My impression is that even though SAP advertises their SAP Human Capital Management for SAP S/4HANA, on-premise edition as a bridge solution to give customers additional time to fully move to SAP SuccessFactors, I speculate that they will continue to protect customer investments well beyond the changing dates.
It's my impression that many companies focus on HCM and payroll last. So their HANA focus or cloud focus has been on areas of the business like Finance and Logistics, and for those customers currently using SAP On-Premise payroll as is, they are taking a "if it ain't broke don't fix it" mindset, and will revisit their strategy once the rest of the business plans in the organization are complete.
Summary as of April 2020
I am pleased that SAP SuccessFactors has continued to adapt with customers' needs. I also like that their messaging around HCM often starts with a commitment to honor On-Premise investments. The slide shown below is often the first for each HCM-related update, which is used to remind customers that SAP has two investment directions, and that they give both appropriate attention and support.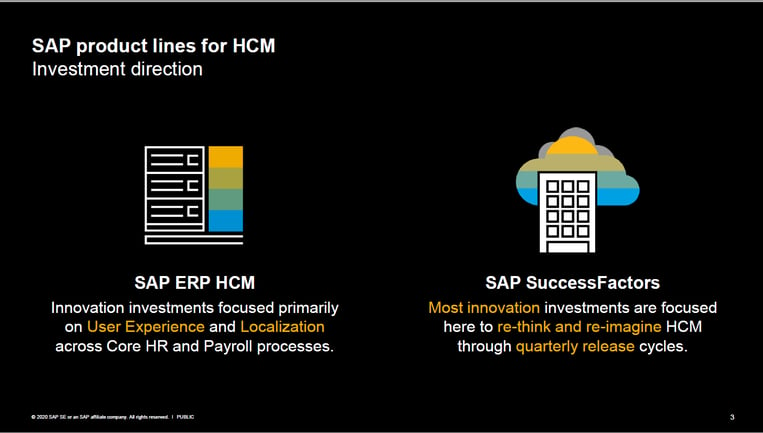 – © SAP 2020
In terms of recovering from the initial market reaction to the original messaging from former SuccessFactors President and CEO Mike Ettlings' messaging about moving to the cloud, I believe this change in direction from a marketing perspective is really what stopped the bleeding.
The acknowledgement that SAP may be a "cloud first", but not a "cloud only" company, is what I believe the existing On-Premise HCM customers really needed to hear. I also like that in their summary, SAP included the following:
They encourage all their 15,000 ERP HCM customers to move to SAP SuccessFactors to accelerate their digital HR transformations
They also recognize that a subset of their SAP ERP HCM customers will want to run their on-premise environment for the foreseeable future
Customers' investments will be protected.


Choosing your path to SuccessFactors? Try this free assessment
Deciding on your migration strategy from your SAP On-Premise HCM or HCM/Payroll solution to SuccessFactors can be complicated. There is quite a bit going on in the marketplace, and you want to make sure you make the right decision and start the migration at the right time, and at the right pace.
There is no one-size-fits-all strategy for every customer, and there are items that will impact which direction you should go, and how fast or slow you should do so.
A lot of this is going to depend on the complexity of your specific SAP HCM or Payroll system. For example, you may have heard in the past that customers with complex Time and Benefits configuration might be a good fit for the SAP HCM for SAP S/4HANA on-premise Edition, and that customers looking forward to an affordable SaaS model might be a great fit for SAP SuccessFactors Employee Central Payroll.
We have a free assessment tool that will give you information about your SAP system to help you understand what your migration path might look like. This free assessment is simply a download which includes an SAP transport that will run on your SAP environment.
It's essentially a transport that collects key structural data from your system including things like:
Number of Countries configured for payroll
How many custom tables are in use
Which Wage Types are Configured versus which are in Use
Custom programs
Custom infotypes
Many more.
The transport does all of this without exposing any of your employee or confidential system data. The data that is returned back from the assessment can be viewed via an interactive web dashboard. Samples shown to the below: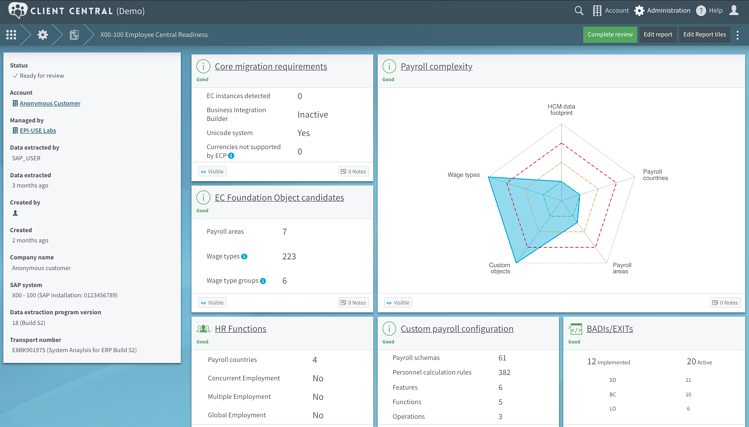 Having a clear analysis of your system's complexity is the first step in choosing your next step in your SAP SuccessFactors migration. Get your free assessment today.
If you have already decided that you intend to move to Employee Central Payroll, we have a high-speed, low-risk route to get there called PRISM.
Recommended solutions for your challenges
EPI-USE Labs solutions have universal value regardless of your landscape model to assist you in getting to an intelligent HR and Payroll.
Your high-speed, low-risk route to SuccessFactors' Employee Central Payroll
EPI-USE labs offers an On-Premise Payroll to SuccessFactors' Employee Central Migration Service called PRISM. PRISM is a boutique combination of proprietary EPI-USE Labs solutions and EPI-USE Payroll experts to migrate your existing SAP HCM On-Premise Payroll to SuccessFactors Employee Central Payroll (ECP). EPI-USE Labs has the proven software products including Data Sync Manager and Variance Monitor to facilitate a painless and automated migration whilst EPI-USE has the world's best Payroll consultants to migrate the Payroll.
LEARN MORE ABOUT PRISM

Solve your biggest SAP HCM Challenge… Reporting
The largest challenge for SAP On-Premise HCM customers is that multiple tools (Ad Hoc Query, SE16, Custom ABAP, Wage Type Reporter and others) are required to report on critical HR and Payroll data. Often this data is collected via these multiple tools and consolidated offline in an application like Excel, Access or BW, requiring a large amount of manual effort and consuming both valuable time and resources. This also poses security and data integrity risks as the data is taken outside of your SAP system. Query Manager™ solves this challenge. The brilliance of the Query Manager solution is that it provides access to all of the data users need in an easy-to-use format, so that end users can be empowered to create reports on their own, live in SAP, without reliance on technical resources.
LEARN MORE ABOUT QUERY MANAGER
Work with your SAP HCM Data Live in Microsoft Excel
With Query Manager's Microsoft Excel Add-in, you can refresh, analyze, share, and present your critical SAP HCM data, live in Microsoft Excel. What is unique about this web app is that once you have built an Excel worksheet with all the formatting and formulas that you need, you can simply click a button to refresh your spreadsheet with live data from SAP. This functionality, which is delivered with Query Manager 4, allows you to automate your Excel reports; no more uploading and downloading data between systems. It also negates the need to send the latest copy of data to recipients; they can simply open up their Microsoft Excel and click the "Refresh" button to see the latest live data from your SAP system. The Microsoft Plug-In works with Excel for Mac, Excel for Windows and Excel for the Web.
LEARN MORE ABOUT THE MICROSOFT EXCEL ADD-IN FOR QUERY MANAGER

Automate the generation of richly formatted documents and employee contracts and letters
Employers send thousands of letters to employees each year including Benefits Confirmation Statements, Employee Paycheck Explanations, Total Compensation Statements, Annual Review Letters, Employment Contracts, New Hire or Offer Letters, Training Completion Certificates, Recognition Service Award Letters, W2 address confirmations etc. The creation of these letters is manual, time-consuming and error-prone. Document Builder enables you to design, generate and distribute professional HR documents automatically, live from your SAP HCM system.
LEARN MORE ABOUT DOCUMENT BUILDER

Highlight inconsistencies in your ever-changing HCM data and ensure all your HR, Payroll and Time data is accurate
Variance Monitor gives you the ability to compare HR and Payroll data between systems and across periods. And because it's automated, it eliminates manual comparisons, speeds up your processes and enables your managers and test teams to be much more productive.
LEARN MORE ABOUT VARIANCE MONITOR

Enjoy convenient, secure copying of SAP® HCM data
Data Sync Manager™ (DSM) for HCM empowers all SAP® HCM users to copy and scramble HCM production data in non-production systems for testing, training and support. DSM gives you the data you need, when you need it. This SAP-certified solution allows you to select and transfer specific HCM data objects easily and accurately, as needed, and to mask sensitive data for confidentiality, security and governance compliance.
LEARN MORE ABOUT DATA SYNC MANAGER FOR HCM


Updates from SuccessConnect 2019: Major changes for SAP Payroll Clients
SAP SuccessFactors made a few announcements at the SuccessConnect 2019 event regarding the journey to the cloud for its customers. Read more in this blog.
Reporting across On-Premise SAP and SuccessFactors
Query Manager's Add-on for SuccessFactors Integration allows you to report on data from both your On-Premise SAP system and your SAP SuccessFactors solution. SuccessFactors data is available as a data source in Query Manager, so it can be combined with any data in SAP, or any external system. So clients who have some of their data in an On-Premise SAP system and some in the SAP SuccessFactors system, can extract data from both systems to run consolidated reports. As it is real-time and on-demand, there is no duplication of data.
REPORT ON SAP AND SUCCESSFACTORS