Cloud Conveyer
Imagine a partnership that brings extensive domain experience with proven products to accelerate your journey to the cloud with SAP SuccessFactors. EPI-USE has partnered with EPI-USE Labs to bring the solution to the market.


The Business and IT Challenge
Organisations are caught in the dilemma of wanting to move to the cloud to leverage the improved end-user experience, and unlock the agility, scalability and simple landscape, while maximizing their current investments in SAP HCM and Payroll on-premise solutions. Historically, this required a re-implementation, fully dedicated resources and a significant investment.
Today, EPI-USE Cloud Conveyer solves this dilemma by providing proven technology and assets in the hands of experienced HR and Payroll experts to deliver a well-planned and automated migration to Employee Central and EC Payroll. The results are significantly reduced implementation time and cost, a fast-tracked transition to SAP SuccessFactors, HR transformation and rapid return on investment.
Why Cloud Conveyer?
Rapidly moves SAP HCM and Payroll configuration to eliminate re-implementation
Emphasises focus on data validation, testing and quality
Automates payroll validation for trusted results
Leverages proven proprietary software, templates and unmatched expertise by EPI-USE
Migrates complete payroll history to the cloud
Automated completeness check for EC Payroll System


Rapid Acceleration to the Cloud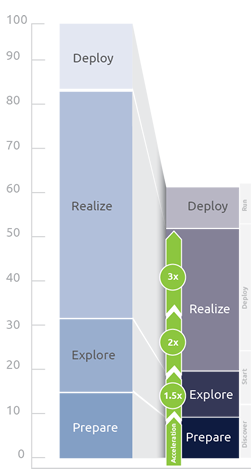 Cloud Conveyer benefits in a nutshell
Rapidly migrate configuration with no re-implementation
Reduce time, resource and cost by more than 50%
Leverage your SAP investment while transforming with Cloud innovations
Proven software assets for an automated migration
Applicable to many cloud migration strategies
The Payroll Control Center Value-Add
The SAP Payroll Control Center (PCC) is available with your move to EC Payroll. As a leading SAP PCC partner, EPI-USE provides in-depth expertise to fully leverage PCC as an additional value add when migrating to the SAP SuccessFactors cloud platform. Bundle EPI-USE's accelerated PCC solution with pre-configured validation rules, processing steps and KPIs as part of your migration with Cloud Conveyer to optimize data monitoring, reconciliation and streamlined payroll processing. Errors are reduced and accuracy is improved, as is the auditability of the payroll.
Starter Pack - Top 10 validations
Value Pack - Top 25 validations