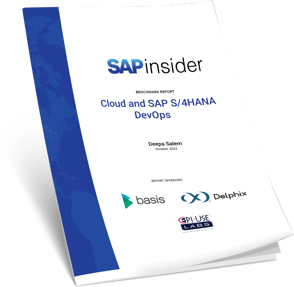 Get your complimentary report here.
SAPinsider surveyed 154 information technology (IT) professionals around the world during September and October 2022 about their status with respect to DevOps, and their change management and testing goals, challenges, and technologies.
Approximately 40% of respondents are not satisfied with their change management and testing functions.
Organizations are facing many challenges in delivering fast and high-quality applications. Respondents cited poor requirements planning and roadmaps as the biggest challenge (37%), followed by a lack of appropriate tools for change management and testing (34%), and delays in provisioning test data for dev and testing (34%). Immature Agile/DevOps capabilities and ineffective collaboration among teams is another cited challenge (33%). These result in too many post-deployment issues and downtime for 33% of respondents.
Download the report on the findings from the survey to:
Learn about where SAP® customers are on their journey to a DevOps model
Find out how SAP S/4HANA® plans are impacting change management and testing
Understand how respondents are modernizing with Agile, DevOps, Testing automation and other technologies and tools
Receive recommendations for modernizing your change management and testing functions to set up for success.