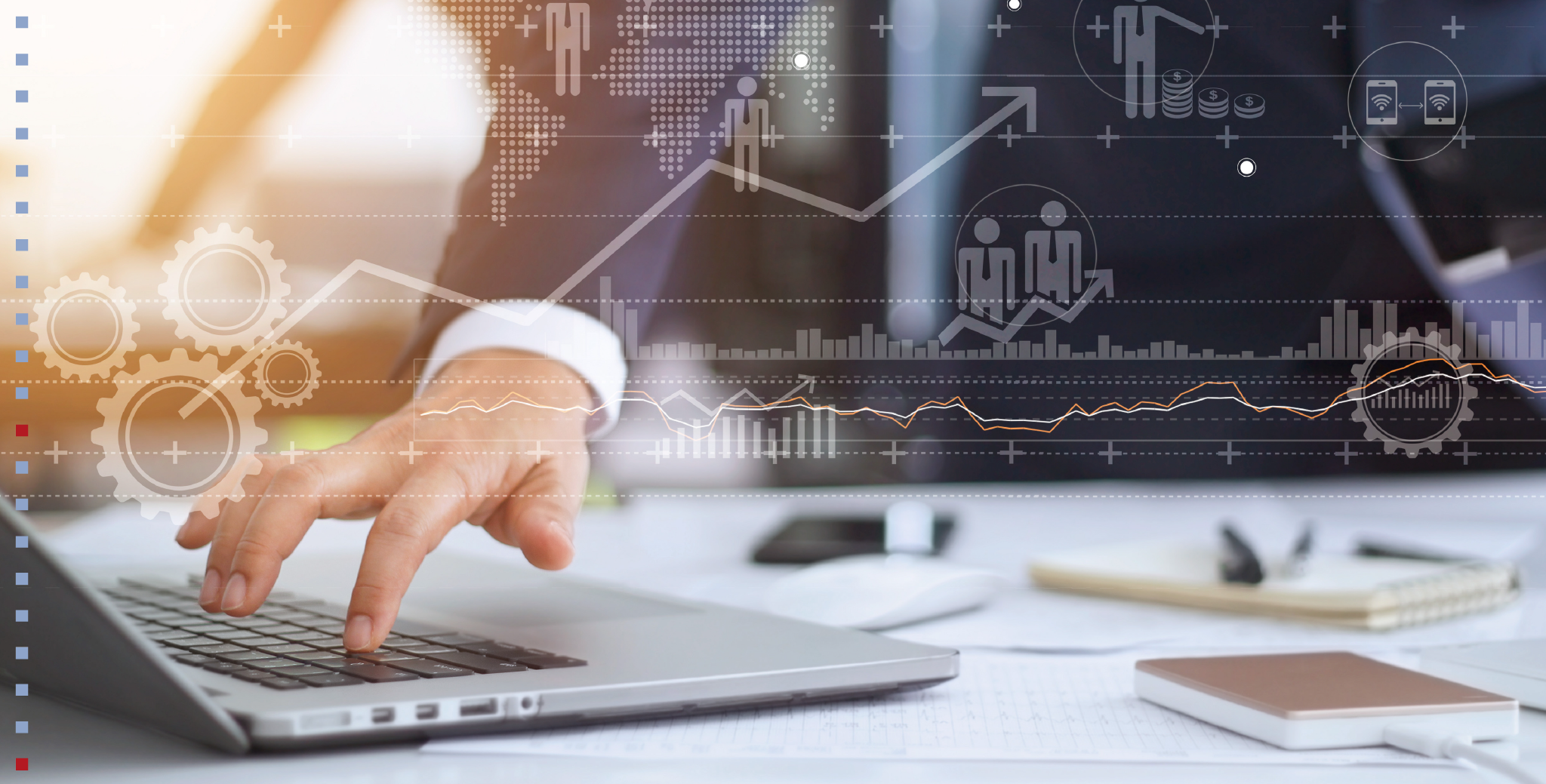 Every organization has forms and documents that need to be completed on a specific template or design. These forms can include Tax documents, enrollment forms, government forms, etc. In old-school SAP, customers would have to leverage tools like SAP Script to produce these complex documents via a time-consuming and complicated process. This old process required the creation and design in a development client by a trained programmer, its respective transport to a Quality Assurance (QA) client for testing, and then on to a Production client for use, repeating this process with each iteration and update.
With EPI-USE Labs' Document Builder as part of Query Manager, this is easy to accomplish. In this quick blog I will show you how I populated data from my SAP HR/Payroll system on to a standard government form.
Read on for more...
In this example, I've used the South African Government's Form UI-19: Declaration of information of commercial employees and workers employed in a private household.
This government form must be submitted by an employer by the seventh day of each month. It informs the Commissioner of any changes arising during the previous month regarding the employer's contact details or employees' remuneration details, including new appointments and termination of service. The employer must transmit the form to the Unemployment Insurance Fund (UIF).

Creating the Report in Query Manager
You start by creating a report of all of the data fields that you want to include in the document. This is easy thanks to the world-class, SAP-certified Query Manager which has access to all critical data within the SAP system (and beyond). Creating reports is as easy as selecting the fields and dragging them on to your report.

The sample below shows the Query Manager designer where I added or created the fields that I wanted to output on my form: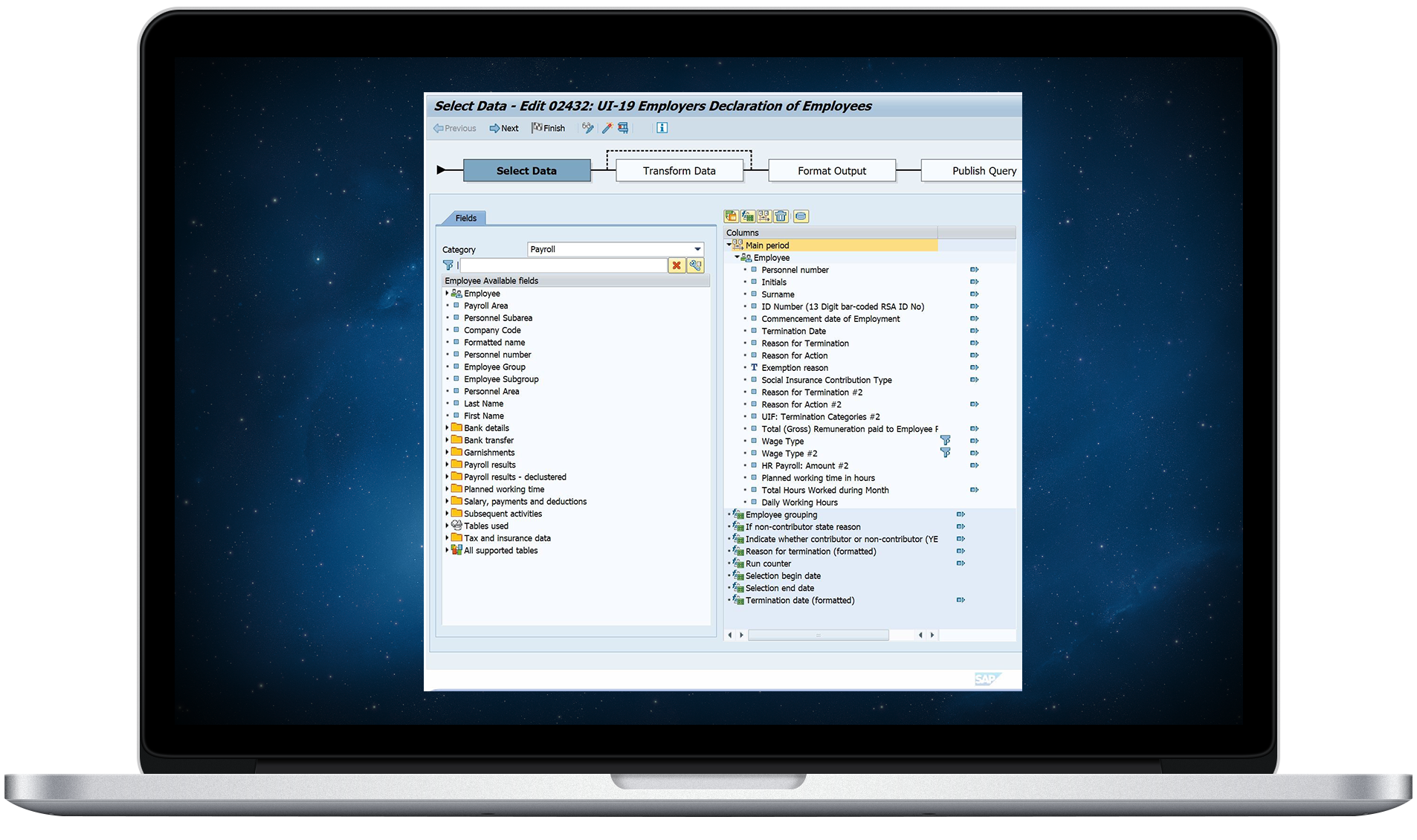 Designing the Document in Document Builder
Now that I have a list of the fields that I want to include on my form, I simply use Query Manager's Document Builder to design my professional looking document. Using Document Builder is intuitive and familiar because it includes a rich visual designer and intuitive user interface, including drag-and-drop fields and controls, and design-time aids which can help you to create professional designs easily. You can also customize elements via property editors, position elements exactly with rulers, grid, snap-to grid and precise co-ordinates display and entry, while using your preferred measurement system (metric, imperial, points) etc. See sample below: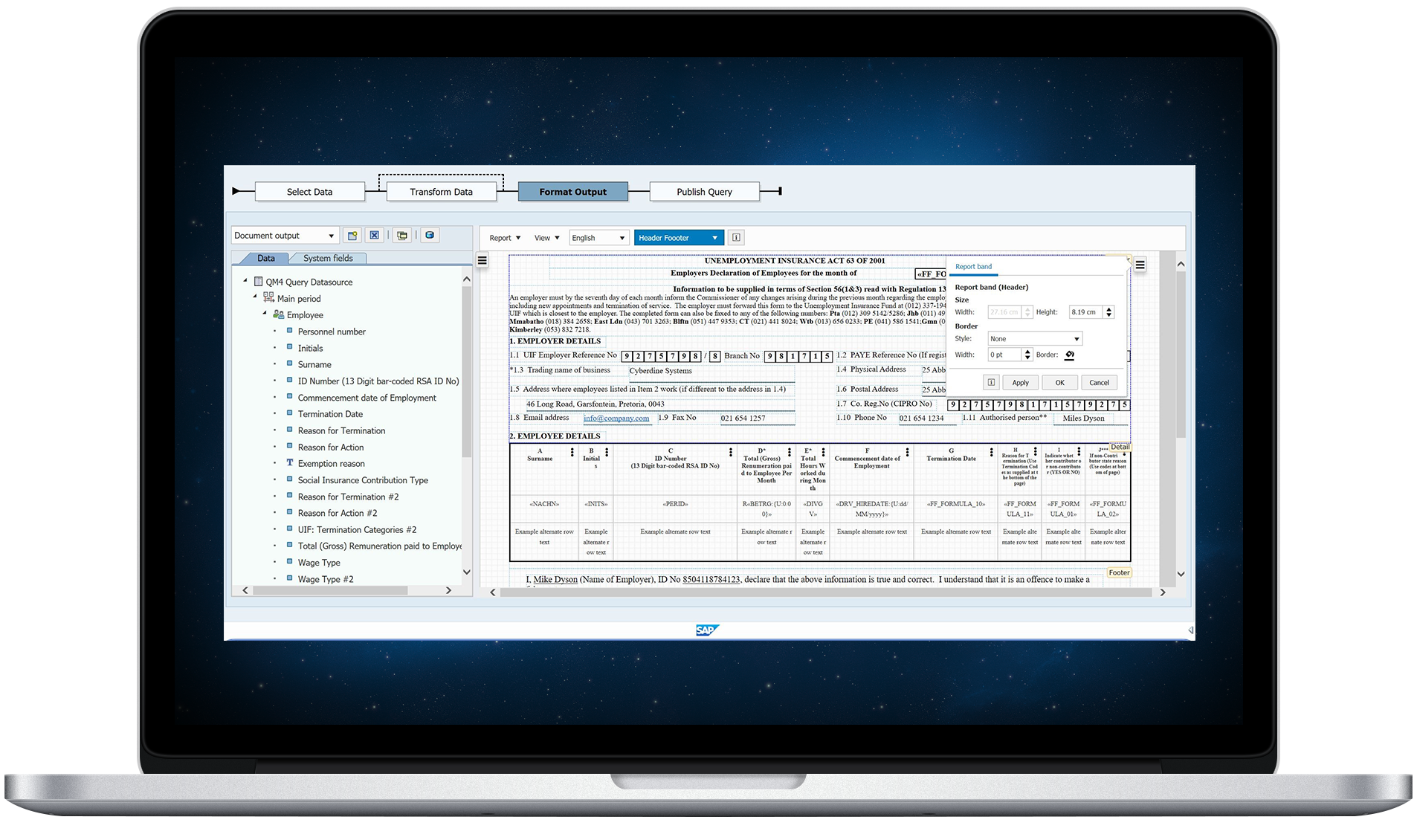 You will notice that Document Designer workspace looks familiar as it contains the functionality and features included in a typical document editor like Microsoft Word © whereby you can insert tables, do formatting, insert objects and visualize your data with a substantial choice of controls including richly formatted text, images, background images, watermarks, dynamic content and charts (bar, pie, line, scatter plot).

View and send your final output
Once I have designed my document and inserted the fields from the report I created earlier, I am ready to visualize the output.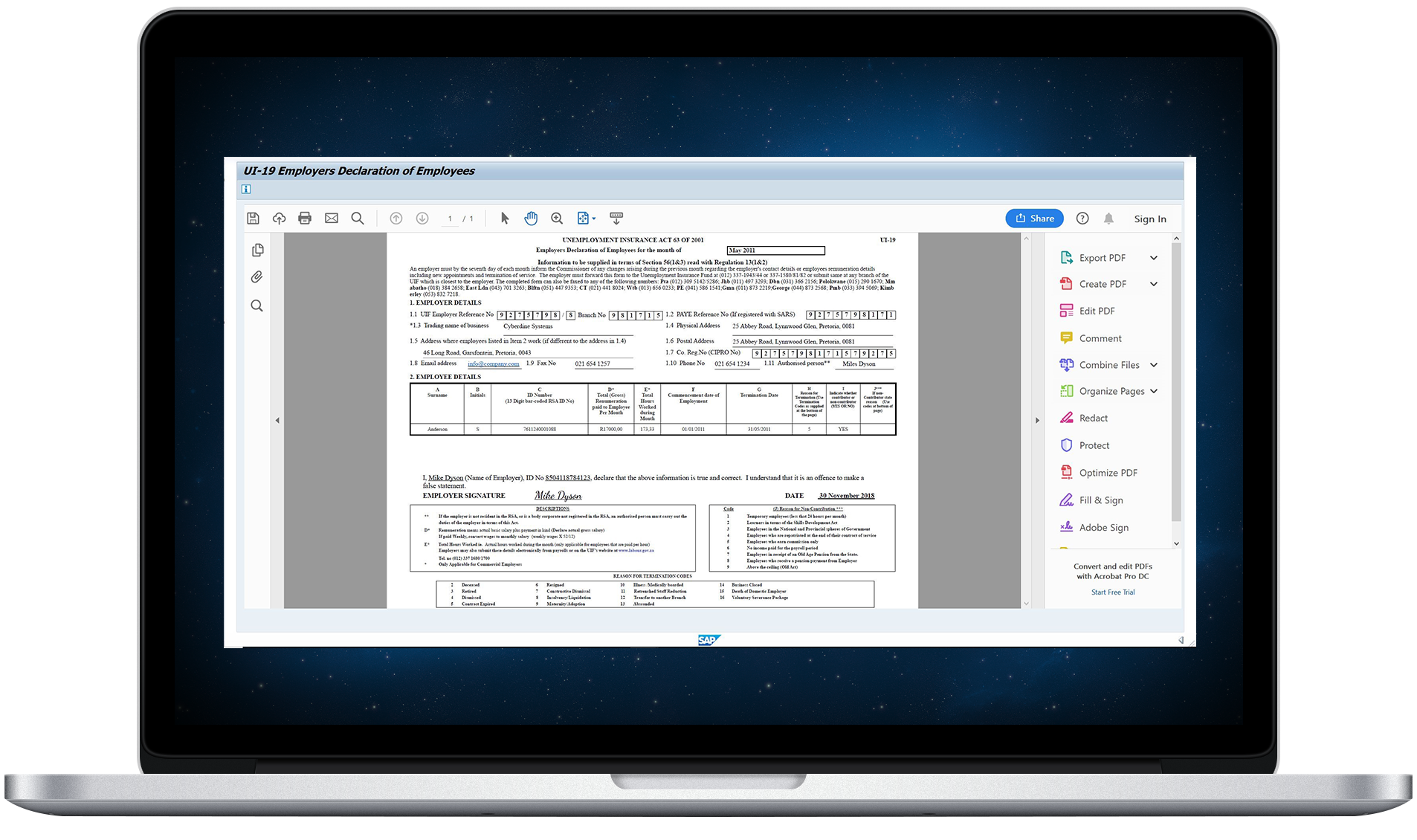 You will notice that my document displays inside SAP via an Adobe PDF Viewer, and the output is in the appropriate format required in the form as provided by the government. By using Query Manager and Document Builder, I can also automate the scheduling and distribution of this document to be sent as needed without any manual intervention. See below: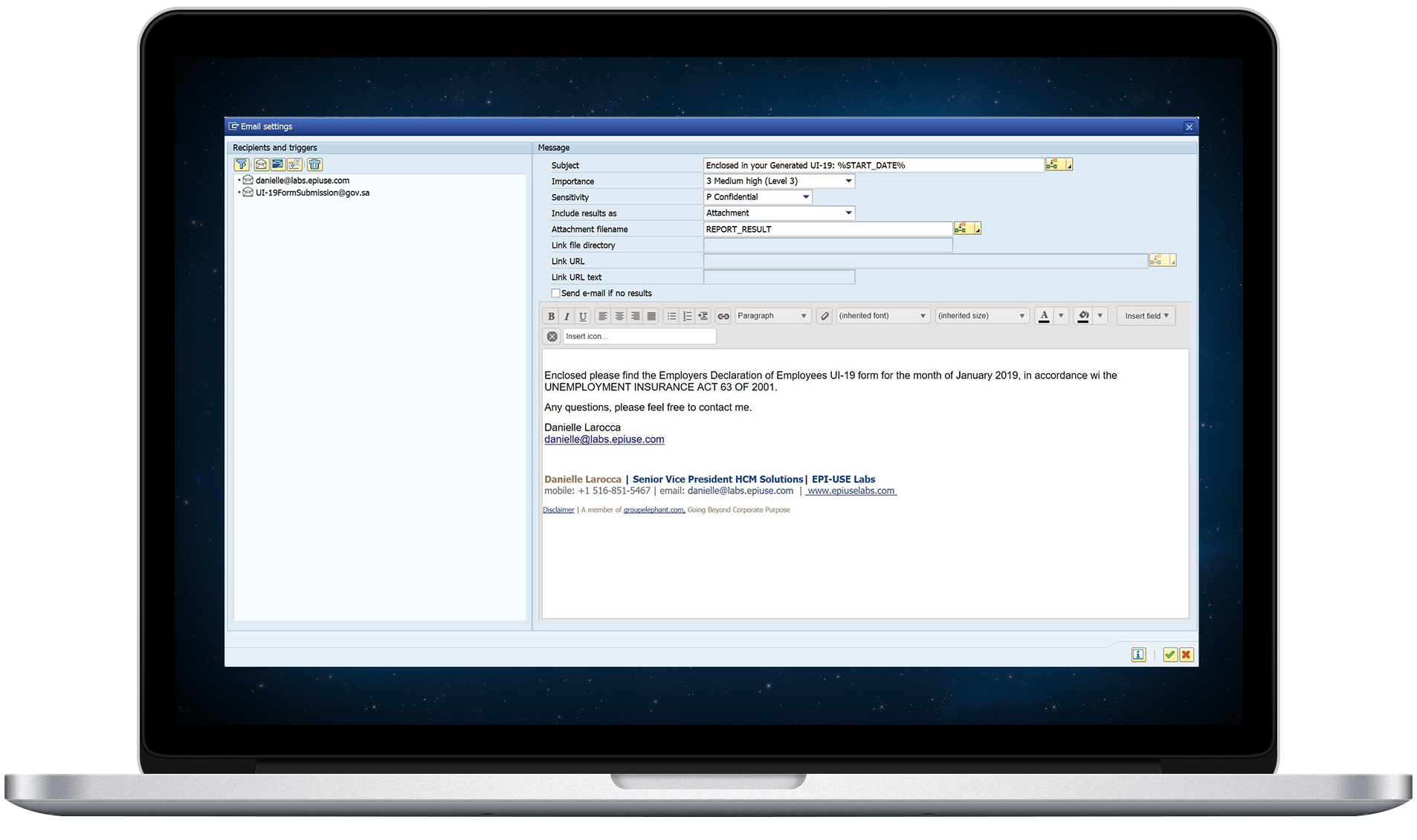 It is also possible to submit a bulk file to the UIF, instead of a generated UI-19 form, but a company may still want to opt to submit the generated form.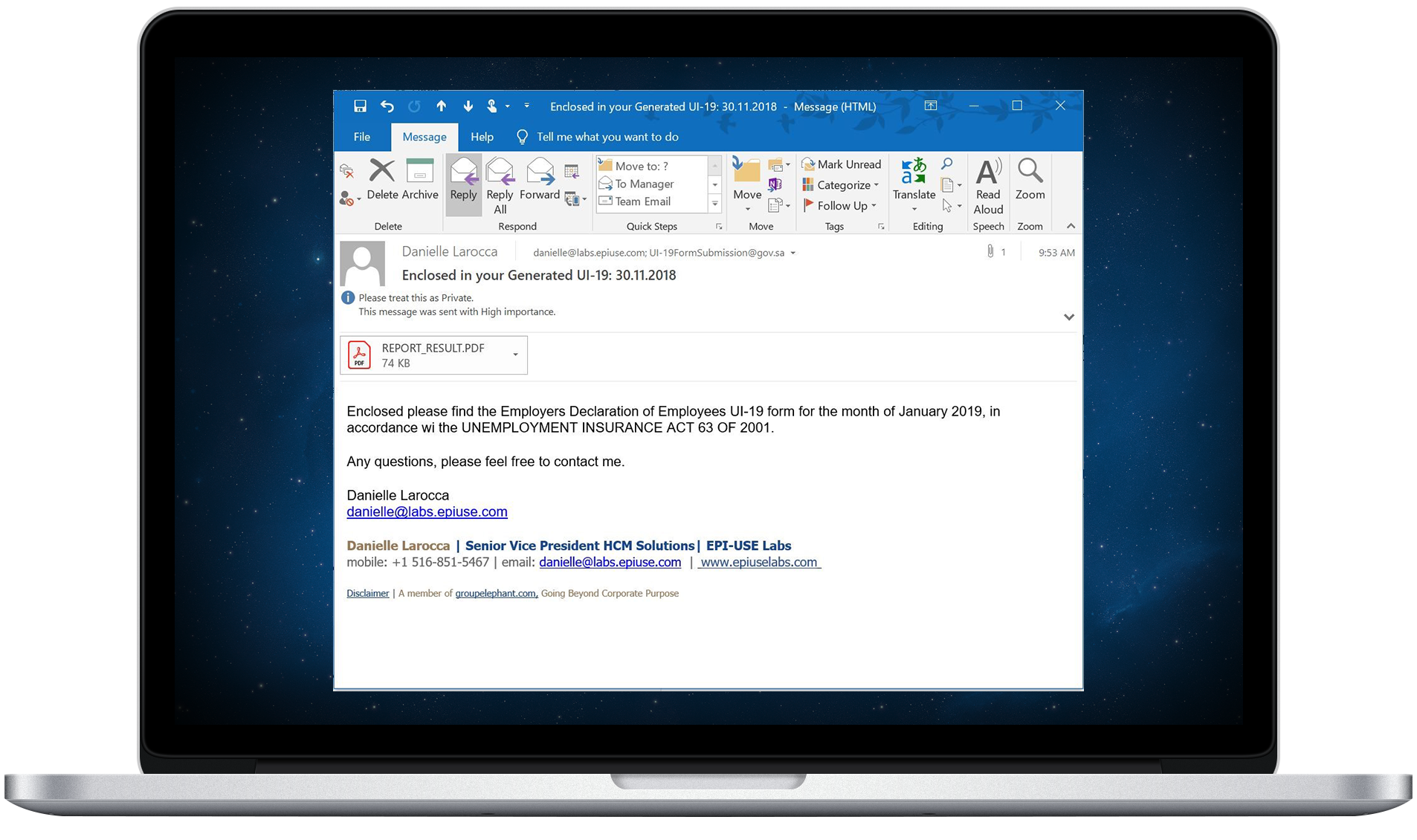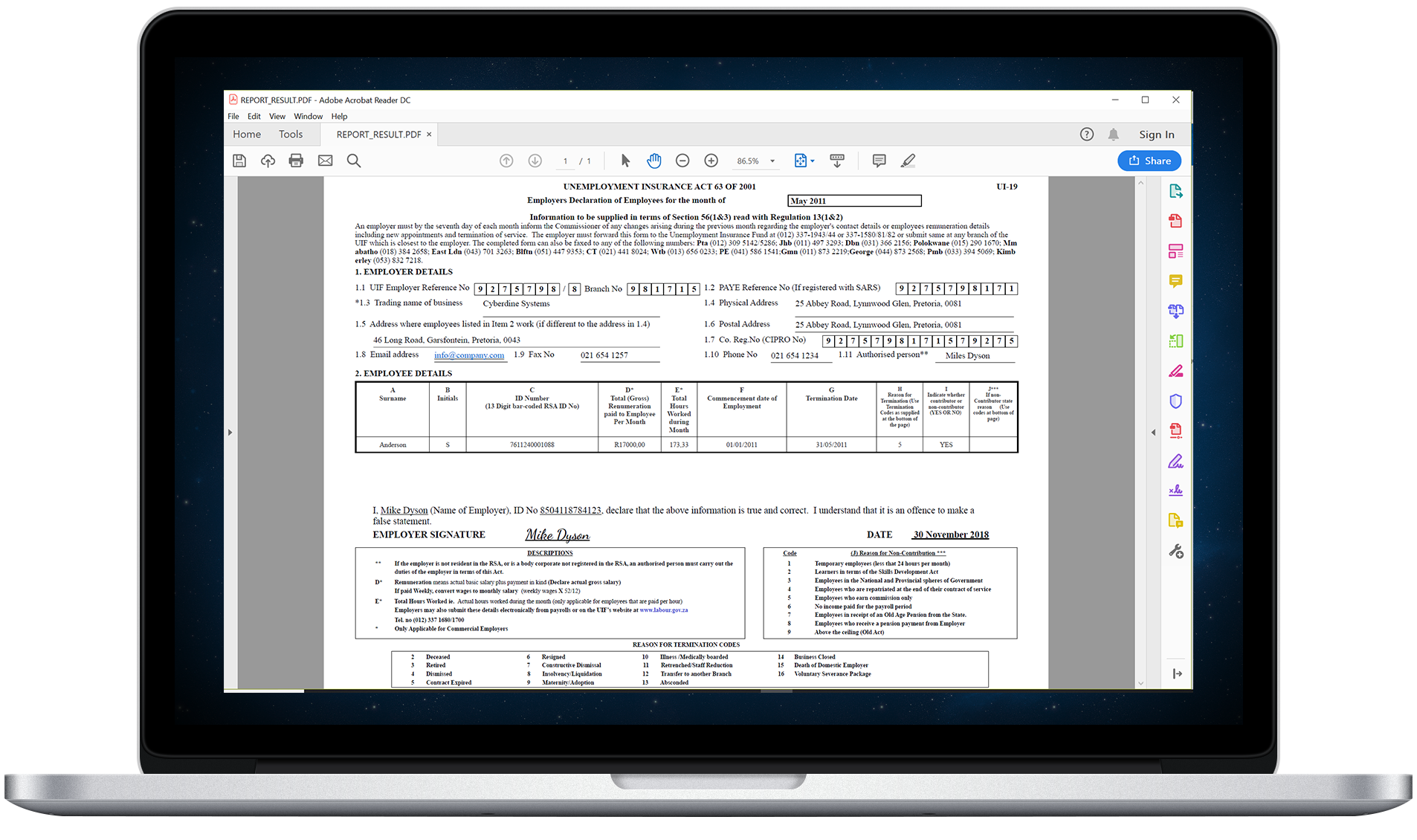 Your SAP® ERP system contains critical information to help you run your business. Document Builder helps you create richly formatted letters, documents, reports and visualizations for automated distribution to employees, managers and business partners.

This innovative solution was developed by global software specialist EPI-USE Labs as part of Query Manager™: the most popular reporting solution used by SAP HCM customers today.
DOCUMENT BUILDER EMPOWERS JABIL'S HR TEAM


"Document Builder is the perfect solution for Jabil, as it gives us the ability to read the employee data in SAP and seamlessly incorporate it into the contract," says Cindy Thomas, IT Technical Lead – HR, Jabil.




Query Manager 4 with Document Builder™ is certified as powered by SAP NetWeaver.