SAP has released a new offering to the SAP HXM Marketplace called S/4HANA Private Cloud Edition (S/4 PCE).
This new offering, aligned with their HXM Move program launched as part of SAP RISE, is part of their continued commitment to helping customers continue to get ROI from their on-premise SAP investment, while creating a bridge to the cloud and the future.
SAP has announced the HXM Move program to make it easier for on-premise customers to move to the cloud. They have made it clear that the SuccessFactors HXM suite is the go-forward HR solution for innovation and digital transformation, and is the focus of the HXM Move program, yet with their announcements over the past few years they have recognized that customers will continue to have hybrid models and may want to simplify their existing landscape without large-scale change.
Over the past few years, SAP has adapted to marketplace feedback which has impacted the offerings available to customers and the various guaranteed support dates for the solutions. Read more in our Ultimate Guide: SAP HCM & Payroll Options for Existing Customers.
The launch of the SAP S/4HANA Private Cloud Edition (S/4 PCE) is another option designed to empower customers to get the most from their current investment, while reaping the benefits of a flexible and non disruptive first step to the cloud.
Will S/4 PCE for HCM suit you?
If you are an existing on-premise HCM or Payroll SAP customer, S/4HANA Private Cloud Edition (PCE) may suit you if you: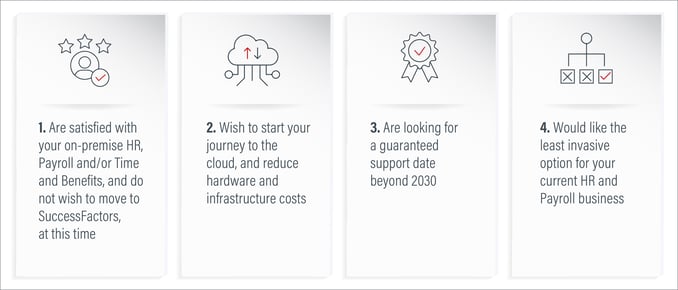 What does it entail?
If you select SAP S/4HANA Private Cloud Edition (S/4 PCE) you would commit to doing two things:
Purchasing an SAP S/4HANA Private Cloud Edition (S/4 PCE) license which moves your environment to SAP's own data center or in a hyperscalar (Azure, GCP, AWS).

Migrating your system to S/4HANA.
What are the benefits of S/4HANA Private Cloud Edition for HCM (S/4 PCE for HCM)?
This is a non-disruptive way to keep your HR, Payroll Time and/or Benefits via a cost-effective pathway to the cloud, while retaining the functional richness of your existing systems.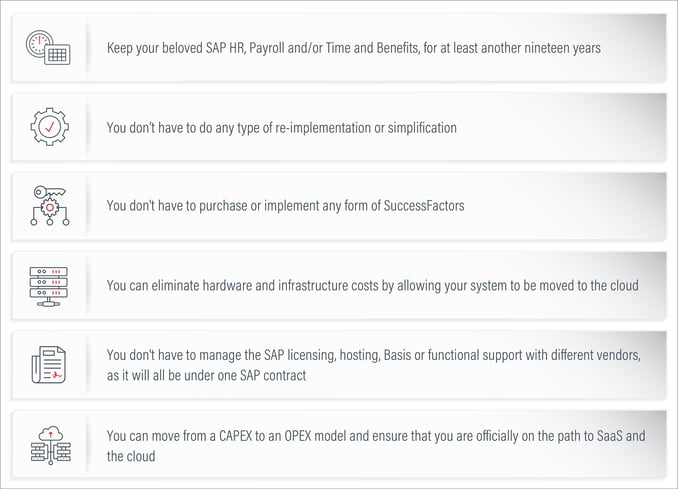 So can I keep my Payroll and/or Time and Benefits as is, indefinitely?
Nothing is indefinite, but what SAP SuccessFactors has committed to is that the guaranteed support date currently aligns with the S/4HANA support date, which is until calendar year-end 2040, see below.
How long will it take me to move to PCE, and what will it cost?
There is no one-size-fits-all answer for every customer, but I'm happy to share that as a valued SAP SuccessFactors Partner, EPI-USE Labs has a proven solution to make it easier for customers to transition to S/4HANA Private Cloud Edition (PCE).
EPI-USE has been doing carve-outs since at least 1998, and over the past several years we have modified that technology to support different variations on the HCM side including SAP SFSF Managed Payroll , and our popular migration solution for customers moving to SuccessFactors Employee Central Payroll called PRISM, so it was not a big jump for us to offer it for S/4HANA.
You might already be familiar with PRISM. PRISM is our rapid deployment solution with a methodology of Transformation without re-implementation, as featured on SAP's App Center. The solution allows our clients to engage in a high-speed, low-cost transformation leveraging SAP-certified solutions, a distinction that makes us unique in this space.
Our clients have been leveraging the PRISM for HCM (Employee Central Payroll) solution to migrate from On-Premise SAP Payroll to SuccessFactors Employee Central Payroll. See our success stories from PostNL and North American Lighting.
PRISM for HCM (Private Cloud Edition)
Our solution can dramatically reduce your project time by directly moving the configuration and data without requiring the typical S/4 upgrade steps and downtime. Furthermore, we mitigate the risk by offering parallel testing between the source and target environments by means of post-migration testing services that use our SAP-certified products. Only certain solutions are certified for use in S/4HANA Private Cloud Edition for HCM (S/4 PCE for HCM) as detailed in this blog. The solutions leveraged as part of PRISM include these specific S/4HANA certifications. Find out more about SAP S/4HANA certifications.
All this can be accomplished within a minimum amount of time. We have prepared a quick video outlining how it works (see below).
As SAP mentions in their press release: "Business transformation is no longer an option; it's imperative. Thriving in today's economy demands more agility, greater insights, and more dynamic experiences. In making the market for HXM, we are enabling the next evolution of HR where people are at the center of business. This is only possible with the innovation and flexibility provided by the cloud. With HXM Move, we are partnering with our customers to make the technology changes they need to future-proof not only their business transformations, but their people transformations."
To learn more, get started with your free assessment.