In the March 2020 SAPinsider State of the Payroll Market Survey, we learned that for companies with a stated desire to move to Employee Central Payroll, cost is not the top inhibitor. A majority (71%) of those companies said the complexity of their existing on-premise payroll configuration (and the effort to replicate it in a new system) is the top reason preventing them from moving their payroll.
It's fair to say that of all of the SAP modules, Payroll is often the one that has been customized the most. SAP's approximately 9,000 licensed payroll customers have been modifying and customizing their payroll for years. It's not surprising that customers say that they do not wish to move to SAP SuccessFactors Employee Central Payroll if it means that they will lose all that customization.

SAP SuccessFactors has changed their messaging on this a couple of times in the past few years, as noted in this webinar: Journey from On-premise SAP to SuccessFactors in the Cloud. The big change though was removing the language that a reimplementation was required to move forward with Employee Central Payroll. I think that shift gave customers a renewed sense of curiosity to find out if their highly-customized SAP Payroll would work in Employee Central.
Analyze the complexity of your SAP Payroll – at no cost
In the payroll world, EPI-USE is well known for its detailed payroll expertise, and EPI-USE Labs' solutions like Query Manager™ and Data Sync Manager™ are known to be the leading solutions in the marketplace for all things payroll. The expert payroll consultants at EPI-USE and the leading technology and product experts at EPI-USE Labs partnered together to help customers solve the challenge of analyzing the complexity of their SAP Payroll.
We created a free assessment which is actually a transport you simply load into your SAP system. This uses our proprietary technology to analyze your Payroll, and provides you with an interactive dashboard that explains the complexity of your SAP Payroll in detail. It does all this without exposing any confidential Employee or System data.
Coupled with a free analysis from our payroll experts, you now have a detailed technical assessment that you can view online. This includes how many custom tables are in use; an analysis of your Wage Types that are configured (versus which are used); a detailed analysis of your customizations, user exits etc; and custom fields and infotypes. You can see an example here.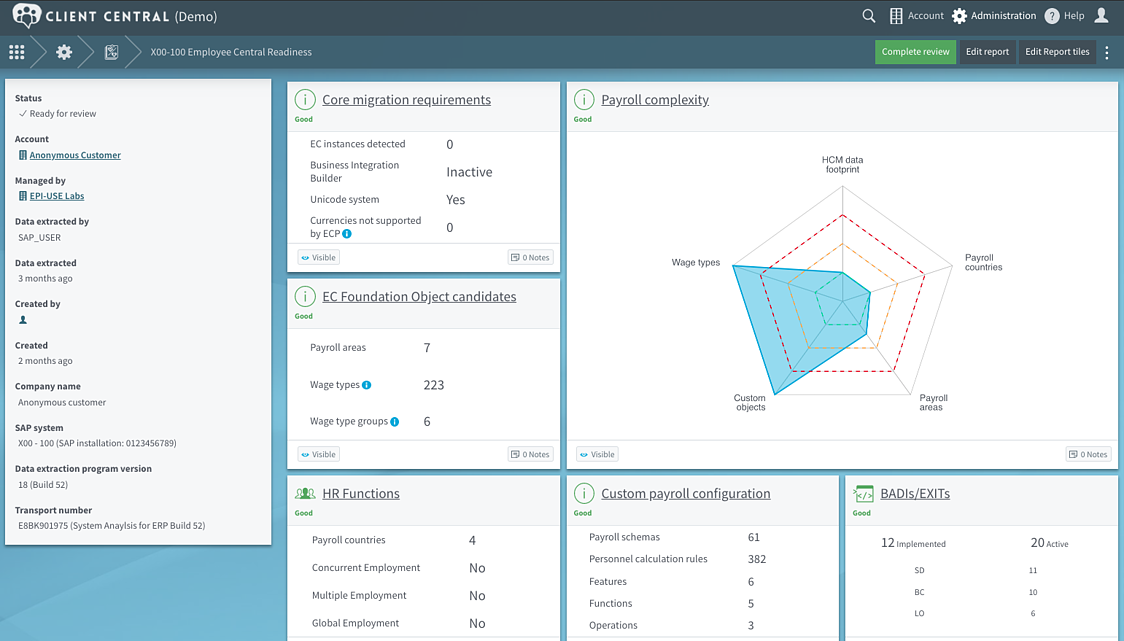 © EPI-USE Labs


You can view the completed analysis via an interactive online dashboard which gives you many of the key details you need to determine the complexity of your system. This will help you make the right decisions about your path forward, and if and when to move to Employee Central Payroll.


Learn more about the Query Manager solution and how it is integrated with SAP SuccessFactors, and why not get your free HCM assessment today?
For those customers who decide that SuccessFactors Employee Central Payroll is a good fit, we offer a solution called PRISM to help you get there. PRISM is a high-speed, low-risk route to SuccessFactors' Employee Central Payroll. You can check it out on the SAP App Center.