Blog in series: With you every step of the way in the SAP HCM Journey
What does it mean to adapt to business and technology changes in the context of SAP HCM? In this blog series about the SAP SuccessFactors HCM Journey, we have explored different processes during the HCM lifecycle where you can use products to access the data you require more easily, or automate your processes as needed. For this blog, we are looking at a few scenarios where you need to adapt to either business or technological changes.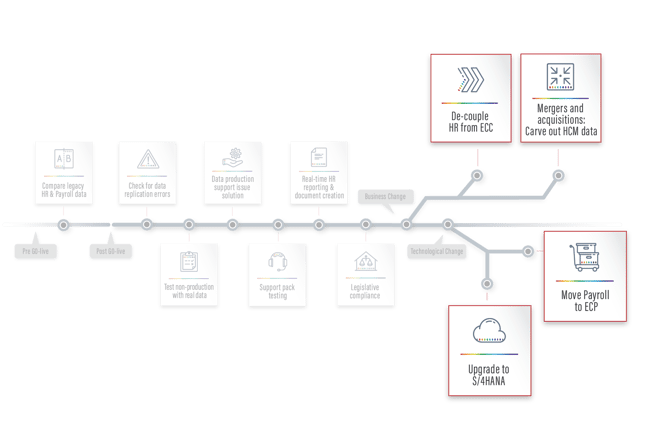 Business and Technological changes in the SAP SuccessFactors HCM journey: Click on graphic to enlarge
To learn more about this topic, I asked Juanma Ledo (Services associate for HCM at EPI-USE Labs) to share some of his insights.

Juanma has over ten years of SAP experience. Initially, after finishing his degree in computer science at University, he began his career as an ABAP developer in the SAP HCM module. This exposure allowed him to acquire functional knowledge in the HR area. After several years performing SAP implementations, he joined EPI-USE Labs, where he has achieved outstanding performance during product implementations, and excellent feedback from our clients for his dedication and expertise. He has performed more than 90 implementations in the EPI-USE Labs HCM product portfolio.
He is currently responsible for all HCM projects scoped and implemented in the European region, as well as pursuing business opportunities in the Southern European region.
---
In your experience, what are the typical impacts of business change on the HR team?
Companies are constantly going through some form of business change in the drive to become more efficient or more profitable. This will have an impact on the HR team, as they need to support the business in their planned transformations. With regards to SAP systems, we refer to business changes where any segment of HCM data is moved into a separate instance of Production (decoupling of HCM), or during a merger or divestiture where the data needs to be carved out.
Why do companies choose to de-couple their HCM from ECC and what is the process?
Decoupling is an activity performed when a client's SAP environment holds multiple modules (like Finance, HR and or Logistics) and they wish to take one of those modules and put it on its own server or box. This could be for maintenance, security or for logistical reasons. HR is often the most confidential of systems where this is a requirement.
Other reasons why companies are opting to de-couple their HCM from ECC are when you want to prepare your HCM system to be outsourced, or when you want to tighten security on the HCM data, limiting the number of system administrators with access. To have the HR system stand alone can bring you a lot of security, flexibility and independence.
I have heard from many clients that they feel their HCM system is very robust and fit-for-purpose for their business processes, however they are struggling to agree with the other functional teams regarding system downtime required for the application of Support Packs. This kind of scenario is ideal for decoupling HCM from the ECC system.
Technically, this is very easy for EPI-USE Labs to do. Using our SLO services and the power of our SAP-certified data migration tools, we can migrate and create a full tier of HCM-only machines in a very short period of time. Our process typically involves a three-phase project in which we build three systems for HCM (Dev, Test and Prod). Each phase covers a different layer of a SAP System: Repository (using System Builder™), Customising, and HCM data (using Client Sync™). In addition, we also bring user data and certain segments of non-HCM data that support and guarantee the functioning of the new HCM system.
The value HR teams get from this is that the SAP HCM system functions more independently. We have seen organisations de-couple their SAP systems when the pressure of loading Support Packs for legislative changes places too much pressure on the larger ERP system to allow for a code freeze.
During a Merger or acquisition, what are the technical constraints for merging or carving out systems?
Constraints vary depending on the type of project, but the major constraint can be linked to the renumbering required during a merge project, as combining the data may lead to potential clashes that could happen at the table key level.
EPI-USE Labs has a lot of experience with doing landscape transformation projects and we leverage Data Sync Manager LT (Landscape Transformation) to perform these complex projects. Recently we completed a project for Agfa, a global company in imaging technology and IT solutions, where the data was carved out when they sold a part of their organisation.
What is the current roadmap with regards to HCM for people adapting to S/4HANA?
Guaranteed maintenance for SAP ECC On-Premise technology, including HR and Payroll, is currently set forth as calendar year-end 2020, a date that has been extended a few times in recent years. Customers wishing to extend that support, who have at least 11 more years of ECC On-Premise SAP HCM and or Payroll, can leverage the new On-Premise SAP Human Capital Management for SAP S/4HANA on-premise edition which becomes available in 2022 and includes a guaranteed support through calendar year-end 2040.
We hear that some clients are also moving to SAP SuccessFactors Employee Central Payroll. Do you have experience with this?
Yes, we actually have a service called PRISM for Employee Central Payroll which is a rapid deployment solution for our clients moving from SAP ECC On-premise Payroll to Employee Central Payroll. Often referred to as the high-speed, low-risk route to SuccessFactors' Employee Central Payroll, PRISM combines our leading-edge SAP Landscape Transformation software with our world-class SAP Payroll domain expertise. It is a turnkey service to expedite and secure the move to Employee Central Payroll (ECP) quickly and easily, without requiring a full re-implementation.
We use our SAP-certified tools Data Sync Manager™ and Variance Monitor™ to seamlessly migrate your Payroll into the ECP system and provide auditable pay run results, so you can mitigate risks and reduce payment errors. Data transfer includes client-dependent customising, custom objects, PA/OM data, PY/TI results, benefits and compensation management.
An example of this type of project is the PostNL migration project that I was involved in.
EPI-USE Labs helps PostNL move to the cloud
With GDPR coming into effect, we see more and more organisations do data deletion projects to clean redundant data. Can you share some of your experiences on this?
We have performed employee deletion projects after a carve-out project, when the company felt it would be a risk and against the regulations to retain the data of the employees of the company that was sold off. Or, we would be asked to look at the linked data where the main employee record is kept, but linked data such as family information is removed. Every organisation's needs are very different from the next, but ultimately it's really important that companies make sure that they assess whether they have a good reason to keep the personal data and are in compliance with the regulations.
---
As outlined in Juanma's responses above, business and technology change is a given in all organisations. To find out more about adapting to business change, join our webinar.