Blog in series: With you every step of the way in the SAP HCM Journey
SAP® HCM and SuccessFactors are some of the most dynamic modules in the SAP space today. These solutions have undergone a large transformation, and continue to evolve with the latest technologies. Clients embarking on various SAP SuccessFactors implementations face a host of priorities for implementation planning and deployment, and for maintaining the system's homeostasis after go-live.
The SAP SuccessFactors HCM Journey
In this blog series, called 'With you every step of the way in the SAP HCM Journey', we are focusing on the four key elements for a successful HCM implementation. We want to help your business achieve the flexibility required to stay up-to-speed with the fast-changing environment throughout your HCM implementation journey.
The four key elements are:
Ensuring Data Quality before, during and after go-live
Legislation compliance
Real-time reporting
Business and technology changes
This first blog focuses on the first topic of ensuring data quality throughout the journey.
The journey refers to the transitional process a company must go through to get from point A to point B. Continuous testing and verification is required throughout your SAP HCM system life cycle. Underpinning this is data quality.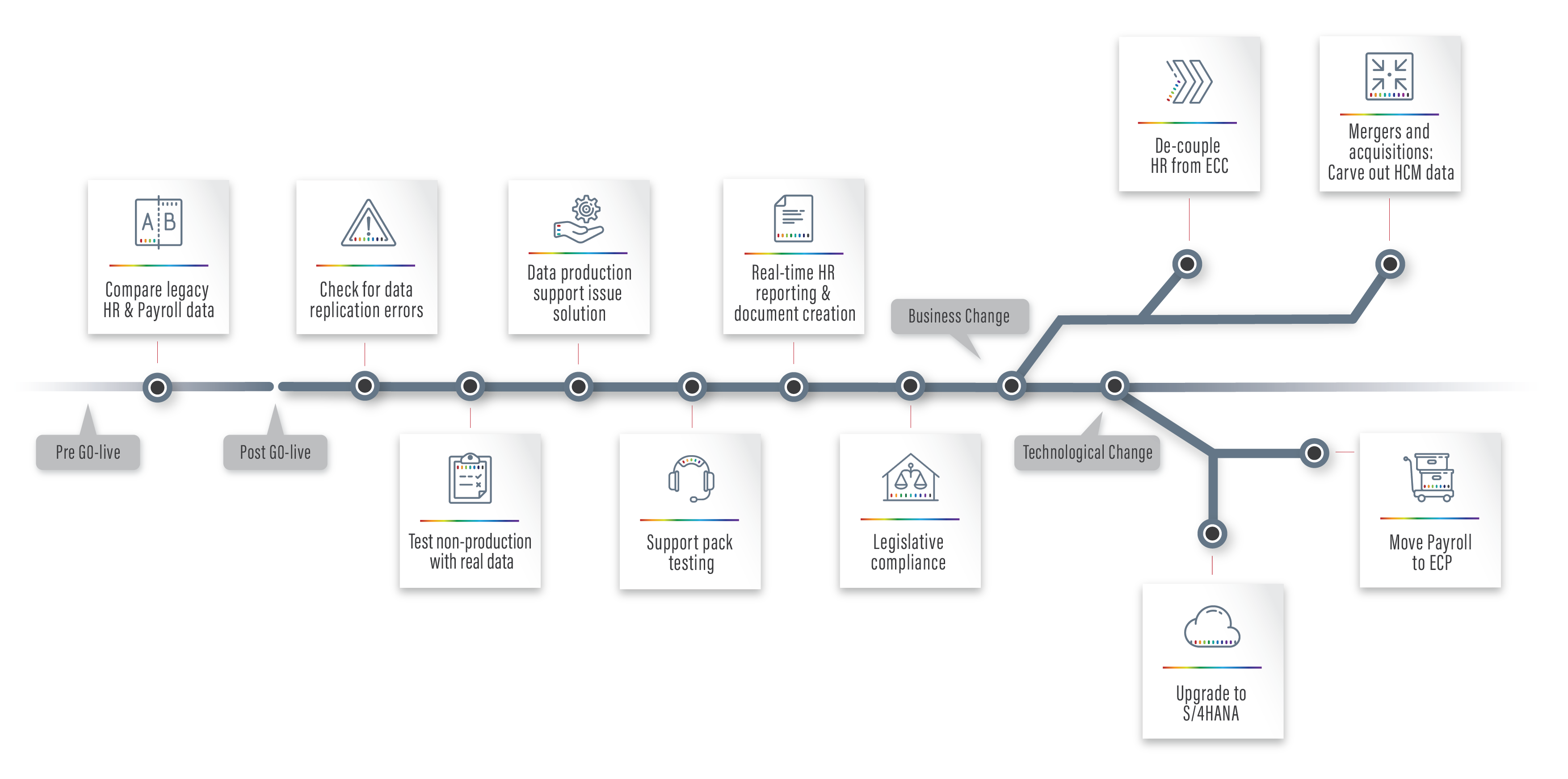 The SAP HCM business journey (click to enlarge image)
Ensuring data quality
before and during

implementation

HCM implementations can struggle initially; this is due to potentially unreliable data within existing legacy systems. Checking and approving the data being loaded initially is of paramount importance for project acceleration. Also, it's extremely important to verify data between your new system and your old legacy HCM systems, particularly when checking Payroll results, and ensuring everything balances before cutover.

Variance Monitor (part of the HCM Productivity Suite) gives you the ability to compare HR and Payroll across your SAP and SuccessFactors landscape. Because it's automated, Variance Monitor eliminates manual comparisons, speeds up your processes and enables your managers and test teams to be much more productive. Wage Types and key Master Data can be compared against legacy data via file. During the initial implementation, there is data residing in both your new system and legacy systems that needs to be compared and verified before go-live can be achieved with speeding up your parallel run phase, and ensuring you go live with accurate data.
Ensuring
Payroll data

quality

after

implementation

Research carried out by SD Worx revealed that 79% of employees that had been paid incorrectly identified the issue themselves. Payroll mistakes have a negative impact on your employees, and invariably then on your business. There are multiple sources for data errors in HCM, from employees filling in forms incorrectly, to functional data input errors, the incorrect process creating errors, and even system errors due to configuration.
As an example, Gloucestershire County Council employs over 35,000 people. By checking their payroll runs with Variance Monitor, the Council has mitigated errors and prevented major adjustments being made to subsequent payroll runs. Tolerances are created to key SAP Wage Types and changes outside of those are flagged to the payroll team. The Council will now also extend the use of Variance Monitor to cover their 68 Academy and Foundation Schools. Each school has to check their staff's pay before it is committed to the payroll run.
Working proactively to ensure data quality will reduce the time spent troubleshooting and resolving errors post payroll. Such a process also enables transparency for auditing purposes.
Ensuring
Test data

quality

after

implementation

After go-live, the quality of data in organisations' SAP and SuccessFactors non-production systems is comparable with that of Production. However, as time goes on, the gap widens, as business transactions continuously hit Production and the system grows exponentially. Soon a point is reached where an SAP client, or even the system, cannot be refreshed due to the physical system size and the time taken to undertake it.

In the world of S/4HANA and Hyperscalers, having full data copies in non-production systems can certainly prove costly. The other elephant in the room is of course Compliance, for example the General Data Protection Regulation (GDPR). Having real HCM data in non-production systems is simply not allowed anymore and can be subject to significant penalties. Read more about HR compliance in our next blog on "Legislative Compliance for HR".

Part of the HCM Productivity Suite is Data Sync Manager™ (DSM) for HCM, which empowers users to copy data to non-production environments to replicate issues. DSM gives you the data you need quickly, allowing quick responses to business scenarios, and allows you to copy/clone specific HCM/SuccessFactors Employee Central data easily and accurately, as needed, and to scramble sensitive information.

You will also need to cater for frequent changes to your production system through the application of support packages, often fuelled by legislative changes. Any time that a change is introduced to the system, you need to reverify that the configuration changes implemented do not have a negative impact on your employee data. Clients need to be able to compare the data both before and after a change to the system is implemented.
As an example, Compass Group UK uses Variance Monitor and also Data Sync Manager to streamline their support pack testing process. Using the HCM Productivity Suite, Compass Group creates scrambled data in their testing environments, and then applies the necessary support packages. Once this is undertaken, they can then run the payrolls and use Variance Monitor to compare the wage type data to ensure all balances, and then safely move the support packages into their production system. Watch the video.
Conclusion
Every step of your HCM journey has business challenges which are inflexible. Testing is the most powerful solution to mitigate risk to your employees. The fundamental pillar of this is quality of data. Can you think of the high costs to the business of a Production outage due to improper testing? The HCM Productivity Suite from EPI-USE Labs gives your organisation a pragmatic suite of solutions to ensure you are ahead of the curve.
Register for the HCM Productivity Suite webinar series which we are hosting about the SuccessFactors SAP HCM Journey, and how you can leverage our suite to enhance your SuccessFactors implementation.