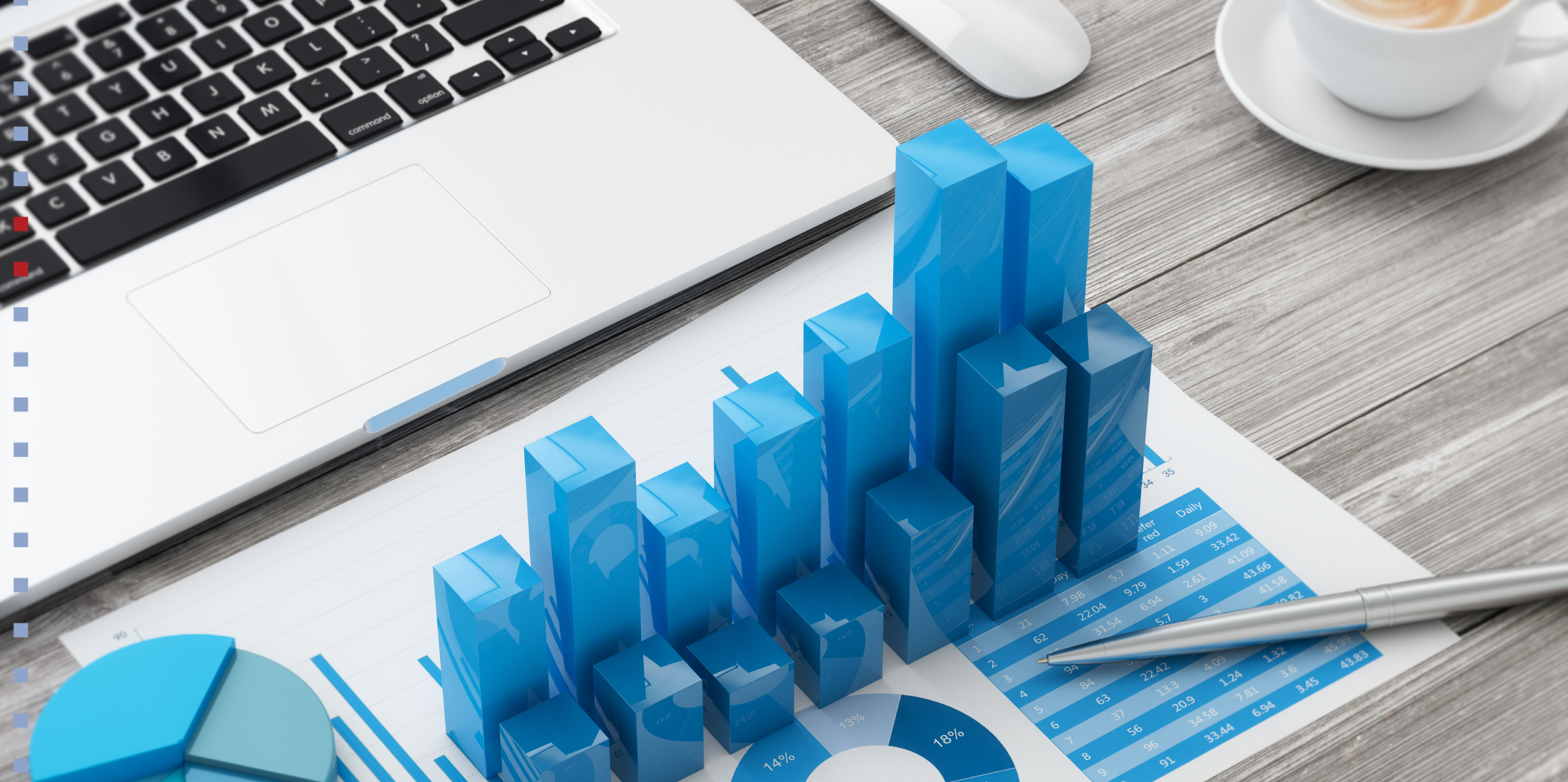 The 2018 SAPPHIRENOW ASUG Conference focused on Intelligence
Reporting in the SAP HCM on-premise space has often been cited as the single biggest challenge for customers. It's troubling to think just how many of SAP's 13,000 on-premise HCM customers are still using tools like the Ad Hoc Query for reporting.

Past blogs have outlined the many shortcomings for on-premise HCM reporting, and the starts and stops related to getting real-time data from SAP for some of the most important areas in HCM reporting, like time and payroll. At the bottom of this blog you can easily access previous blogs that discuss this topic (reporting challenges).
Over the past year, there have been some exciting announcements about reducing the confusion around reporting and analytic solutions in SAP SuccessFactors, including the announcement of the Report Center and Analytics in Employee Central.
This past week, while attending the 2018 SAPPHIRENOW & ASUG annual conference, I learned that SAP is working to ensure that reporting and analytics is not going be a challenge in their future landscape.
(If you are not familiar with the annual SAPPHIRENOW and ASUG event be sure to check it out here as some of the content is available for free playback.)

I was really happy to see that the topic of reporting and analytics was brought up in the first few minutes of the President of SAP SuccessFactors, Greg Tomb's HCM keynote after he shared some key facts and figures:
100 million SuccessFactors users (Biggest cloud business in SAP)

91 countries supported

6,500 customers globally (grew 25% in past 12 months)

2,450 Employee Central Customers (since its launch 5 years ago)

75% of SuccessFactors customers run on HANA; six months ago it was only 1% (SAP as a customer just went live with HANA last month, and American Airlines also just went live)

Talent scarcity is the #1 concern for employers (getting it, keeping it and growing it)
The newest SAP theme is INTELLIGENCE (Intelligent Enterprise, Intelligent HCM, Intelligent Suite etc.)
During his talk, Greg introduced the concept of an Intelligent Suite. This Suite, which is based on HANA, supports three key things:
1) Real-time data
2) Unified User Experience
3) Integrated Processes
The message was that the goal was to eliminate disparate disconnected modules or handshakes between systems transferring data between various mechanisms. Everything in the new model is within a single system with a reporting and analytics layer over the top of it all, leveraging SAP Analytics Cloud (SAC).
According to SAP, the SAP Analytics Cloud is a single experience for decision making that allows users to discover, visualize, plan and predict, all in one place. This gives everyone, whether in front of the customer or in the boardroom, the power to find new insights and take action.
| | |
| --- | --- |
| | |
| Greg Tomb | Amy Wilson |
Photo by Danielle Larocca taken at the 2018 SAPPHIRENOW ASUG Conference

Next up was Amy Wilson, SVP Products at SAP SuccessFactors who announced, "For the first time that I have seen in my career with SAP, SuccessFactors, we now have a single solution for Reporting and Analytics for all SAP SuccessFactors data."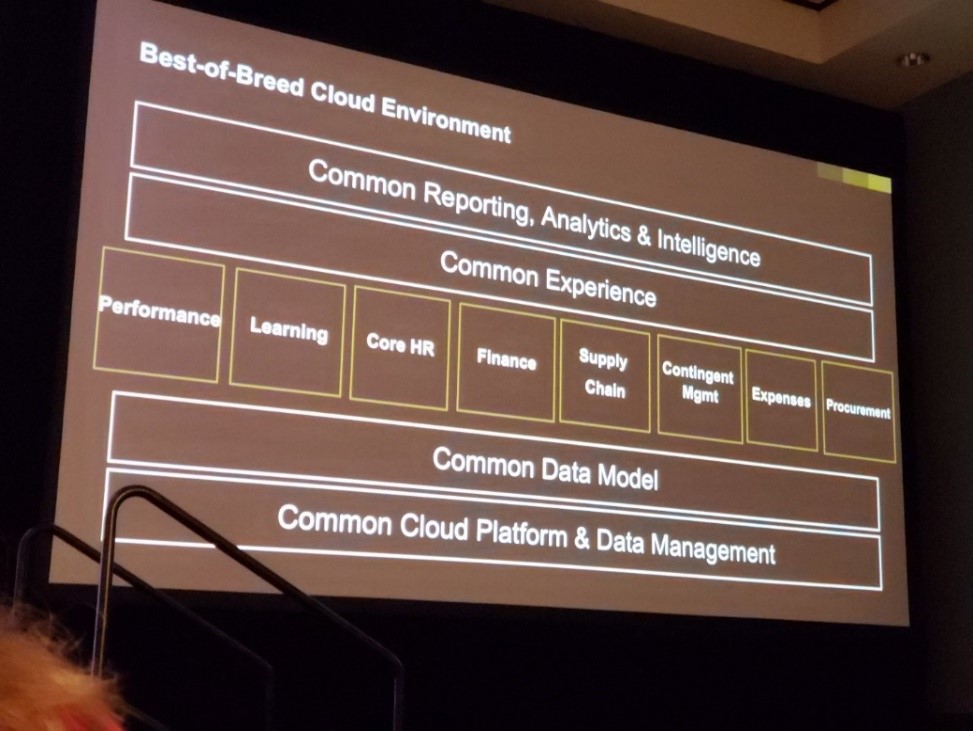 Photo from SAP SuccessFactors slide taken at the 2018 SAPPHIRENOW ASUG Conference

The end game is:
1) One unified transactional reporting solution
2) Workforce Analytics metrics combined with Enterprise data
3) Embedded Enterprise Insights and Predictions

So, this is not earth-shattering news, as we knew SAP Analytics Cloud (SAC) was coming. The big distinctions, in my opinion, include:
1) They have made reporting and analytics a primary focus
2) The key word 'Intelligence' is changing the game in terms of the function of data retrieval and presentation (more on that later)
3) SAP SuccessFactors added the words transactional and real time to their messaging
4) Current solutions, including Workforce Analytics, will fold into this, in the future
5) HANA will be required for all things Reporting and Analysis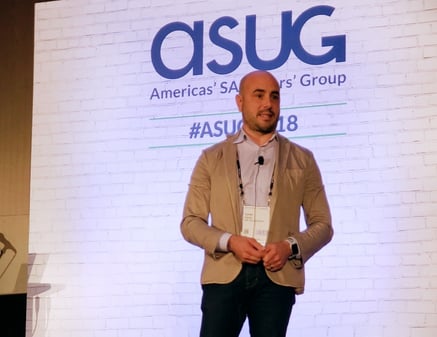 James Harvey - Photo by Danielle Larocca taken at the 2018 SAPPHIRENOW ASUG Conference

Looking at SAP Analytics Cloud (SAC)

Amy was followed by SVP Engineering and Cloud Operations at SAP SuccessFactors, James Harvey, who gave us a detailed in-development Labs preview (note items shown in preview are not guaranteed and simply reflect the current thoughts and designs in consideration).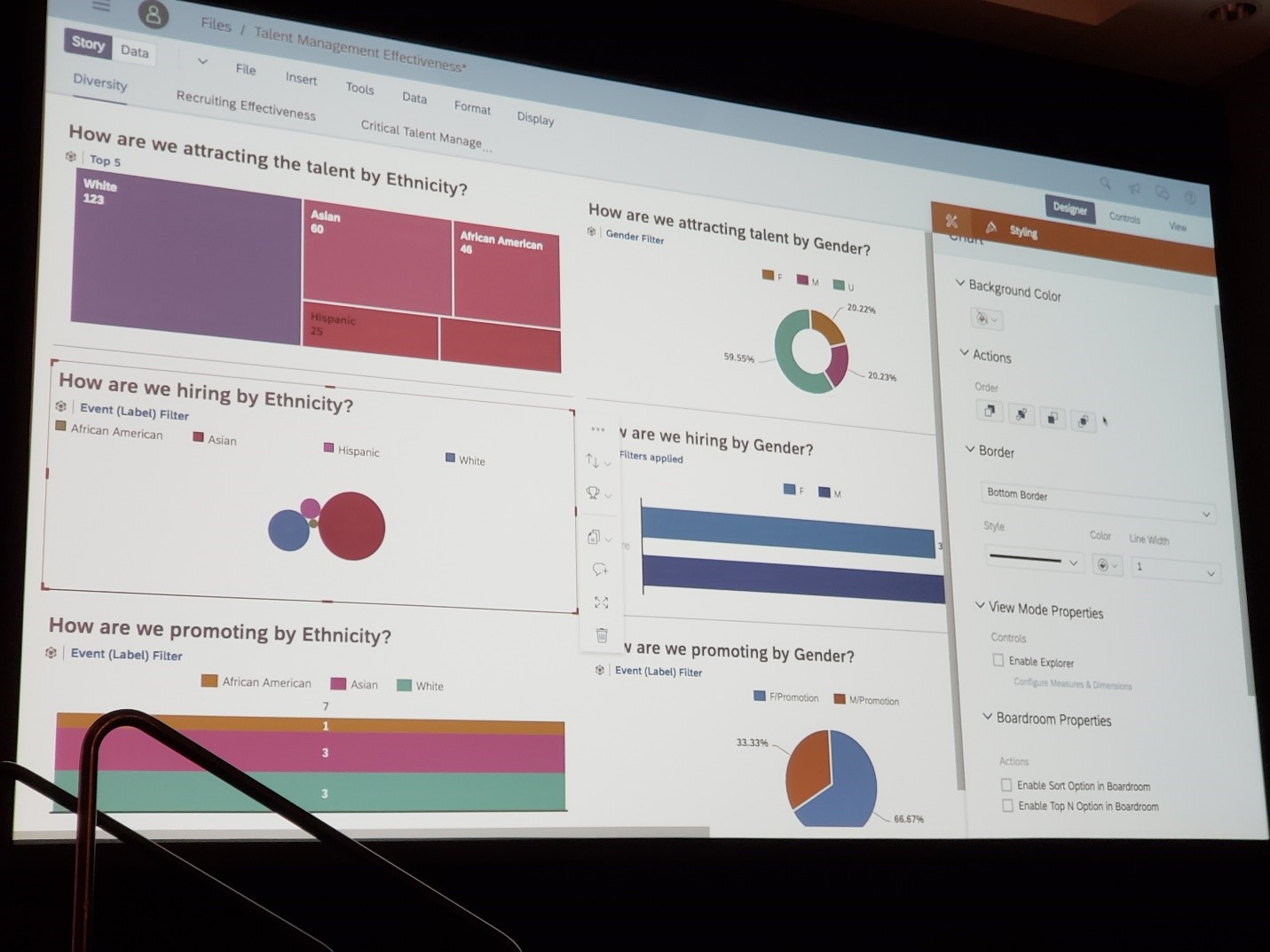 Photo from SAP SuccessFactors slide taken at the 2018 SAPPHIRENOW ASUG Conference

In this example you will notice on the righthand side of the screen a settings option providing an analyst with the ability to customize what they see, including varying which charts to see, change from a pivot table to pie- chart, change the scales, interact with a specific chart for example to see only the top five values, and so on, through a simple selection on the main screen.
This may look a bit like traditional dashboards or even some reports created within the Report Center; the difference however is the focus on Intelligence.

What is the Big Deal with Intelligence?

The primary shift for "reporting and analytics" in this new intelligent suite is that you are not just running reports and showing them on a dashboard leaving the user to do the analysis and draw their own conclusions.

SAC provides the ability to gather meaningful information from across SuccessFactors and use that information in a way to tell a compelling story that is ready for the business to make decisions from.

Before SAC -> The dashboard would show a chart labeled Headcount and the user could drill into it to review it and try to ascertain patterns, look for outliers etc.
After SAC -> The Dashboard would highlight a business consideration insight such as "How are we hiring by Ethnicity?" or "Who is at risk loss due to compensation?" as shown below.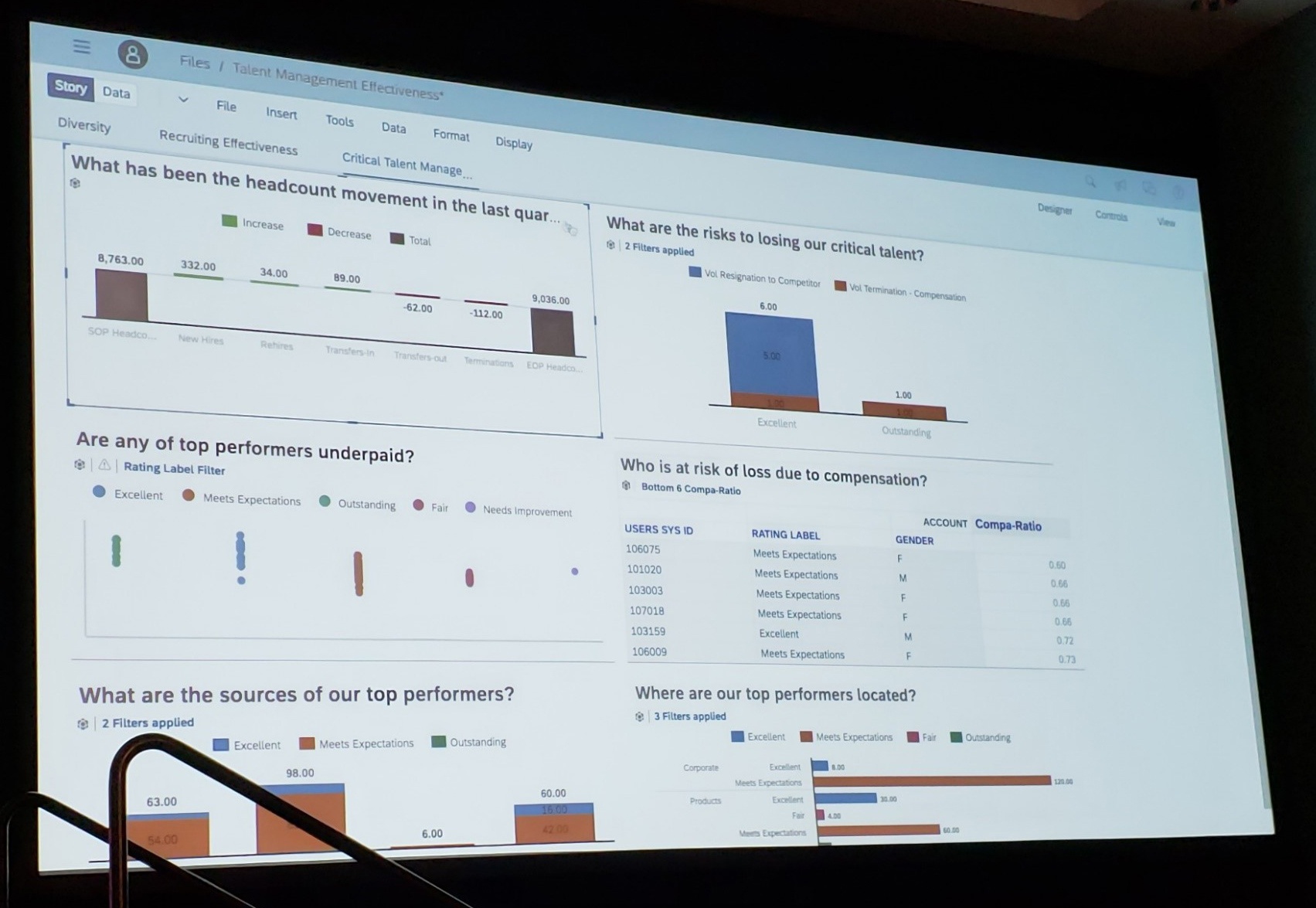 Photo from SAP SuccessFactors slide taken at the 2018 SAPPHIRENOW ASUG Conference

In this Intelligent model, reports are no longer an output type resulting from data retrieval. Their purpose is to provide insight and intelligence which is much richer than data and output.

This continual evolution is in line with both the latest technology solutions leveraging S/4HANA and the best practice of building an intelligent enterprise.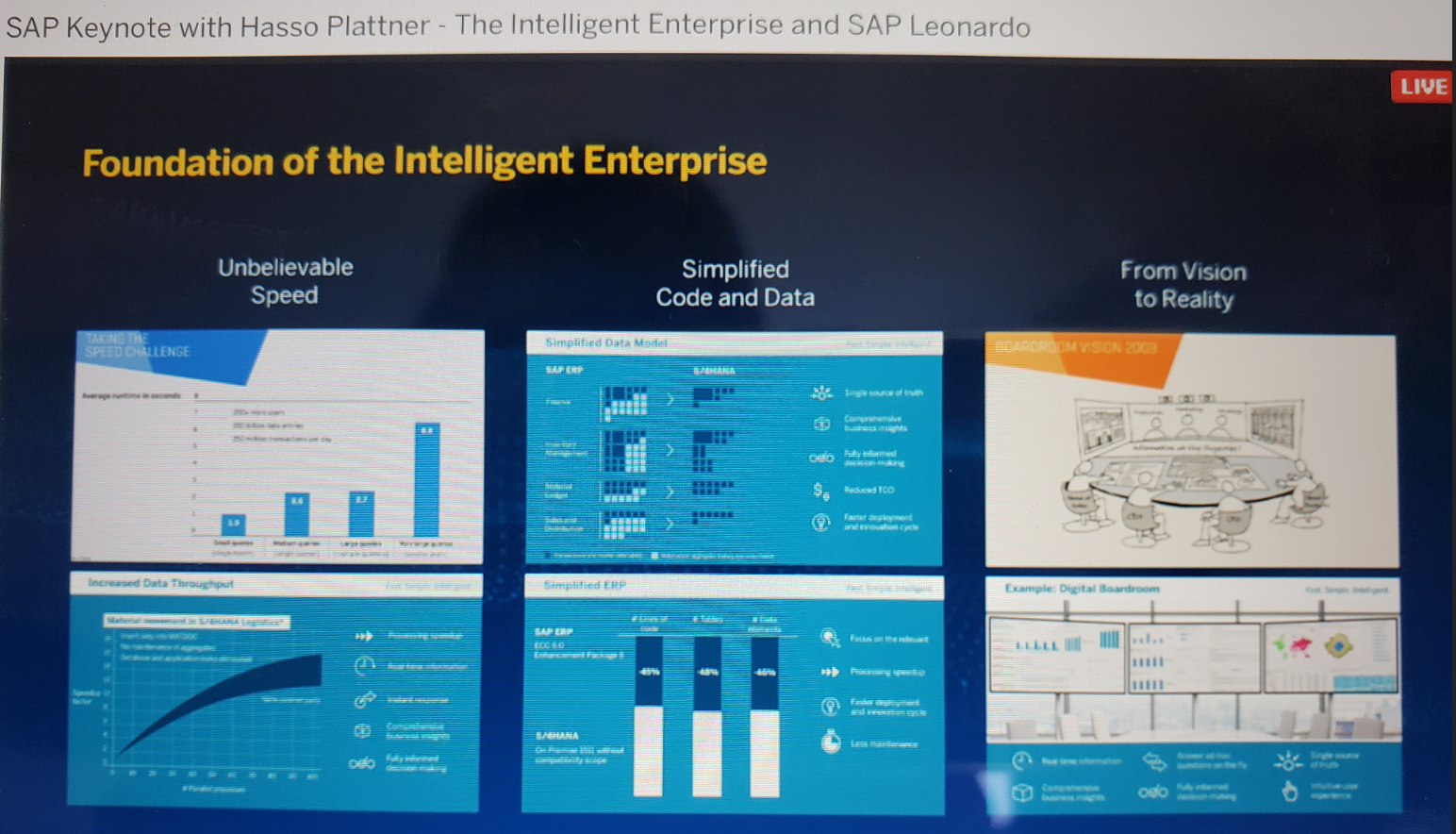 Photo from SAP SuccessFactors slide taken at the 2018 SAPPHIRENOW ASUG Conference

A sneak peek into the analysis available in SAP Analytics Cloud (SAC)

Harvey also gave a sneak peek at what is in development for the future of SAP Analytics Cloud (SAC). Keep in mind that the data available is not limited to your SuccessFactors system; it can include contingent workforce data from Fieldglass, transactional data in real time or data from any S/4, non-SAP etc.
Some additional benefits of SAC:
Geo-capabilities (integrated map)

Cluster reporting (identifying patterns)

Times series (comparing today with a year ago and ten years ago, Trend reporting)

Spatial (longitudes and latitudes)

Access to structured and unstructured data (ability to include data from an attached resume in recruiting in a report)

Data streaming

Mobile capabilities

Predictive analytics

Search

Machine Learning

IoT

Social
All happening on the same data set, at the same time.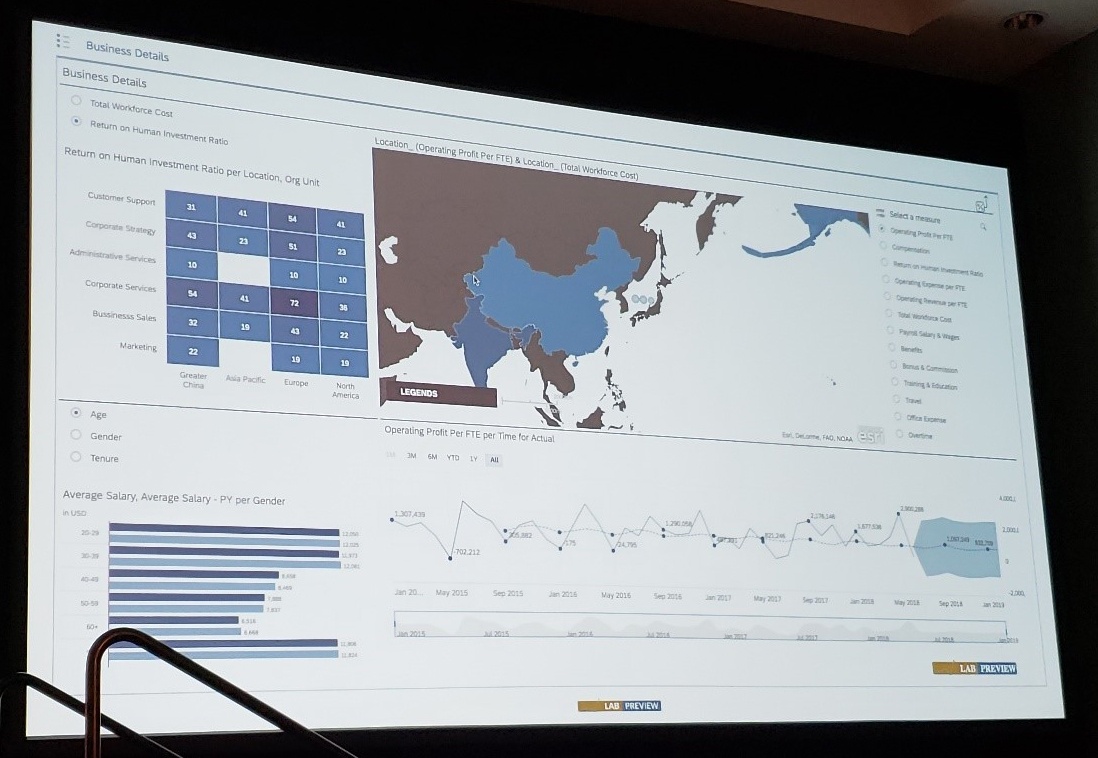 Photo from SAP SuccessFactors slide taken at the 2018 SAPPHIRENOW ASUG Conference

The rollout of SAP Analytics Cloud (SAC) starts at the end of this year with general availability scheduled to commence shortly thereafter. It's an exciting time to be in the SAP SuccessFactors space. To stay in the know on the latest advancements and planned updates from SAP, be sure to check out their roadmaps, and sign up for my blog (see 'Get Instant Updates' at the top right of this page). And please keep in touch!

If you are one of the 13,000 SAP HCM On-premise customers still struggling with a query tool for on-premise SAP HCM or SAP SuccessFactors hybrid reporting please check out Query Manager or feel free to reach out to me directly at danielle@labs.epiuse.com.


Trying to Compare Query Manager and SAP SuccessFactors Workforce Analytics is like trying to compare Apples and Oranges





SAP HCM Reporting: Are Query tools ancient history?







Five things you need to know about reporting in SAP SuccessFactors







4 Options for SAP Payroll Customers





My Top 3 Favorite Advancements in SAP SuccessFactors Reporting





What is Fiori - and what does it mean to me?





100 Critical Human Capital Management Questions: Can you answer them?




Creating and Reporting on Custom Infotypes in SAP HCM





What is the difference between an SAP Certified Partner and an SAP Certified Solution?




Phishing Attacks Threaten HR/Payroll Data: Query Manager Protects




Phishing Attacks Threaten HR/Payroll Data: Query Manager Protects




Fixing duplicate line reporting in SAP HCM







SAP HCM: Handling

positions A Quick Fix to Employee Status that can improve your HCM Reporting






SAP HCM: Handling positions after a termination