One of the things I like about SAP® SuccessFactors® is that it allows customers to submit enhancement requests to their products. These requests are then reviewed and voted on by customers to be added to the solution. One of these Customer Influence and Adoption programs allows customers to log requests for additional functionality in Payroll. Below is a sample of a request logged by an SAP Payroll user. This particular request got votes from 62 unique organizations who thought it would be helpful to their business.
Request ID 414: Wage-Type Configuration and Information Report
Request: Provide a standard report that will provide all the relevant configuration details on a customer wage type such as taxation, posting to FICO, 3rd Party, pay advice, Infotypes, priority/arrears/deduction models, tax reporting, garnishments and other items so that customers can quickly understand all the characteristics that are set up for their Wage Types. Currently this is spread over several reports or not at all.

This will not only help the payroll team troubleshoot production issues, make setting up a new wage type easier (to find one to copy from) and the technical team that is supporting payroll and be a big overall time saver for customers.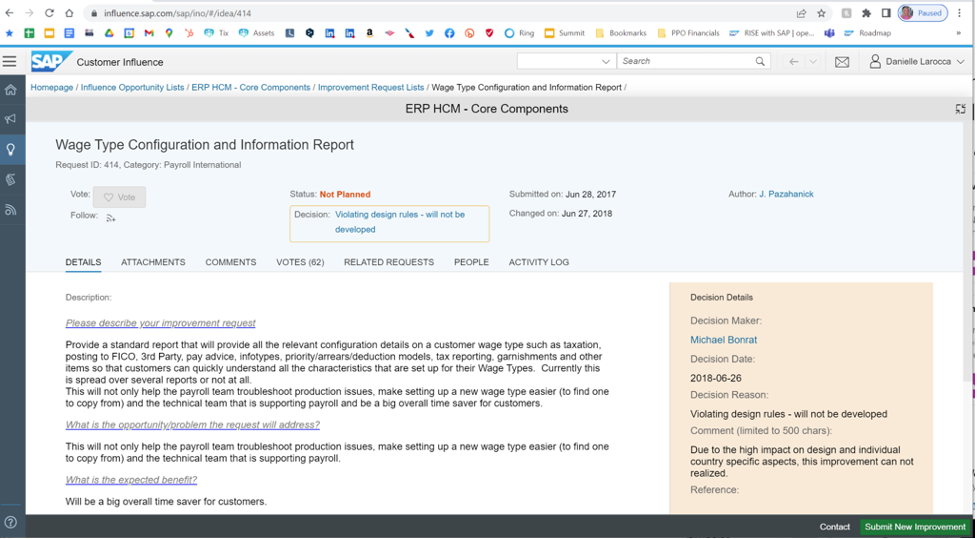 SAP SuccessFactors launches the Wage-Type Information report
After reviewing the customer requests and seeing the number of customers interested in the enhancement, new functionality was delivered. In 2021, SAP SuccessFactors announced ‒ as part of their SuccessConnect annual event ‒ that they had built and delivered this new report for customers as part of their 1H 2021 release. This new report can be used for SAP On-premise Payroll or for SAP SuccessFactors Employee Central Payroll.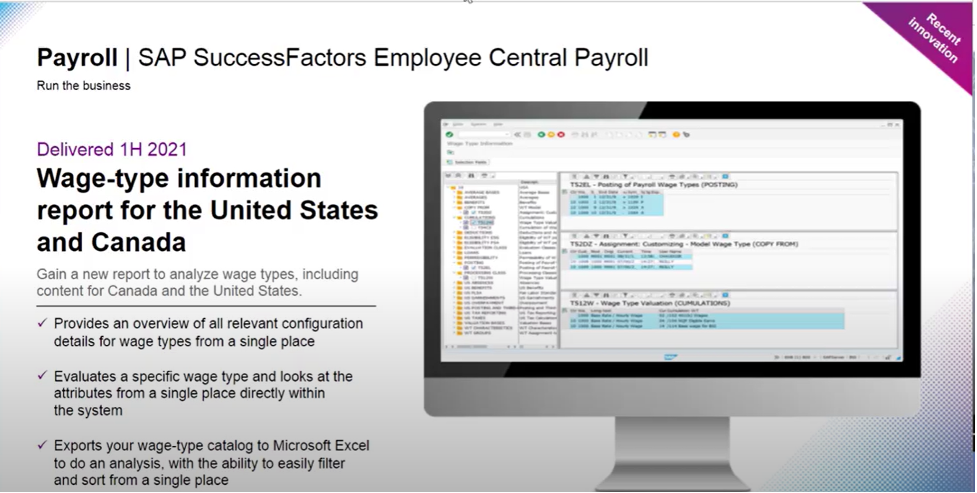 #SuccessConnect © SAP SuccessFactors 2021
This report is designed to allow customers to see all of the relevant configuration details for a Wage Type or pay component in a single place. This functionality is currently available for US and Canadian customers, with more locales to be added in the future.
The report provides the ability to review and understand all of the characteristics of Wage Types or pay components directly from one place. This is critical, not only during an initial implementation of Payroll but also as part of the day-to-day maintenance of a Payroll, especially as organizations expand their Wage-Type catalog.
Take a look at the Wage-Type Information report
To take a look at the report, start by entering transaction code PC00_M99_WT_INFO. Below, I have included screenshots of what the basic screens look like.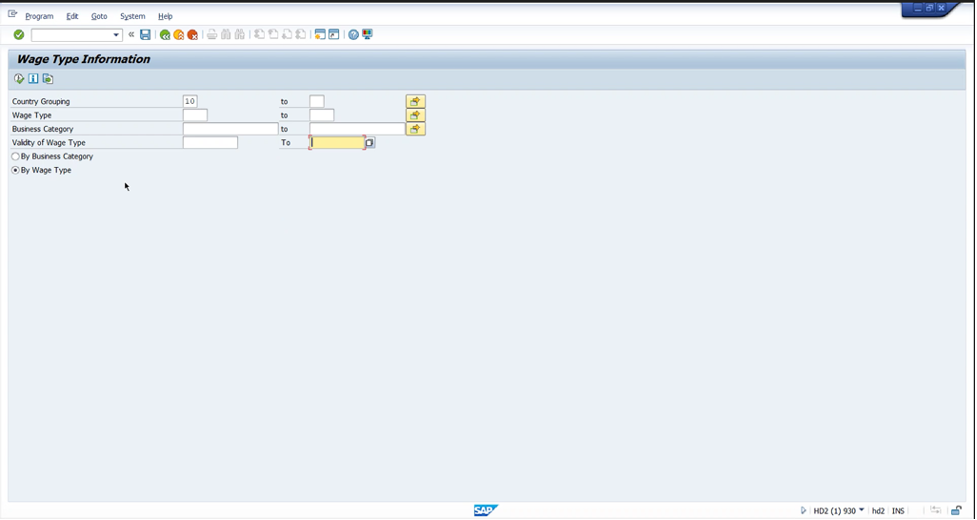 The main screen of the Wage-Type Information report
©SAP SuccessFactors 2022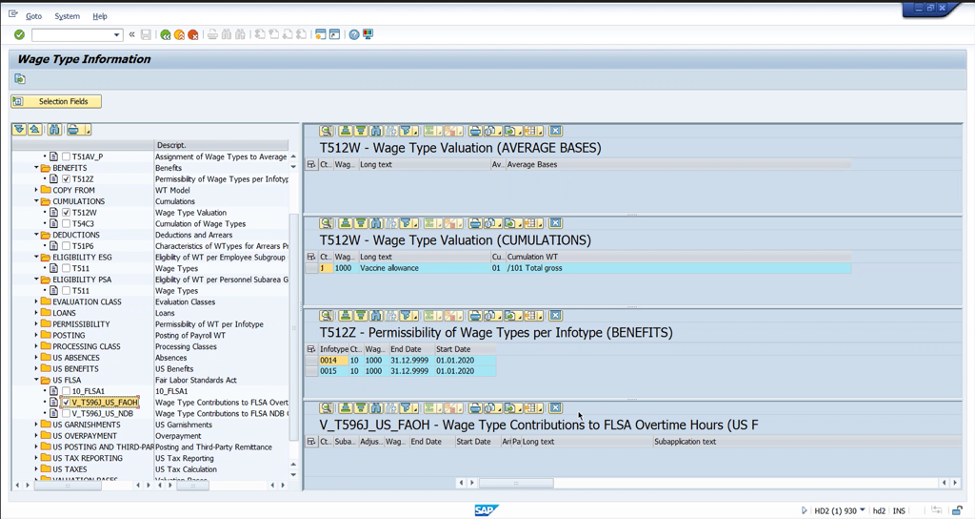 A detailed view of the Wage-Type Information report
©SAP SuccessFactors 2022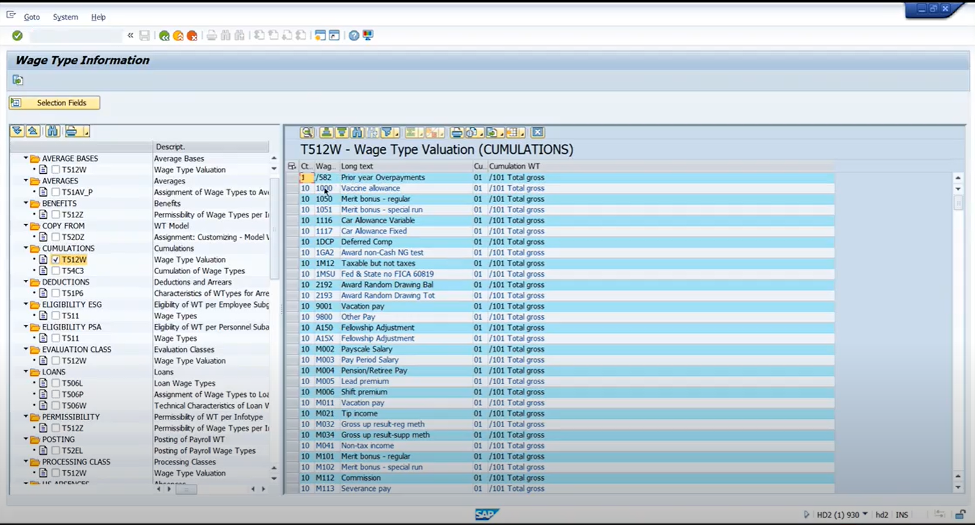 A detailed view of the Wage-Type Information report
© SAP SuccessFactors 2022
Looking at the example above, it's nice to see that it makes the main tables easily viewable but also many of the related tables available for the user to review and drill into. This is an ideal reference for those who may wish to look at the cumulation classes to see, for example, all of the Wage Types that accumulate in Wage Type/101 Total Gross. These reports can also be exported and viewed offline in Microsoft Excel, as shown below.
A look at the Wage-Type Information report once downloaded in Microsoft Excel
©SAP SuccessFactors 2022
Going beyond the Wage-Type Information report
This new report utility is a great tool for customers for easily accessing this information.
If you want to have even more data and detail, for example, to see which employees have these Wage Types, you can leverage the only SAP S/4HANA certified Payroll reporting solution, Query Manager.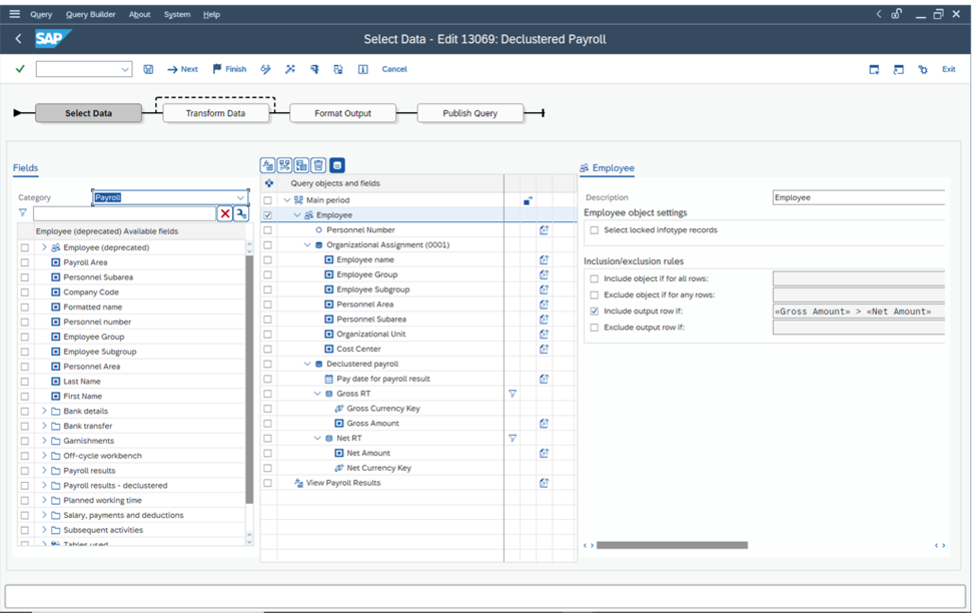 Query Manager report design screen
©SAP SuccessFactors 2022
Enjoy a user-friendly interface with live Payroll data
One of the challenges of Payroll reporting is knowing where to find the appropriate data. Query Manager's user-friendly interface allows you to locate and report on all of your pay-related data (Payroll clusters, Infotypes, retroactive details or even GL accounting records). The user guides, videos and training make it easy for you to understand which data are relevant to your needs.
With Query Manager, you can start with existing templates or build your own, based on your unique requirements, leveraging a simple user interface that focuses on an easy user experience, without needing any technical assistance or transport life cycle processing. Be empowered to access your critical Payroll data to ensure that you can manage your Payroll with confidence in its accuracy. Learn more about Payroll Reporting with Query Manager.
Start with best practice Payroll reports
Best known as the world's largest and most experienced independent SAP HR/Payroll specialist, at EPI-USE, Payroll is at the heart of everything we do. As such, we have available the most popular global payroll templates for use by our clients running any form of SAP Payroll or SAP SuccessFactors Employee Central Payroll.
New or existing clients can start with the delivered best practice reports for Payroll, designed by leading experts, and modified, based on the continuous feedback from our thousands of users around the world.
For those who simply want to execute the reports built for them, we have an option for that. For those who wish to run the reports themselves, we have an option for that as well. Working in Query Manager is easy. There is no need to start from scratch; you simply copy these templates and make them your own. You can also decide that you do not wish to build reports at all, and simply have the reports available to you as a package or a service, either in report or dashboard form. There are many options; you can select one that best fits your needs.
Request a free demo: Experience easy, powerful SAP HCM and Payroll reporting for yourself