SAP SuccessFactors® released HXM Move as part of the larger RISE with SAP announcement regarding SAP's commitment to simplifying the customers' transformation journey with technology and processes.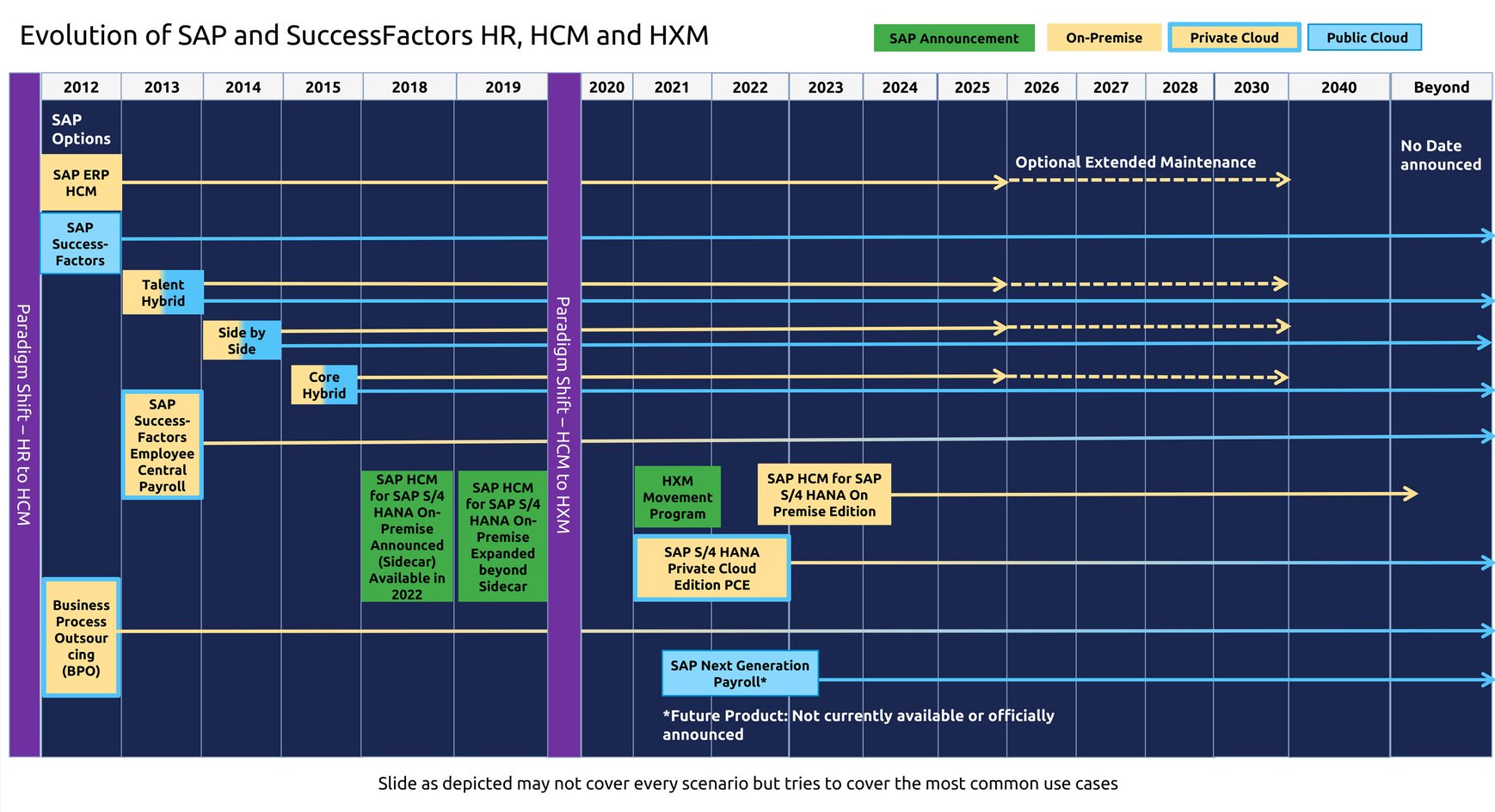 Since the acquisition of SuccessFactors back in late 2011, I have been making an effort to chart the progress and evolution of the SAP SuccessFactors landscape, see below. Over the past several years, SAP SuccessFactors has continually adapted to marketplace feedback which has impacted the offerings available to its customers and the various guaranteed support dates for the solutions, as detailed in our Ultimate Guide: SAP HCM and Payroll Options for Existing Customers.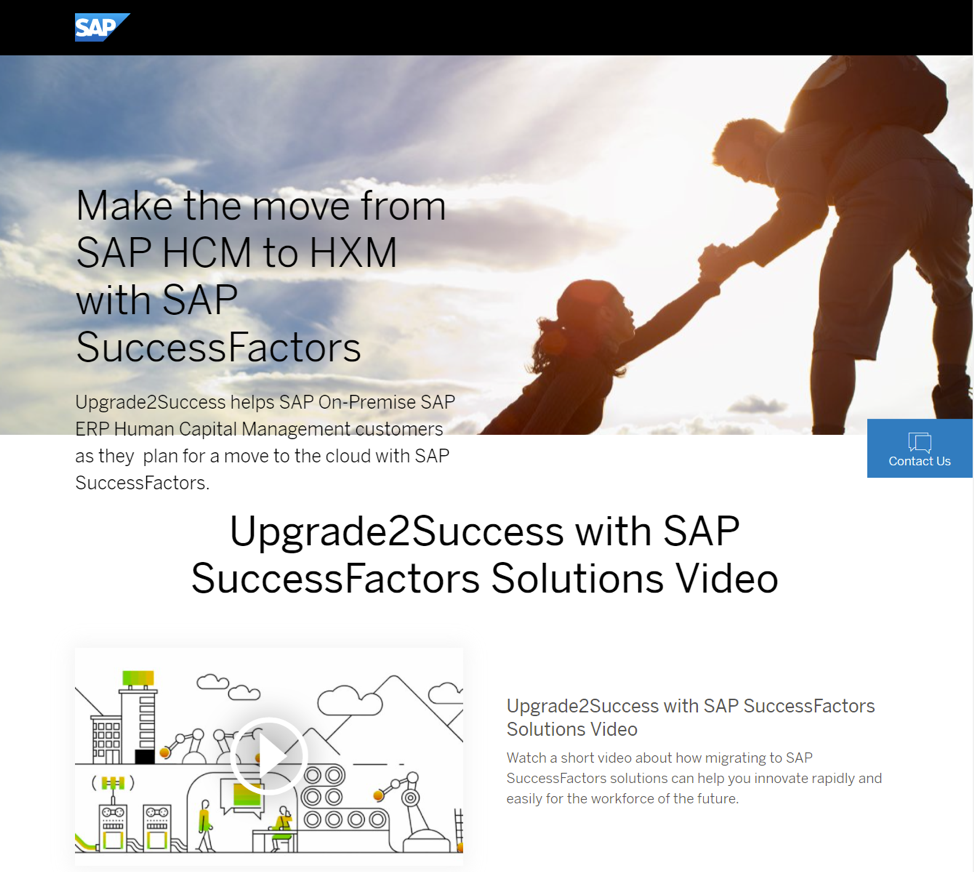 © SAP 2020
The next evolution of Upgrade2Success
HXM Move appears to be the next evolution of the previous campaign called Upgrade2Success. This was the 2019 SAP initiative to encourage customers to move from their On-Premise SAP ERP HCM solution to the cloud described in their free OpenSAP course 'Upgrade2Success – Making SAP ERP HCM Migration Easier'. That program provided customers with tools, assets and services designed to make their journey easier, and as smooth as possible.
The focus at that time was encouraging customers to move from On-Premise SAP to SuccessFactors Employee Central, including education to assist customers with: data migration, customizations, custom infotypes, and where to find the tools and information to help those thinking of migrating.
At the same time, they also were reminding customers that they had a dedication, from an investment perspective, to both SAP ERP HCM (On-Premise) and SAP SuccessFactors (cloud), as shown in the slide below.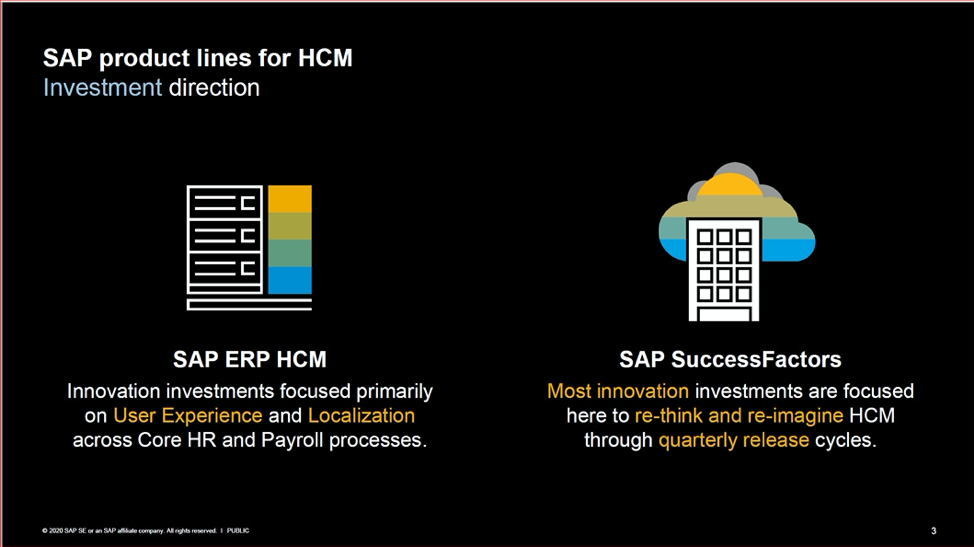 © SAP 2020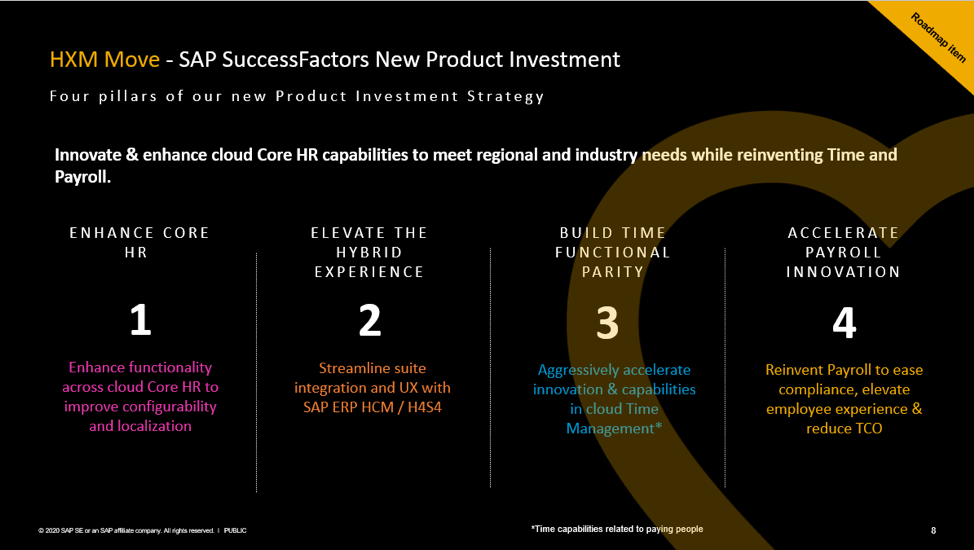 © SAP 2020
HXM Move extends that commitment
As part of the SAP Rise announcement, SAP SuccessFactors confirmed that they will focus on these four key pillars from an investment strategy beginning in 2021. These four key pillars are the heart of HXM Move:
1 - Enhance core HR
This pillar is to enhance SuccessFactors Employee Central with a special focus on functionality, configurability and localization including compensation administration (collective bargaining agreements), personal data management (dependents) and the ability to process mass organizational changes.
2 - Elevate the hybrid experience
Hybrid customers are using at least two systems for the processing of their People or Payroll data, and the goal with this pillar is for customers to experience it as a single one-system experience, including a guided experience for managers, employees and HR administrators for processes that span across systems. Another part of this is a concentration on process orchestration that allows flexibility to adapt to changes throughout an employee's entire life cycle, and to ensure that there is a smooth flow of data, from hiring to paying an employee, including validations and alerts to ensure data quality. EPI-USE Labs' focus for our hybrid clients has been on ensuring that they are aware of the seven critical functions that they need to keep an eye on in this landscape.
3 - Build time functional parity
I have written a few articles and blogs on Time Management including my thoughts on the initial launch of SAP SuccessFactors Employee Central Time back in 2018. You may recall that there was a period of time when SAP SuccessFactors encouraged customers to use partners for the management of time in tandem with SuccessFactors, as seen on their slide below which many saw as a departure from what SAP is known for. SAP Payroll, fueled by SAP Time Management and Evaluation, is indeed the 'secret sauce' that keeps their approximately 8,500 on-premise Payroll customers going every day. The pivot to the development of Time in SuccessFactors and the mention that they may consider replicating the type of robust functionality available in ECC time is interesting to customers who are using their complex Time Management deployment as an excuse to stay on premise for Payroll. The commitment to Time in the cloud and to accelerate innovation and capabilities aggressively in cloud time tracking is an item we should keep an eye on. For clients interested in leveraging mobile timesheet functionality and light rostering today, EPI-USE Labs offers GeoClock.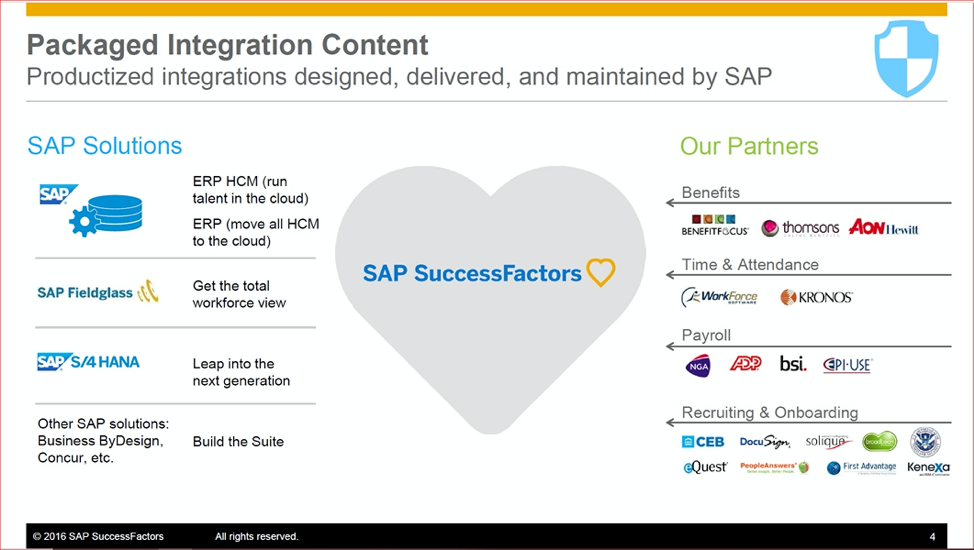 © SAP 2016
4 - Accelerate Payroll Innovation
The final area of investment for SAP SuccessFactors is on the acceleration of Payroll Innovation. SAP currently offers the leading Payroll solution used by many of the largest organizations in the world to process millions of employees' pay accurately and efficiently. This continued dedication and focus on Payroll includes SAP's commitment to continued development on their next level Payroll Innovation in the cloud. More to come on that in the near future.
It is no secret that existing customers are wedded to their On-Premise SAP Payroll and will be keen on the new options announced as part of HXM Move, including the new S/4HANA Private Cloud Edition (PCE). This new option gives existing SAP Payroll customers an innovative way of managing their HR, Payroll Time and/or Benefits, via a cost-effective pathway to the cloud, while retaining the functional richness of their SAP Payroll system run on an S/4HANA system. At EPI-USE Labs, we provide an accelerated solution for customers looking to take advantage of this new offering called PRISM for HCM (Private Cloud Edition) .
To stay in the know on all things HCM, HXM, SAP and SFSF please subscribe to my blog by adding your email under 'Get Instant Updates' on the right of this page.