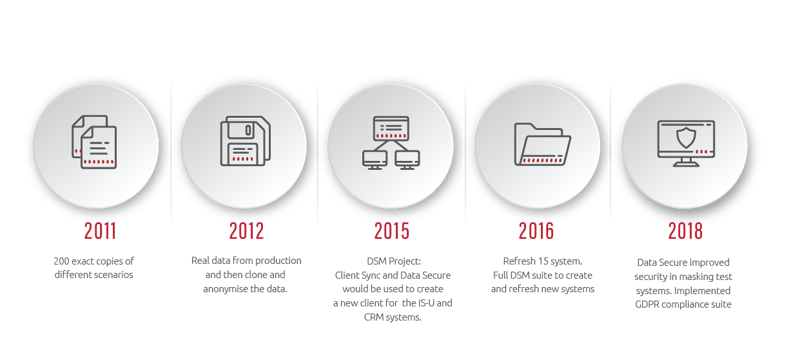 2011: The company needed new training environments for a programme roll-out. Their Systems Integrator suggested using Object Sync from the Data Sync Manager (DSM) product suite to create these environments, so EPI-USE Labs provided cloned test data for the training project. Because of the complexity of the data, EPI-USE Labs developed a custom solution combined with Object Sync to create sets of 200 exact copies of different scenarios needed for training, which could be cloned up by the training team at any time. Due to the unique requirements, this was offered as a service, but enabled the project to be self-sufficient in creating more volume of the variety of datasets.
2012: Following the successful cloning of training data using Object Sync, there was an additional requirement to bring real data from production, and then clone and anonymise the data.
2015: A new DSM project to provide the company with a client slice of data. For industry integration, the retail utilities companies had to provide systems with a significant volume of customer data. Xoserve (an external industry body) requires all gas retail companies to provide testing environments for new systems being implemented which will interface with the retail companies' systems.
The company uses DSM to manage data in their non-production SAP landscape more efficiently, and this project was identified as the first which could use the new data provisioning capability. Client Sync and Data Secure were used to create a new client for the IS-U and CRM systems.
2016: A large project to refresh 15 systems to provide good quality scrambled data throughout their landscape. EPI-USE Labs used the full DSM suite to create and refresh new systems. The data was sliced to save on storage, but still have enough data for testing.
This new client changed how the team worked. They became more agile because developments could be tested before they moved down to the pre-production and production systems. They also now had a good base, and with Object Sync could copy specific data from production to replicate issues and do production support. This system showed the value of updating the larger landscape.
2018: The company leveraged more of Data Secure for improved security in masking test systems. They purchased and implemented the EPI-USE Labs Data Privacy/GDPR compliance suite, with Data Disclose for responding to the significant number of Subject Access Requests a large Utilities company receives, and Data Redact to redact the identity of data for customers who request the Right to be Forgotten.