Written on Jun 15, 2018 1:40:43 AM
3 minute read
---
S/4HANA is the future for every business running SAP, whether this year or the next few years.
Moving to S/4 is a migration project unlike any other. If done correctly, your business should reap the rewards of a leap forward in both hardware and software technology. This checklist gives you an indication of what you should take care of before starting your SAP migration. Each step indicates how much closer it gets you to the finish line.



Understand where you are; not everything can go straight to S/4. Analyse what parts of a system you are using, and check if they are compatible with S/4HANA. Click on this link to find out what you can and can't do with S/4HANA.






Prerequisites
Use the opportunity for a stocktake of your current SAP landscape and check the following:
1. Is a Unicode conversion required?
2. Is your hardware appropriate for S/4? Is now the time for a cloud move?
3. Is an initial SAP upgrade required to support an S/4 conversion?
4. Have you completed your HANA readiness check?

Legacy data reduction
Now it's time to slim down your landscape. Remove unneeded data in production and non-production and create smaller and leaner test systems.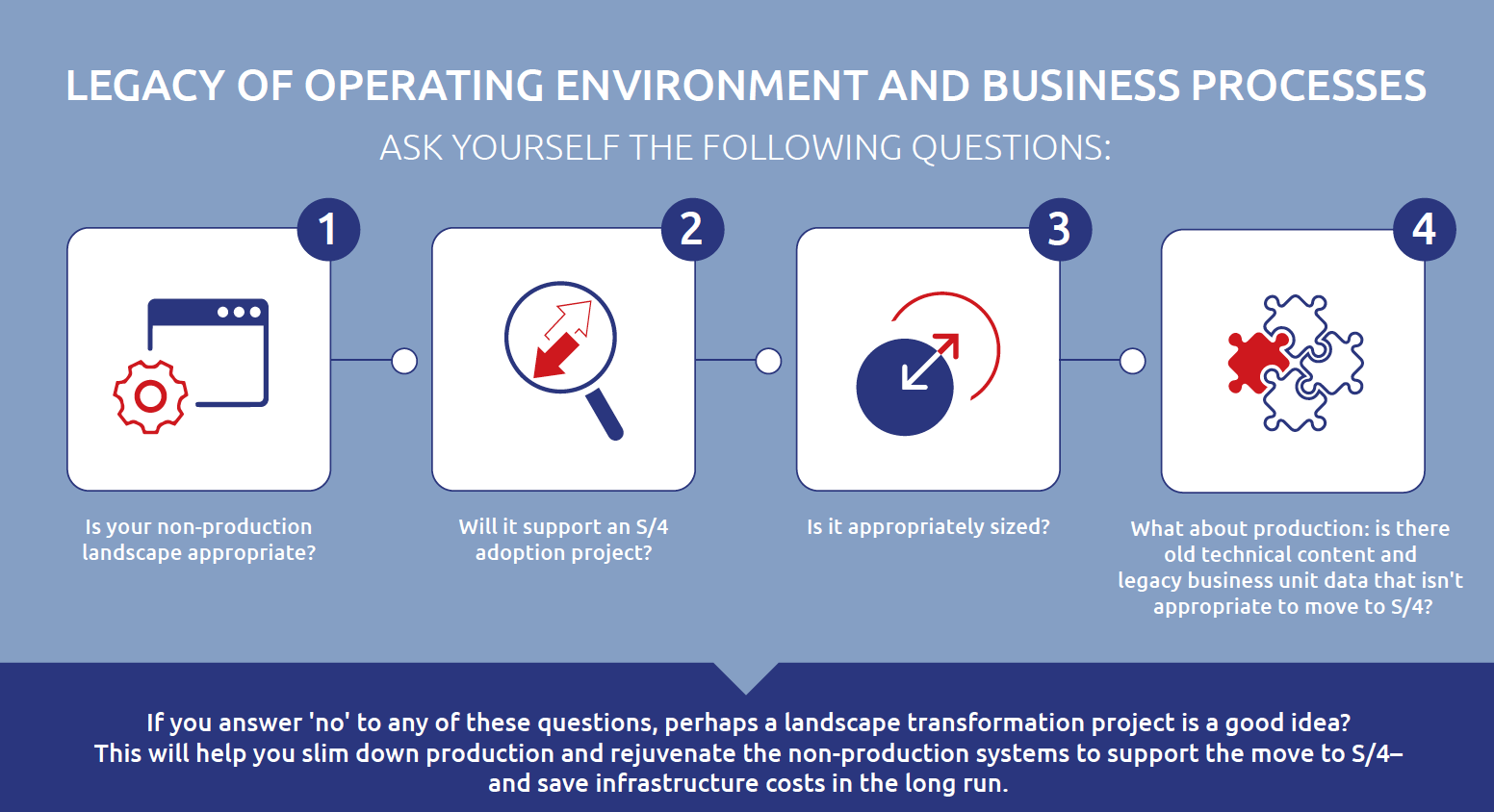 Find more info on Data Management for Technical tables here.

Documenting & third-party products
Remember to document your landscape requirements, time constraints and handover between infrastructure and projects teams, and confirm that third-party products are updated, and that teams have the skills to use them effectively.

Security
Last but not least, make security a priority by knowing where data will reside during different project phases. Understand the sensitivity of the data and plan to mitigate this risk. A formal document with risks and mitigation strategies is advised.






This step has two objectives. The first is seeing what your system looks like on S/4, and trying cloud infrastructure as part of that process. Take a copy of your systems to the cloud and S/4, providing a real world opportunity to realise the potential impacts of the project.
We can help you with short-term Cloud hosting and with a data copy solution to get you in the cloud.





Read the technical migration methodology by SAP. There are many dependencies and post-processing steps that are easy to miss. Save on time spent addressing these issues revealed during testing by knowing them beforehand. For methodology, you have two options: the first is a traditional methodology and the second is an accelerated methodology based on the EPI-USE Labs migration products. For more information, read an SAP blog about migrating to S/4HANA.





Start off by confirming timelines to avoid conflicts and touch-points with other projects wherever possible to reduce risk to both projects. Next, create an integrated project plan which details timelines, touch points and handovers between teams. Clear dependencies and milestones will improve the ability to perform tasks in parallel. This plan should be executed for each iteration of the system migration and updated to be more comprehensive before the next system is migrated. By planning testing needs early, you will be able to understand the testing needs for your important business processes. Test scripts allow you to share the testing load across a larger team who may not be SMEs.





Have a blast on vacation knowing that your S/4HANA migration is complete.