Blog series part 2 of 3
In Part 1 of this blog series, we talked about how EPI-USE Labs' Pay Recon solution could save you hundreds of hours a year in Payroll support and reconciliation. This week, I will share an example of some of the utilities included within the solution.
Dynamic Payroll and tax reconciliation tailored especially for the USA
Pay Recon includes a collection of reports that give access to data around Payroll, FI postings, 3rd party remittances, and W2 Tax Reporter in your own selection-driven view. Our W2 Explanation and Employee Payroll Information Reports will assist you when an employee has a question or concern about their W2 or Pay Check. Employee Payroll Information reports provide the Payroll or Help desk user with real-time access to Payroll results, leave balances, retro pay, claims, arrears, and HR master data from a single screen. As a result, our clients report dramatic improvements in turnaround time, number of queries solved at first contact, and both employee and user satisfaction. What once took hours and multiple reports to research can now be resolved in minutes.

Reconciliation made easy
The reconciliation data collection and display functionality will help you collect data from different sources (Payroll results, posting documents, Tax reporter files) and identify imbalances. Pay Recon was designed specifically to fill this gap in the SAP functionality.

After every Payroll has run, you should/would collect the latest Payroll period. Once the data has been collected, Pay Recon displays the data in a single table view screen and identifies the employees that have balancing issues. It will immediately identify imbalances by displaying them in a red-shaded cell.
Using the drill-down and filtering options, you can navigate to the employee(s) that are out of balance, and you'll be shown where the imbalance occurs.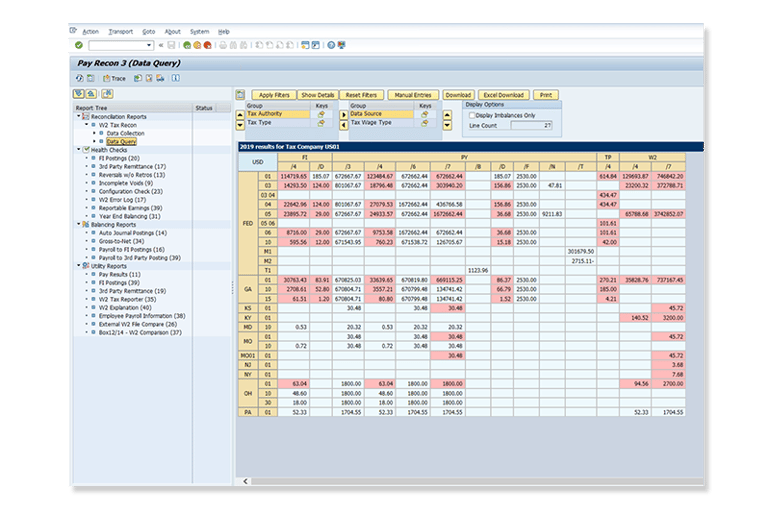 For example, an employee can have values that are the same in Payroll, and FI posting, but their third-party remittance values are off. This employee is highlighted so you are able to immediately identify who is out of balance and which Wage types are affected.

You can then use the utility reports to review the third-party remittance documents to determine which document is incorrect. The next step would be to use the standard SAP functions to fix the document. Once you run and collect the data again, the totals should all match, and you would see that the cells are no longer in red.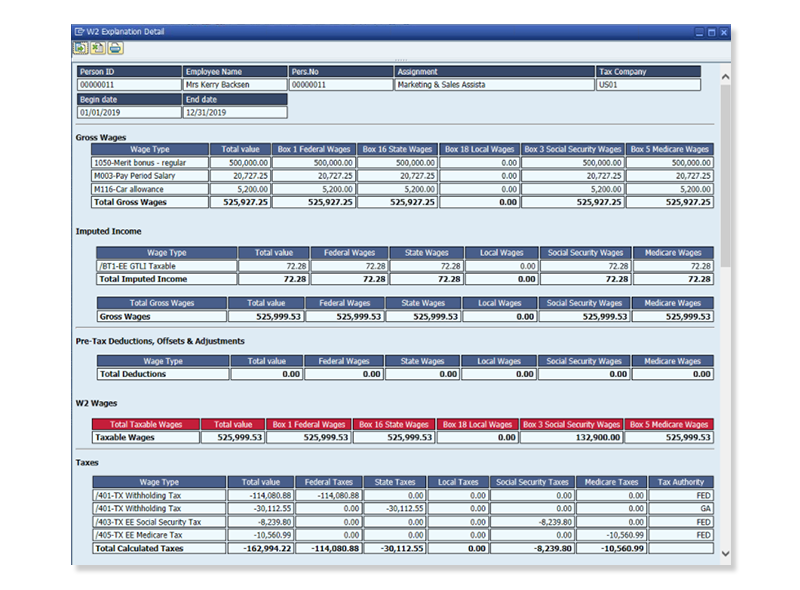 In the final edition of his blog series, we will explore additional functionality, including how to use the Pay Recon solution for US Payroll customers for both W2 reconciliation and your Payroll to Finance posting.
In the meantime, check out this webinar on Tips for SAP Payroll & Tax reconciliation or request your own personalized demonstration of Pay Recon for US SAP Payroll clients.