Human Capital Management data is found on Infotypes in SAP HCM. Each infotype has a 4-digit numeric identifier, like Infotype 0008 for Basic Pay. There are certain ranges of numbers to denote the types of data in the infotype. For example, Personnel Administration data can be found on infotypes in the number range 0000 through 0999. Data related to HR planning and Organizational Management can be found in the range 1000 through 1999. Time Management data is found in 2000 through 2999 and Applicant data is found in infotypes in the 4000 through 4999 range.
Custom infotypes

There are thousands of infotypes available within your SAP HCM system, each designed to store different data. Many SAP HCM customers also use what are known as custom infotypes to store data that may not have a formal home in the delivered fields of SAP HCM. Making a customization to any system is usually not advised, however in SAP it is not necessarily a customization as SAP provides a structure for you to add your own. These custom infotypes are called Customer Specific Infotypes and you can use any within the number range of 9000 through 9999.
A sample custom infotype for a customer tracking recruitment details can be seen below.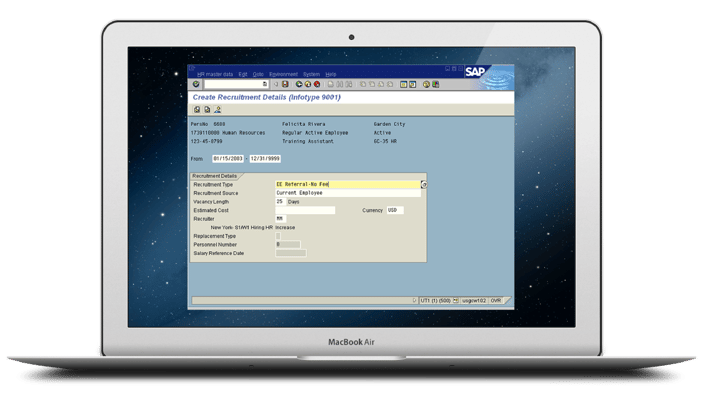 You can find the simple instructions for how to add your own custom infotypes in the SAP Community Wiki here.

Query tools for HCM
If you are using the SAP certified Query Manager solution for HCM reporting, you are likely limited to the on-premise tools delivered by SAP. If that is is the case then you will need to perform an additional step to make the new infotype available in your data source.
Once you have added your own custom infotypes you will want the ability to report from them using the traditional Query tools for HCM, accessible via transaction code SQ01, which include the SAP Query and the Ad Hoc Query.
Both Query solutions can use a variety of sources to retrieve their data. The thousands of infotypes mentioned above often have complex relationships and hierarchies between them and as such, reporting of Human Capital Management information is often seen as the single largest challenge for AP HCM and Payroll customers.
The most common data source that is used for HR and Payroll query-based reporting in R/3 is an InfoSet. InfoSets are often designed based on a logical grouping of all of the relevant infotypes in a logical database containing all the infotypes that you would like to report on. Three logical databases are available within R/3 in Human Capital Management including
PaP - HR Recruitment applicant master data
PnPCE - HR Personnel Administration (PA) master data
PcH - HR Personnel Development (PD) organizational data
The most common query reporting often leverages the PnP logical database because it includes the most frequently used Personnel Administration data for employees, name, pay, title, address etc.

Adding custom infotypes to your Infoset
Now that you have made your own custom infotypes you simply need to add them to your InfoSet so that they can be available for reporting in the SAP Query and the Ad Hoc Query. Adding custom infotypes to an InfoSet is the same process as adding traditional infotypes to an InfoSet.
To add basic infotypes to an existing InfoSet for use with a query-based reporting tool, follow the steps detailed below.
Navigate to transaction code SQ02 (InfoSet initial screen).
Select your existing InfoSet that you use for your queries and select the Change button.
Follow the menu path Edit > Change Info-type Selection.
A dialog box appears that lists all of the infotypes available within the logical database (in this example the PnPCE one) and from this screen you can select new ones to include whether they are standard infotypes or custom.
You can find your custom infotypes in numeric order under the folder labeled "Further Infotypes" as shown below.




To add them simply place a checkmark in the box next to each followed by the green check mark Enter button. The added infotypes will then be added in numeric order to your InfoSet on the left-hand side often screen and new Field Groups that include those custom infotypes will be added on the type right of the screen, as shown below.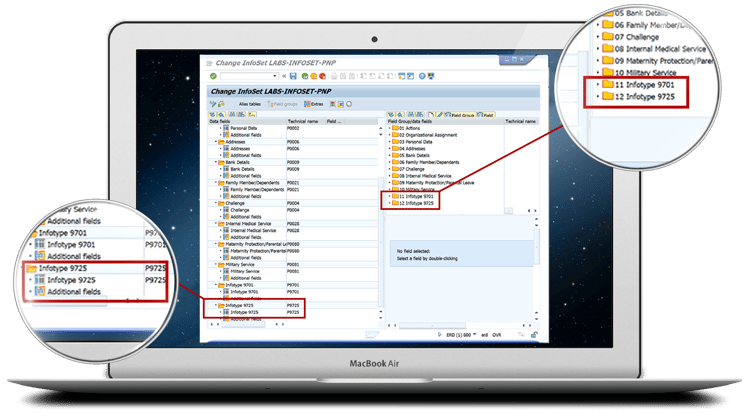 The most important thing to note is that after making any change to an InfoSet, you have to save and generate the InfoSet before exiting. The Save button is on the application toolbar. The Generate button, which looks like a red and white beach ball, is used to check the consistency of the InfoSet. After saving and generating the infotype, you can now use these additional infotypes and fields in your new and existing SAP Query and Ad Hoc Queries that use this InfoSet as the data source.
More information and help
Now that you know how to create custom infotypes and add them to SAP Query reporting please be sure to take a moment and review an update on the use of the Ad Hoc Query and SAP Query solutions in HCM available here: SAP HCM Reporting: Are Query tools ancient history?