If you are one of SAP's existing 9,000 licensed on-premise SAP ERP Payroll customers who have decided to move to SAP SuccessFactors Employee Central Payroll, I'd like to share an exciting new high-speed, low-risk route to get there. It's called PRISM.

Existing customers have several options for their future payroll needs: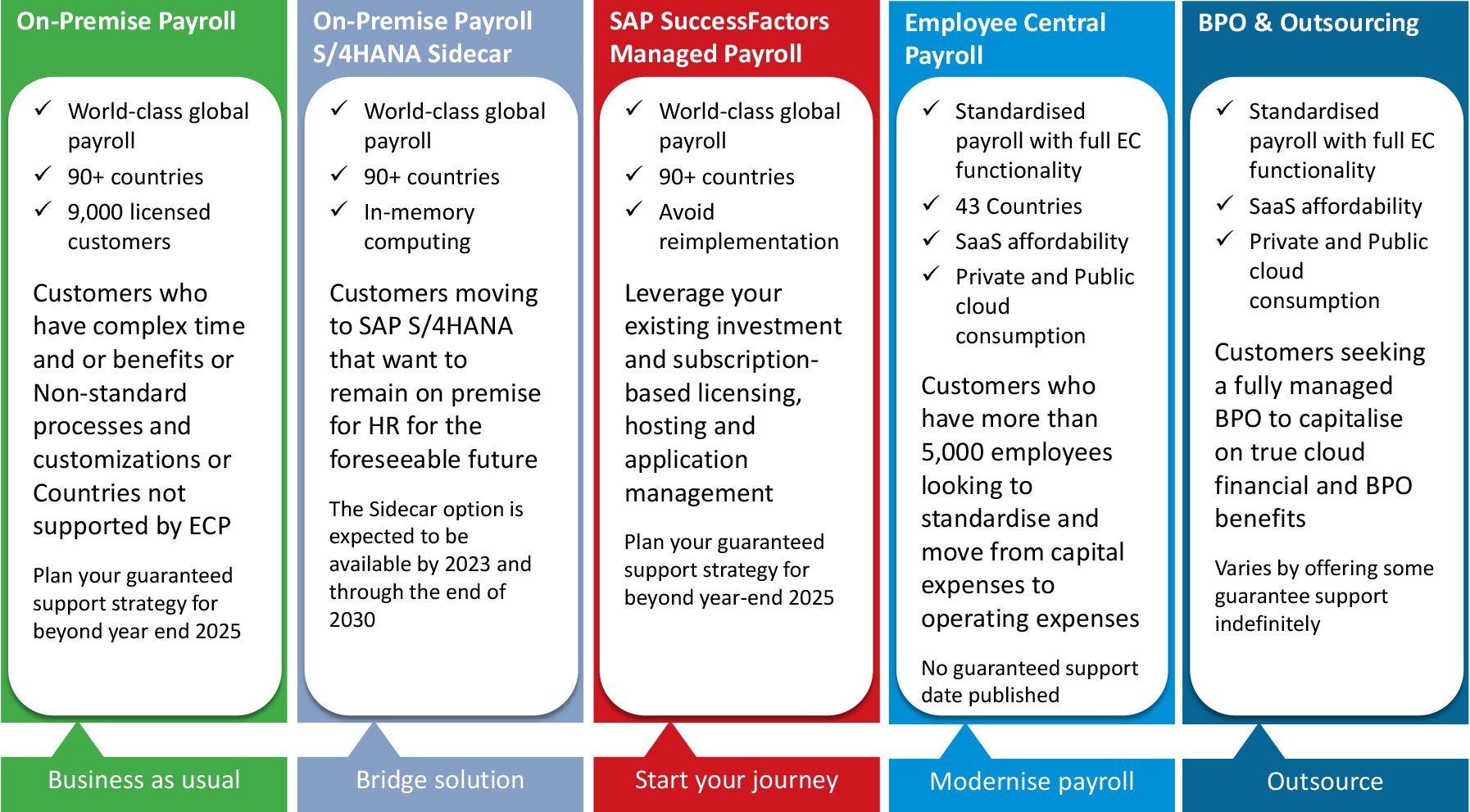 If the Employee Central Payroll option is a good fit for you, we have a way for you to get there.


Transformation without re-implementation
As you may know, I work for EPI-USE Labs, a software and services company in the larger groupelephant.com family. Another company in the group, EPI-USE, focuses on SAP consulting. What PRISM does is take the best of both of these organizations to assist customers in easily moving their Payroll, leveraging the best products on the market, via the best consultants on the market.

Key benefits for leveraging the PRISM solution include: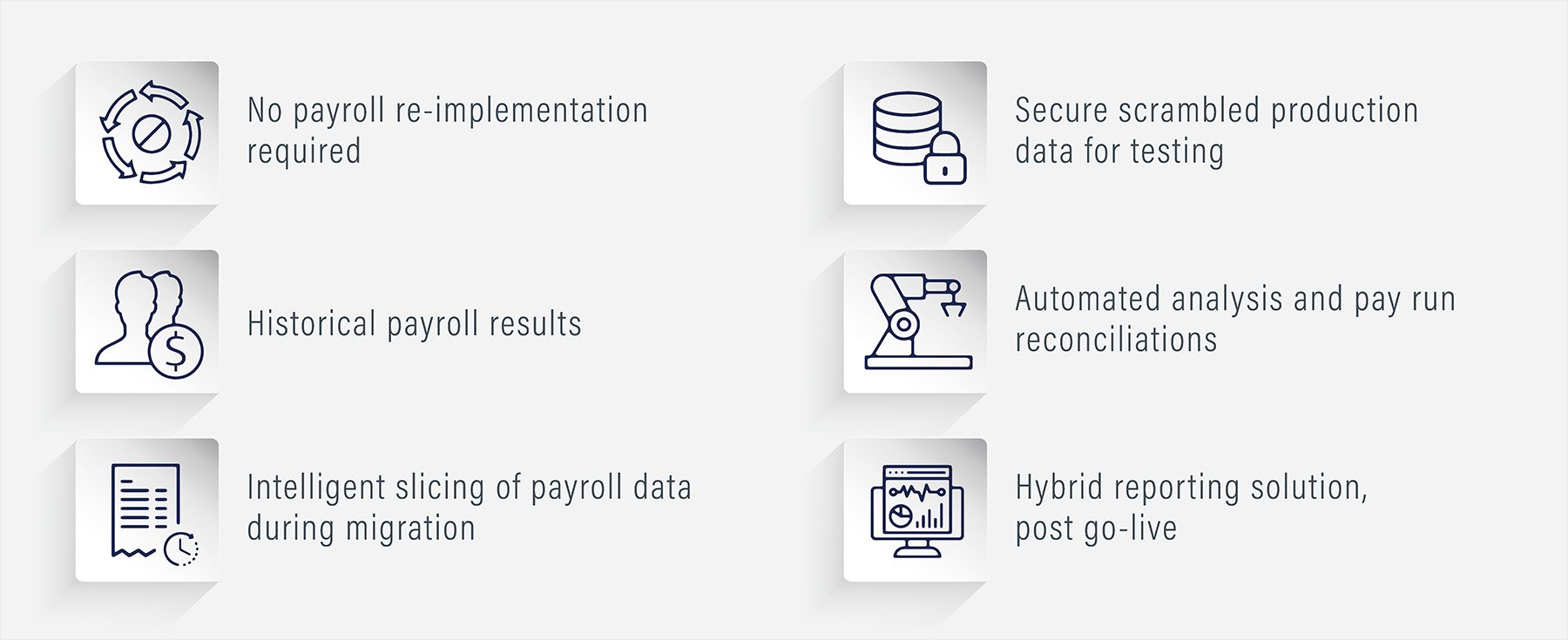 How does it work?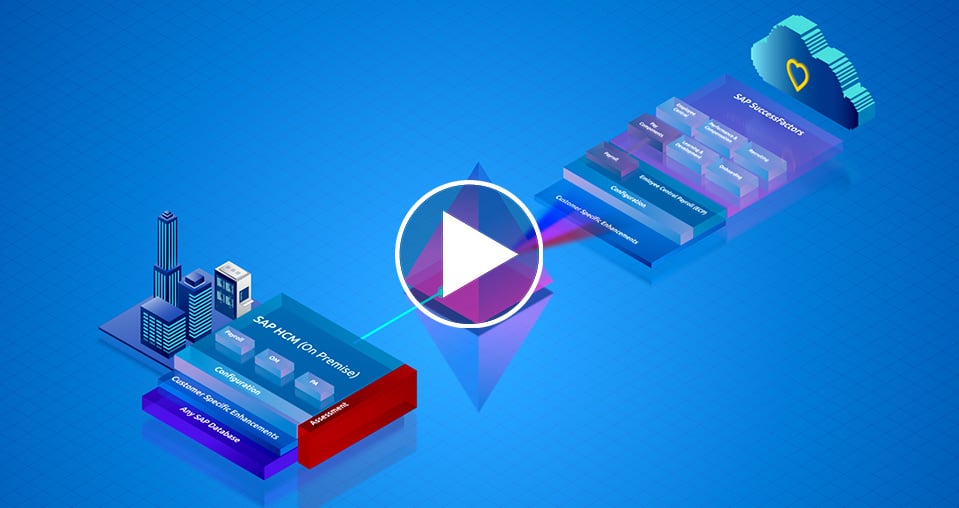 How does PRISM benefit our clients?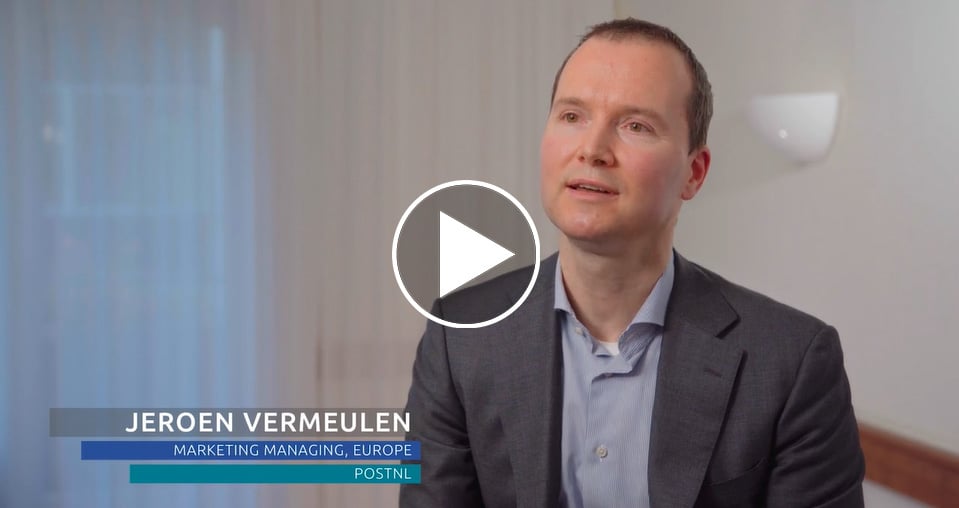 We have the proven tools
EPI-USE Labs' Data Sync Manager™ is leveraged for the landscape transformation, carving out your old HR and Payroll system and migrating it to SuccessFactors Employee Central Payroll. This is followed by leveraging the Variance Monitor™ solution which is used to compare and identify any differences between the systems and the test payroll runs so the migration process can be tested effectively. Finally, you might wish to have access to your legacy SAP HCM system for reporting purposes. Customers leverage the world-class Query Manager™ with Document Builder™ solution to report on data from both your legacy SAP on-premise HCM system and your new SuccessFactors Employee Central Payroll system via a user-friendly web interface, or live inside Microsoft Excel using our Microsoft Plug-In.

Our SAP-certified solutions are the perfect utility for ensuring a fast, efficient, safe and accurate transition from on-premise Payroll to SAP SuccessFactors Employee Central Payroll.


We have the proven experience
We have been successfully performing landscape transformations including carve-outs and system splits long before SuccessFactors even came into view. For many years, customers have relied on our scientific approach and detailed execution plan to work toward their system landscape optimization goals.

SAP On-Premise Payroll customers have long seen the EPI-USE family as the leader in Payroll, which was also supported by SAP's decision to select EPI-USE as a vendor of choice for their SAP SuccessFactors Managed Payroll offering. We have successfully assisted many customers in migrating to new landscapes, including Employee Central Payroll.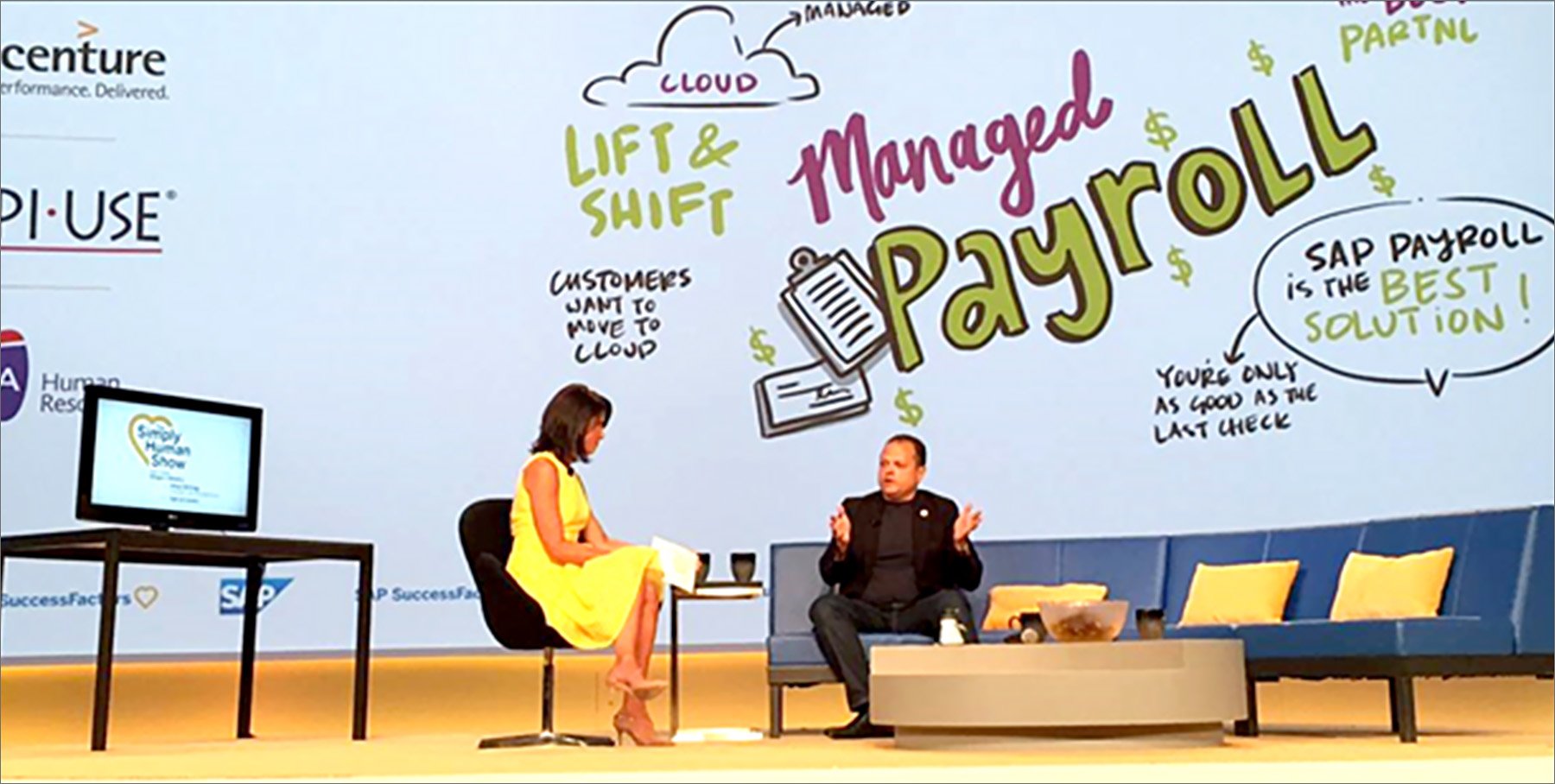 (Source © SAP)


Is the PRISM Migration offering the same as the "Managed Payroll offering" announced in 2015?
They are not the same. In 2015 SAP launched an offering called SAP SuccessFactors Managed Payroll. This offering was designed for customers who had made a large investment in their on-premise HCM solution who wanted to leverage that while also enjoying the benefits of hosting and management in the cloud. This offering has not been adopted largely because the guaranteed support date for Managed Payroll is the same for on-premise payroll which is currently, at least, calendar year-end 2025. SAP SuccessFactors Managed Payroll has often been referred to as a bridge/interim solution which was sometimes driven by the costing model or hardware and hosting considerations.

That offering is very different from the PRISM Employee Central Payroll Migration offering. The similarity is that they are both designed for customers who had made a large investment in their on-premise HCM solution, who wanted to leverage that. However, the PRISM option is actually a migration service for customers looking to accelerate their HCM cloud journey. These are customers who have made the decision to move to SuccessFactors Employee Central Payroll who wish to leverage a high-speed, low-risk route to get there. What is critical for these customers is that they want the essential functionality they have come to love in their on-premise SAP payroll solution to be preserved. Most importantly for these customers, this includes avoiding the risks inherent in a Payroll re-implementation, that is required for customers moving to ECP without PRISM.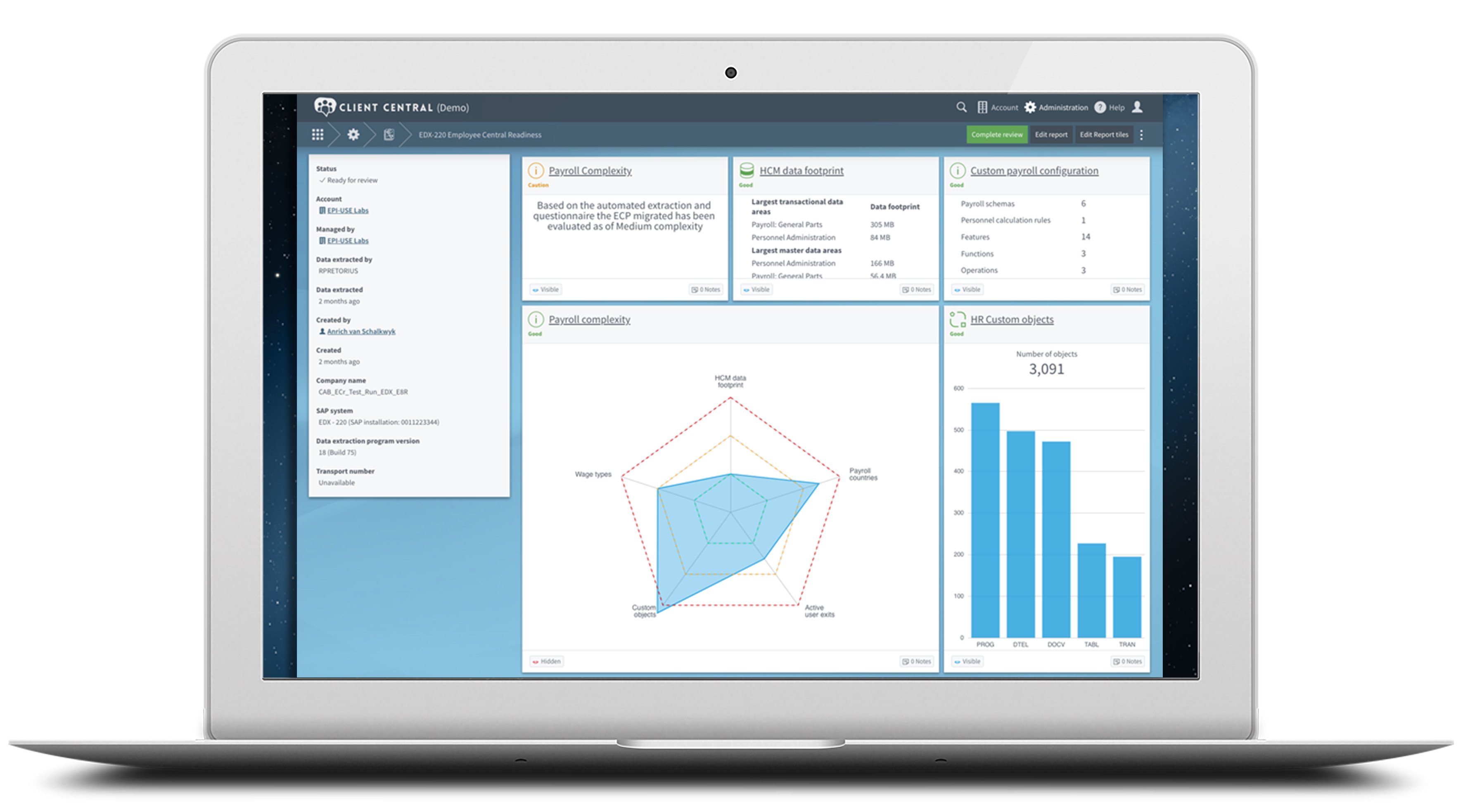 Is PRISM right for my organization?
You can try out our free online readiness report (sample above), to see if you would be a good candidate.
Transformation without Re-implementation™: Accelerate your move from on-premise SAP HCM to SuccessFactors with our PRISM for Employee Central Payroll solution. Now available on the SAP Appcenter.