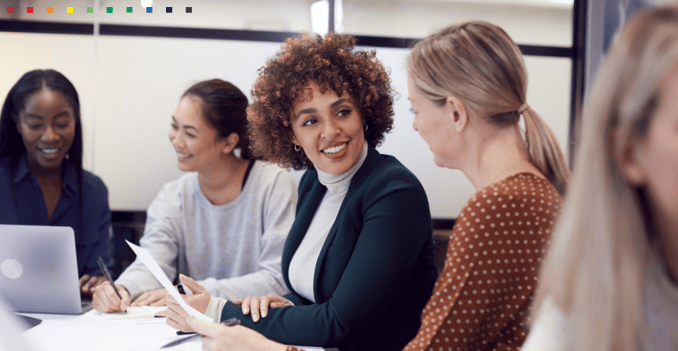 I recently enjoyed a blog that SAP posted that explained how business leaders now recognize that data is at the heart of digital businesses. It was called 'Five Ways to Make the Most of Your Data' and it detailed a list of five key items:
Leave your data where it is

Make sure you can handle all data types

Harness data to drive automation

Democratize data

Protect your data
The focus of this blog is on that third point, harnessing data to drive automation. You might also want to read my first two blogs covering part Part 1 and Part 2 available here on my 'Let's Talk HCM' blog.
There are so many things in the HCM world that are automated these days. Automation in general is a large part of our day-to-day lives. I could go off on a tangent here about bots but I will save it for another day. Instead, I will leverage the sentiment from the news article about how there really is, "…no reason to maintain so many manual processes... If you can harness data appropriately, many types of tasks can be automated – freeing employees to do more strategic work."
I know I'm getting old, just by the number of times I use the expression, "Back in my day" but here goes. Back in my day, when an employee was terminated, there was a long list of procedures that had to be followed in order to separate them properly from the organization. It was called the termination or separation checklist and almost always started with the first step which was to retrieve the employee's folder (back then, employees' data and files were kept on paper in filing cabinets!).
Here are some samples from the

Employee termination checklist
:
Retrieve the employee's folder.

Complete an employee termination form.

Collect/prepare the resignation separation letter.

Provide the employee with termination/continuation of employment insurance benefits information (COBRA, life insurance, supplemental insurance etc).

Review and check FSA/HSA participation and inform the employee of remaining funds and reimbursement deadlines, if applicable.

Calculate outstanding PTO balance and inform employee of any remaining PTO and how it will be processed at termination of employment.

Inform the employee about retirement plan account options.

Calculate and provide notice of policy regarding any outstanding balances for money owed to company (for example, educational loans/pay advances).

Disable email account.

Remove system access.

Remove employee's name from: email group distribution lists; internal/office phone list; website and building directories.

Disable security card access.

Schedule an exit interview.

Collect uniform and parking passes.

Collect laptop and mobile phone.
Side note: For anyone looking for a legitimate employee separation checklist, I recommend this one.
Back then, these items were often independent activities that required manual effort or a process to complete. Now, virtually everything can be automated, saving time, money, and resources, and allowing you to focus on more important things. All of the items in that list can be triggered via a simple workflow upon the entry of an employee's termination. I'll pick a few as an easy example.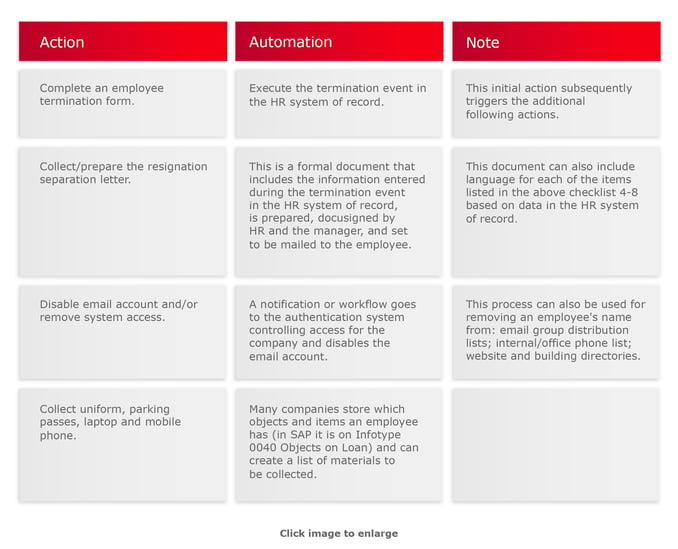 I published a blog last year titled 'What does RPA have to do with HCM and Payroll?' which provides some interesting examples of how robotic process automation could be used in HR.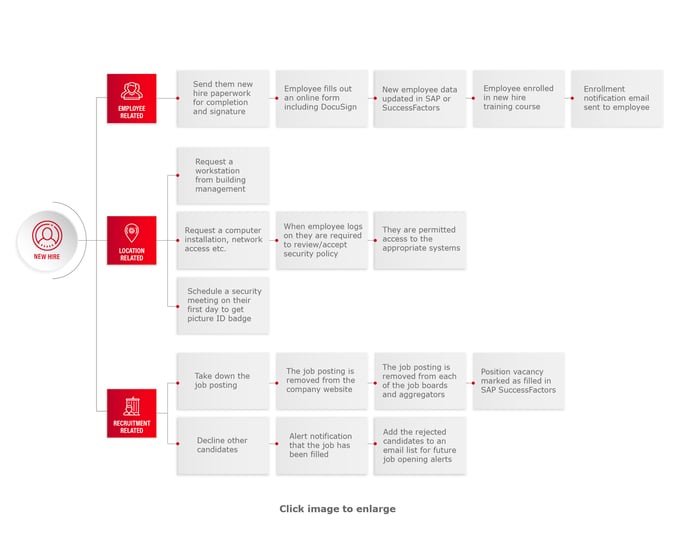 My next blog will focus on the fourth item listed in the 'Five Ways to Make the Most of Your Data' article, which is how to democratize your data.