Blog series part 1 of 3
What if I told you that I know a way to save you hundreds of hours a year in Payroll support and reconciliation? It may sound too good to be true, but it is available today for any US SAP Payroll clients.
In this blog series, each week I will share with you an example of some of the problem-solving functionality included within EPI-USE Labs' Pay Recon solution.
Pay Recon for US Payroll clients
Pay Recon is an easy-to-use solution, designed for Payroll professionals for reconciling tax imbalances, FI posting details, W2, and Paycheck explanation reporting. It's a comprehensive solution that can also automate your reconciliation by proactive balancing of your employee's Payroll results, FI postings, SUI, 3rd Party Postings, 941s, and W2s. It allows you to streamline reconciliation and eliminate running multiple reports, downloading to Microsoft Excel and processing v-lookups to get to the information you need. Below are some samples of what is included within the solution.

Reconciliation Reports
There are gaps in the balancing process from Payroll to posting to Tax Reporter reconciliation that can cause both short and long-term issues. Pay Recon's Reconciliation Reports fill those gaps, to ensure that when you exit a Payroll period, you've done everything possible to reduce your risk of errors. Tax reconciliation relates to the five data sources in the SAP system; Payroll (PY), FI, Third Party (TP), 941s, and W2s, which are required to balance.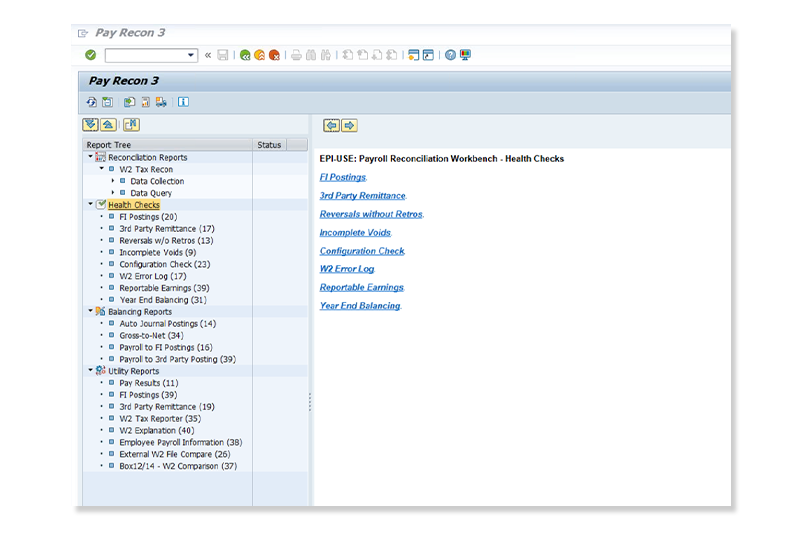 Our Health Check Reports can find any missing Payroll runs (such as reversals, incomplete voids) and determine if there are any missing posting documents. Samples include:
FI postings
3rd Party Remittance
Reversals without retrocalculations
Incomplete voids
Configuration check
W2 error log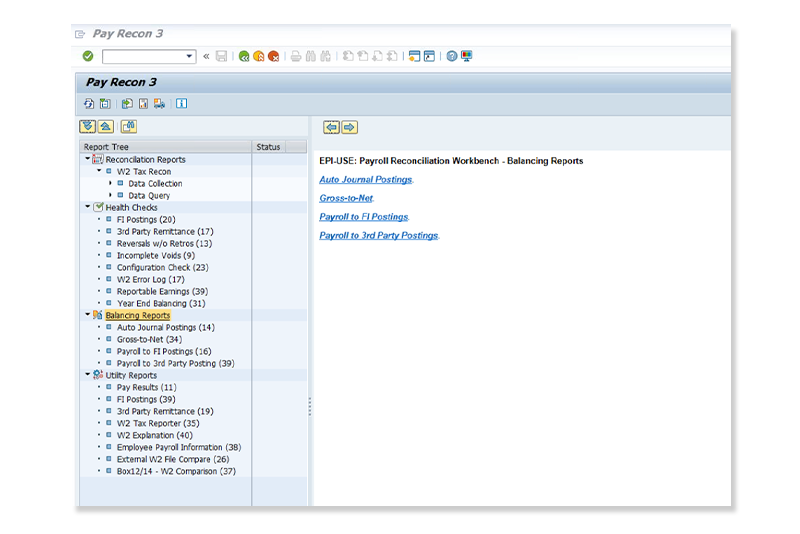 The Balancing Reports help you identify situations where your Payroll and FI postings don't match. They also show your gross-to-net Payroll amounts per organization grouping. For example, you can see when cash accounts are not in balance because of payment corrections made in Payroll, which enables you to take action in a timely manner. Samples include:
Auto journal postings
Gross to net
Payroll to FI postings
Payroll to third party postings
In the next edition of this blog series, we review additional functionality available in the SAP Pay Recon solution for US Payroll customers.

In the meantime, check out this webinar on Tips for SAP Payroll & Tax reconciliation or request your own personalized demonstration of Pay Recon for US SAP Payroll clients.