Written on Sep 28, 2019 2:56:04 PM
6 minute read
---


What many SAP insiders have long suspected was officially announced at the DSAG Annual Congress, and at the SAP SuccessFactors SuccessConnect Annual event held in Las Vegas last week. SAP SuccessFactors has made a few announcements regarding the journey to the cloud for its customers. To follow the journey from the start, please check out The Ultimate Guide: SAP HCM & Payroll options for existing customers.

Here are some highlights from the SuccessConnect Event: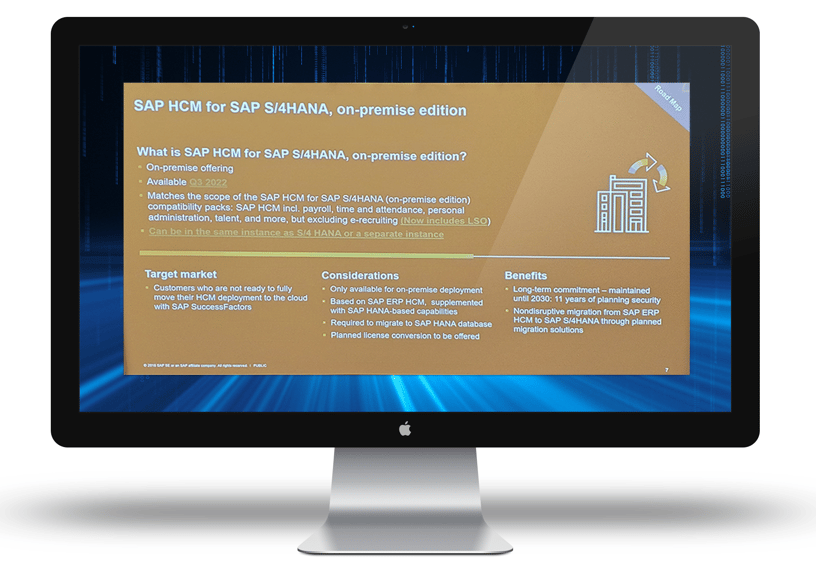 (Source © SAP SuccessFactors SuccessConnect 2019 Presentation)

Carve out no longer required: '11 More Years of On-Premise SAP Payroll'
In January 2018, SAP announced a new product option that provided extended support for existing on-premise HCM customers through calendar year-end 2030 as they upgraded to SAP S/4HANA. The new option was named SAP HCM for S/4 HANA, on-premise edition, or "sidecar" for short since it was meant to run side-by-side with S/4 HANA in a separate instance. This offering was designed for customers moving to SAP S/4HANA that wanted to remain on-premise for HCM for the foreseeable future. Outlined in my blog Can I keep my SAP Payroll?, this offering was scheduled to be made available by 2023 and provide guaranteed on-premise support through the end of calendar year 2030. The sidecar terminology applied to the requirement for a customer to carve-out their HCM system for this in those cases where it was embedded within other SAP applications or on the same box.
This is not a new option; rather it's the next evolution of a solution designed to give customers more time to migrate to SuccessFactors and Employee Central Payroll. The recent announcement was focused on a few changes to the original announcement from 2018: the ability to run it single instance and an earlier availability date. To summarize:
SAP HCM S/4 HANA, on-premise edition is scheduled to be available two quarters earlier than planned, in 2022 rather than 2023

SAP HCM for S/4 can be operated within the S/4 HANA Suite and thus follows the general maintenance commitment for the S/4 HANA Suite (beyond 2025 through at least 2030)

This now includes the LSO offering

This change has no impact on the SAP SuccessFactors Cloud strategy; SAP still sees this as a bridge solution for customers to move to the cloud by allowing them at least eleven more years of guaranteed On-Premise support

SAP Blog, SAP Human Capital Management for SAP S/4HANA, on-premise edition – Updates: Available in 2022 with a technical co-deployment in SAP S/4HANA

here
SAP News article is updated here.


The number of Employee Central Payroll customers doubled from 2018 to 2019
(Source © SAP SuccessFactors SuccessConnect )
Twice each year, SAP SuccessFactors shares the number of active licenses purchased for SAP SuccessFactors Employee Central Payroll as shown in the slides above. Looking at year-end 2018 and the numbers shared this week at SuccessConnect 2019 in Las Vegas, you can see that the number of customers grew quite substantially.
Employee Central Payroll Customer Growth Model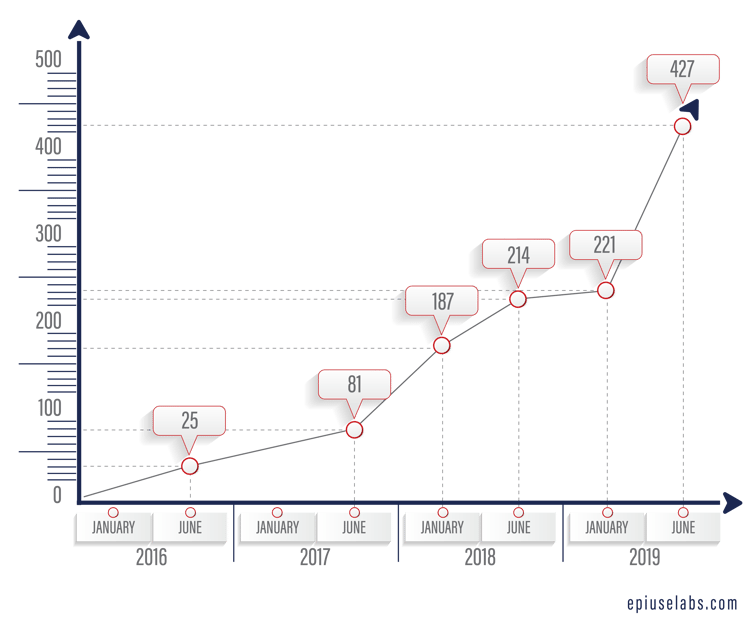 What is not included in those numbers, however, is which percentage of those customers purchasing the Employee Central Payroll solution are net new customers and which percent are conversions from existing customers using SAP On-Premise SAP Payroll.

To speculate a conversion rate estimate and to get an idea of the payroll migration for existing payroll customers, let's over-generalize and pretend that ALL 427 licenses sold to date for SAP SuccessFactors Employee Central Payroll are conversions from on-premise SAP. Of course this is not true, but it's easier from a math perspective. And also let's assume that there are closer to 7,500 active SAP On-Premise Payroll licenses rather than the published 9,000. That would lend to a less than 6% conversion rate. A conversion percentage that has picked up considerably within the last year, but still has a long way to go.

What I believe contributed to that spike between year-end 2018 and today is:
A) SAP has changed direction on Time Management in SuccessFactors
B) It's easier than ever before to move from on-premise Payroll to ECP
C) Additional licensing model added
A) SAP has changed direction on Time Management in SuccessFactors
As originally announced, if customers had complex Time and Attendance requirements, they were not an ideal candidate for SuccessFactors Employee Central Payroll. I specifically recall the messaging from SAP that said that they had no intent to duplicate the complex functionality available in On-Premise SAP Time but rather only offer the simple basics in Employee Central.

In January 2018, SAP shared that approximately 4% of its 14,000 customers had moved from SAP to SuccessFactors with an even smaller percentage making the shift to Employee Central Payroll. As you can imagine, that was certainly a roadblock for many customers with complex Time and Benefits configuration. Shortly thereafter SAP SuccessFactors launched a SuccessFactors Time solution as detailed in my blog titled SAP SuccessFactors launches Employee Central Time Management.

It's my opinion that this continuing investment in Time Management functionality in SuccessFactors was the first contributing factor to the increase in Employee Central Payroll sales.
B) It's easier than ever before to move from on-premise Payroll to ECP
In the early days many customers viewed the migration from on premise SAP Payroll to Employee Central Payroll as a complete re-implementation, which I suspect demotivated many who had made a large investment in their implementation and deployment and who did not wish to consider redoing it.
It does not however require a re-implementation and customers are finding the process uncomplicated and direct. Especially customers leveraging the PRISM migration service offered by EPI-USE Labs which offers a high-speed, low-risk route to SuccessFactors' Employee Central Payroll with no re-implementation required.
We have been doing this type of migration for quite a while now. We here in the EPI-USE family have the expertise and tools to assist customers in migrating their complete history to SuccessFactors' Employee Central Payroll with no re-implementation required via our migration service called PRISM.
PRISM combines leading-edge SAP Landscape Transformation software with world-class SAP Payroll domain expertise. It is a turnkey service to help customers move their on-premise SAP Payroll to SuccessFactors' Employee Central Payroll (ECP) quickly and easily, without requiring a full re-implementation.

The reason why it is so easy for us is that we use our SAP-certified tools (Data Sync Manager™ and Variance Monitor™) to surgically carve out a customers Payroll into the SuccessFactors Employee Central Payroll system and provide auditable pay run results, so customers can mitigate risks and reduce payment errors. Data transfer includes client-dependent customizing, custom objects, PA/OM data, PY/TI results, benefits and compensation management. We even offer a Free Assessment that allows you to determine how complex your system is to get you started thinking about your migration.
C) Additional licensing model added
In addition, SAP SuccessFactors has added an option to enable customers who do not use Employee Central (EC) as their core HR system of record to use Employee Central Payroll (ECP) as a standalone deployment. It will require a limited implementation of EC, leveraging the Functional User commercial option.