As SAP customers seek to stay ahead of the curve in a constantly changing market, testing and data management solutions are becoming increasingly important. A recent report by SAPinsider gives a glimpse into understanding how organizations around the globe view Cloud and S/4HANA DevOps.
Let's start at the beginning…
DevOps is a methodology that combines software development and operations to create a seamless, integrated process for delivering software. It is based on the idea that development and operations teams should work together to create, test, and deploy software in a continuous and automated manner.
In a traditional software development environment, development and operations teams often work in silos, with little communication or collaboration between them. This can lead to delays, errors, and a lack of accountability for the final product. DevOps aims to break down these silos by bringing development and operations teams together, and by automating as many processes as possible.
In SAP systems, DevOps is a bit different to other systems. (Do we dare to say it is more difficult?). SAP systems are used in enterprise environments, can be highly regulated, and require strict compliance with various standards. These systems also have to be available to support critical business processes, which means that there are often additional constraints and requirements that must be considered when implementing DevOps.
SAP's accelerating product roadmap demands a faster and more collaborative approach to development, change management, and testing. In addition, most SAP customers continue to add non-SAP applications that integrate with the core system.
Let's look at what the SAPinsider Report highlighted.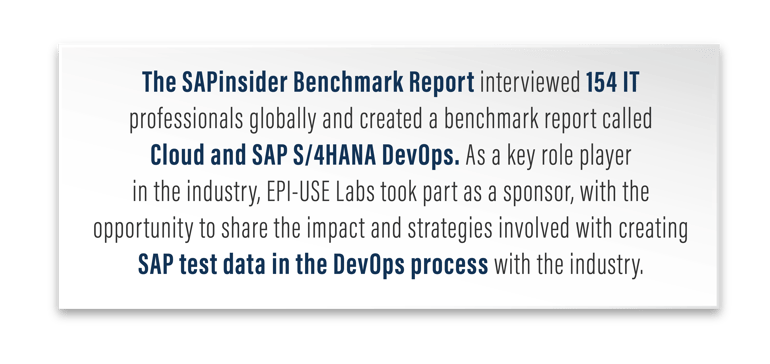 The report found that 40% of IT professionals around the world aren't satisfied
with their change management and testing functions.
The challenges range from poor requirement planning to delays in test data provisioning, to post-deployment issues.
What are the challenges faced in delivering high-quality software rapidly?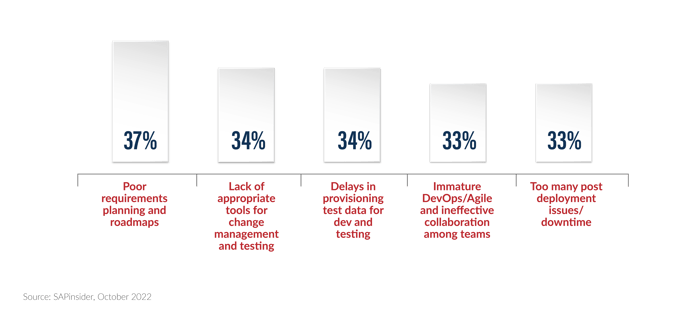 Test data within DevOps
The report found that 34% of respondents found that delays in the provisioning
of test data for dev and testing are a significant challenge.
Before implementing some software to support the process, some clients have indicated that it can take up to six months to get test data in place for a new project. The cost of these long lead times can be immeasurable. The implementation of the right test data management practices is a key consideration for the realization of significant time and efficiency gains in quality assurance and testing.
With SAP S/4HANA in the picture, there's no better time to develop an enterprise-wide Agile/DevOps and testing strategy that reduces risk and delivers high-impact applications faster.
First of all, when you are only starting your S/4HANA journey (brownfield), make sure that you create a Sandbox environment to start testing the migration with your own data.
My colleague Paul Hammersley has created an Ultimate Guide for SAP S/4HANA data and landscape management, which dives deeper into this topic. You can read the free guide here.
Test more and earlier
The report highlights the importance of streamlined collaboration across IT and business teams as a clear objective to achieve the DevOps goals. When looking at how test data fits into the different types of testing, the statistics where high-quality test data is marked as important and very important are as follows: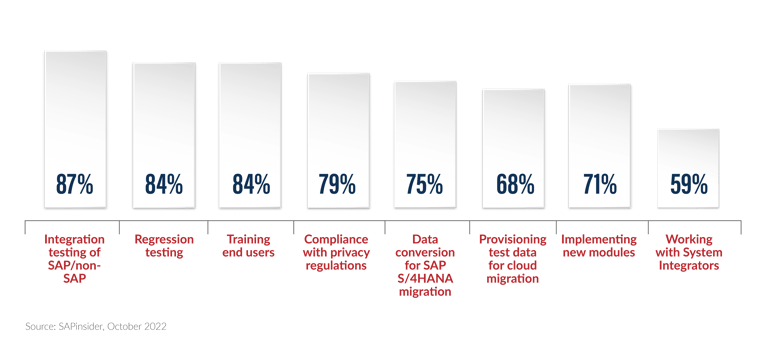 What is the impact of Security, Regulatory and Legal Compliance on DevOps?
76% of respondents stated meeting legal requirements, regulatory compliance requirements, and documentation needs are one of the most vital demands within testing and change management teams.
With data breaches and malicious security attacks occurring more frequently, ensuring compliance is key within SAP systems.
32% of those same respondents find it challenging to mask and scramble production
data in order to create test data that is secure and compliant.
This is especially important as 87%, 84%, and 79% of organizations deem 'important' or 'very important' integration testing, regression testing, and compliance tests, respectively. Automating the creation and management of test data can take your projects from good to great by enabling rapid and high-quality testing while also increasing compliance.
Not having processes in place for securing test data and enabling compliance can add major operational overhead costs. Incorporating a data masking tool can replace sensitive data with non-sensitive data in test environments, eliminating the risk of a data breach. Data Secure, part of the EPI-USE Labs' Data Sync Manager (DSM) suite, is an optimal solution that will mask and scramble sensitive data to ensure that your data is compliant; it meets all well-known data privacy and protection standards.
Test Data Provisioning
In the report, provisioning test data for development and testing were reported
as a major challenge by 34% of respondents.
EPI-USE Labs' DSM suite can help simplify the process of preparing data for cloud migrations and data conversions for S/4HANA migrations. It allows users to quickly provision test data and increase their efficiency by reducing the time it takes to perform manual data-mapping processes.
With its intuitive workflow, powerful features, and advanced support for multi-tenant environments, DSM can help make cloud migrations and data conversions for S/4 migrations faster, easier, and more efficient.
Improve efficiency and quality with the right test data management strategy
Among the key takeaways was that the integration of applications and data must be planned for early in the process in order to avoid surprises. It's also important to improve collaborative capabilities between IT teams and business users through processes and collaboration tools.
SAP S/4HANA implementations, coupled with Test Data Management (TDM) tools like DSM, provide an opportunity to modernize change management and testing functions, and can be incredibly beneficial in the long term. This includes embracing agility and adaptability as part of a modern value proposition to increase efficiency within an organization.
Investing in the right approach now can lead to long-term gains in productivity and cost savings, and sustained customer satisfaction. As businesses and organizations continue to recognize the critical role of test data management in their digital transformation, they can no longer afford to ignore the need for solutions that provide robust, secure, and reliable data.
The Power of Data Sync Manager (DSM)
DSM is an automated solution designed to help customers easily manage their test data. With DSM, it becomes incredibly simple to create, replicate, and manage test data, reducing the complexity and time associated with manually setting up and maintaining test environments.
Users are able to create test data templates that can be reused across multiple tests or experiments, eliminating the need to manually recreate test data when a new test is needed. Also, DSM's replication features enable our clients to reproduce complex data sets for both big data and small data applications, ensuring the accuracy of results for any given experiment.
By providing a streamlined approach to data management, DSM reduces the time spent setting up and maintaining test environments, helping our clients maximize their efficiency.
In conclusion, DevOps in SAP systems require a different approach than in other systems. The complexity of the underlying software, the need for high availability and scalability, and the need for increased collaboration between teams are all important considerations. Test data, security, and automation are key areas to consider. By addressing these challenges, SAP DevOps teams can improve the speed and quality of software delivery, and support the critical business processes that rely on SAP systems.
Join us on Wednesday, 22 February for a webinar and panel discussion that focuses on developing a modern DevOps, Agile, and Testing Strategy for your SAP landscape. Register here.