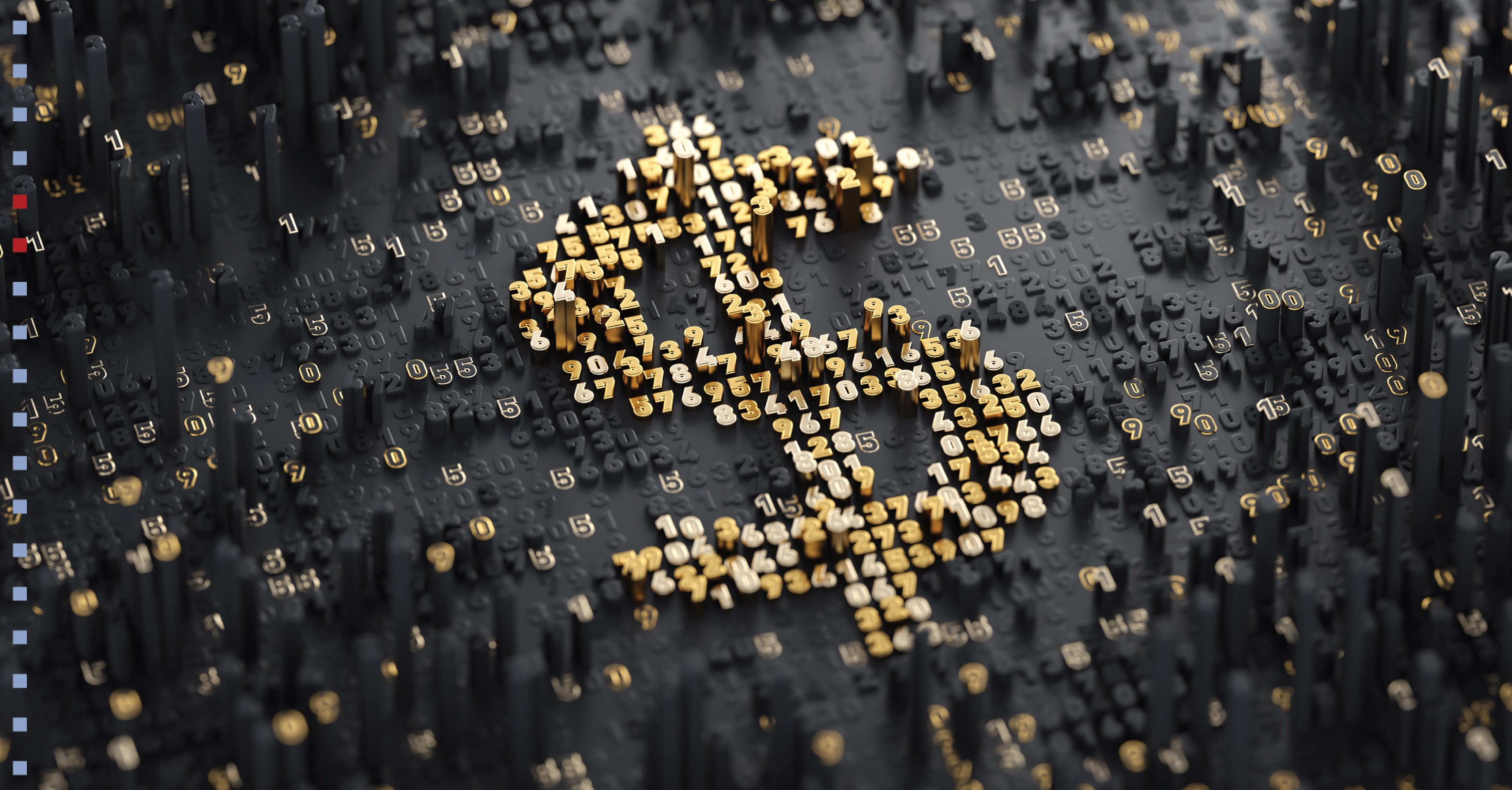 EPI-USE Labs recently had the opportunity to assist a large public sector customer with their parallel pay run program. The program compared the payroll results of their legacy systems to their new SAP Payroll that contains more than 150 000 employees, many with multiple concurrent assignments.


For this project, we combined three of our products: Data Sync Manager, Variance Monitor and Query Manager (including Document Builder). We were able to: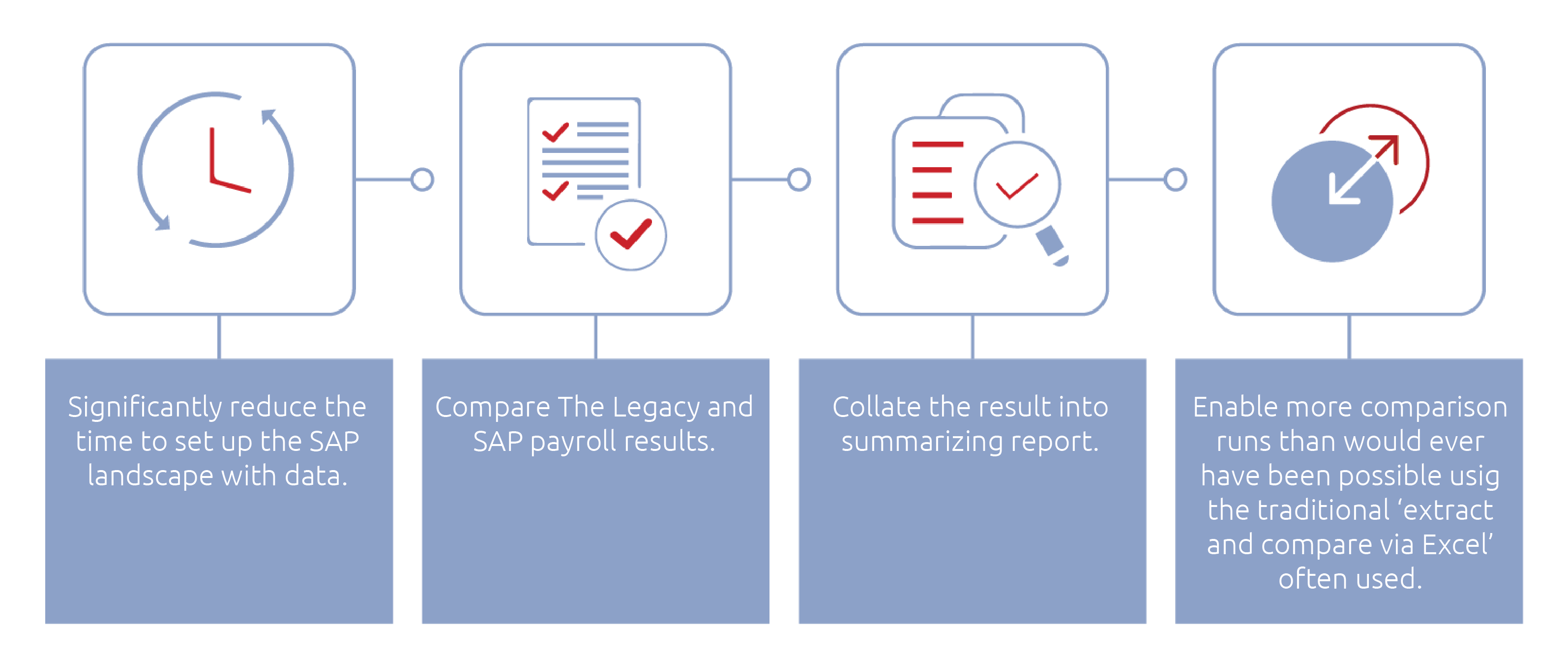 Using Data Sync Manager Client Sync, we set up a new baseline SAP system that could receive the data migration team's data loads, and then after the loads were complete, we replicated this through the test landscape. This was done multiple times and has saved the project many months of time compared to using traditional tools and approaches..



Previously the SAP client copy process took over a week per client. DSM provisions the data in under four hours – and we have built over 20 environments.
We built lean fit-for-purpose SAP clients ensuring the project had the data it needed and also removed redundant legacy data from the landscape with DSM's HCM profile, and Object Sync for HCM.
For example we:
Replicated the Base SAP Client so that each project stream had an environment

Created project milestone specific snapshot systems for future reference (including the ability to compare stage 1 vs stage 2, 3 etc.

Replicated the Org Structure into new systems when required.
Not only did our approach and products save the project a lot of time, but also allowed it to use its system resources more efficiently. (For example, instead of having single client environments we could create multi-client environments that used less space.)

Using Variance Monitor, we were able to assist independent auditors to set up comparisons with triggered rule networks that compared the legacy system's payroll results from a file to either simulated or saved SAP Payroll Results.

The ability to use tolerances and conditional branching in these rule networks significantly sped up the identification and resolution of issues.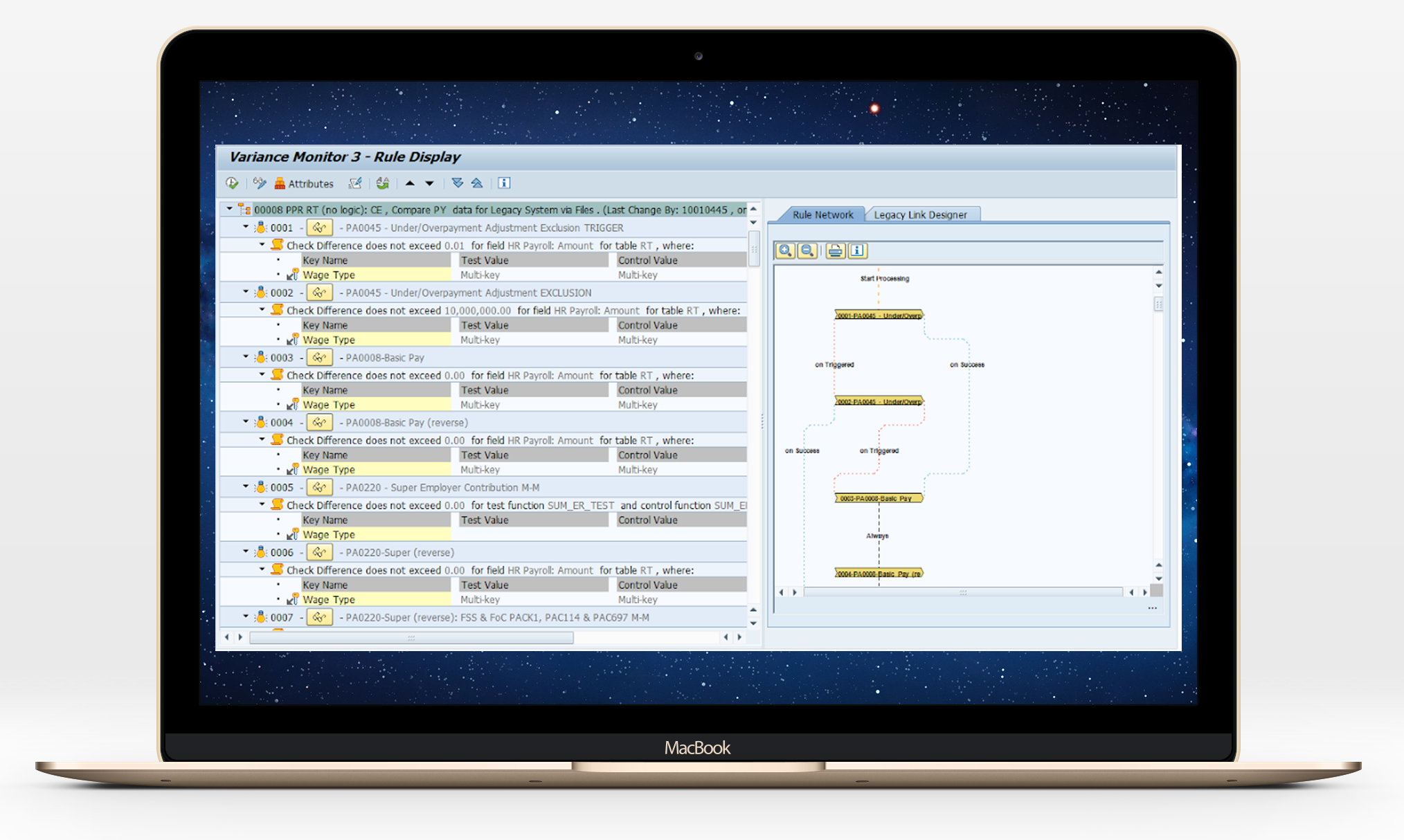 Above: Variance Monitor 3 Sample Rule Network
We saved the Variance Monitor run results to a table that allowed us to prepare run-by-run reporting, tracking the reduction of variances over time with a Query Manager report.




What stood out was Variance Monitor's ability to accommodate complex wage type mappings, and how fast it could complete full comparisons for 150 000 employees (100 minutes). This meant that when data or configuration changes were released into the testing system, we could rerun payroll, compare the full set of results for over 150 000 employees and produce trend reports in less than half a day. The quick turnaround and trend reporting meant that the project team almost immediately knew how effective the changes were and whether they had a positive or negative impact. Most importantly, the project could execute more test runs which increased test coverage and lowered the overall project risk.
What certainly expedited the analysis of variances was that each of the Variance Monitor Rules categorised the type of problem, be it missing data, configuration, SAP vs Legacy System calculation difference etc. So not only did Variance Monitor identify the issues but it also grouped the information logically which helped the team to triage faster and home in on the root causes, even with such a large set of data.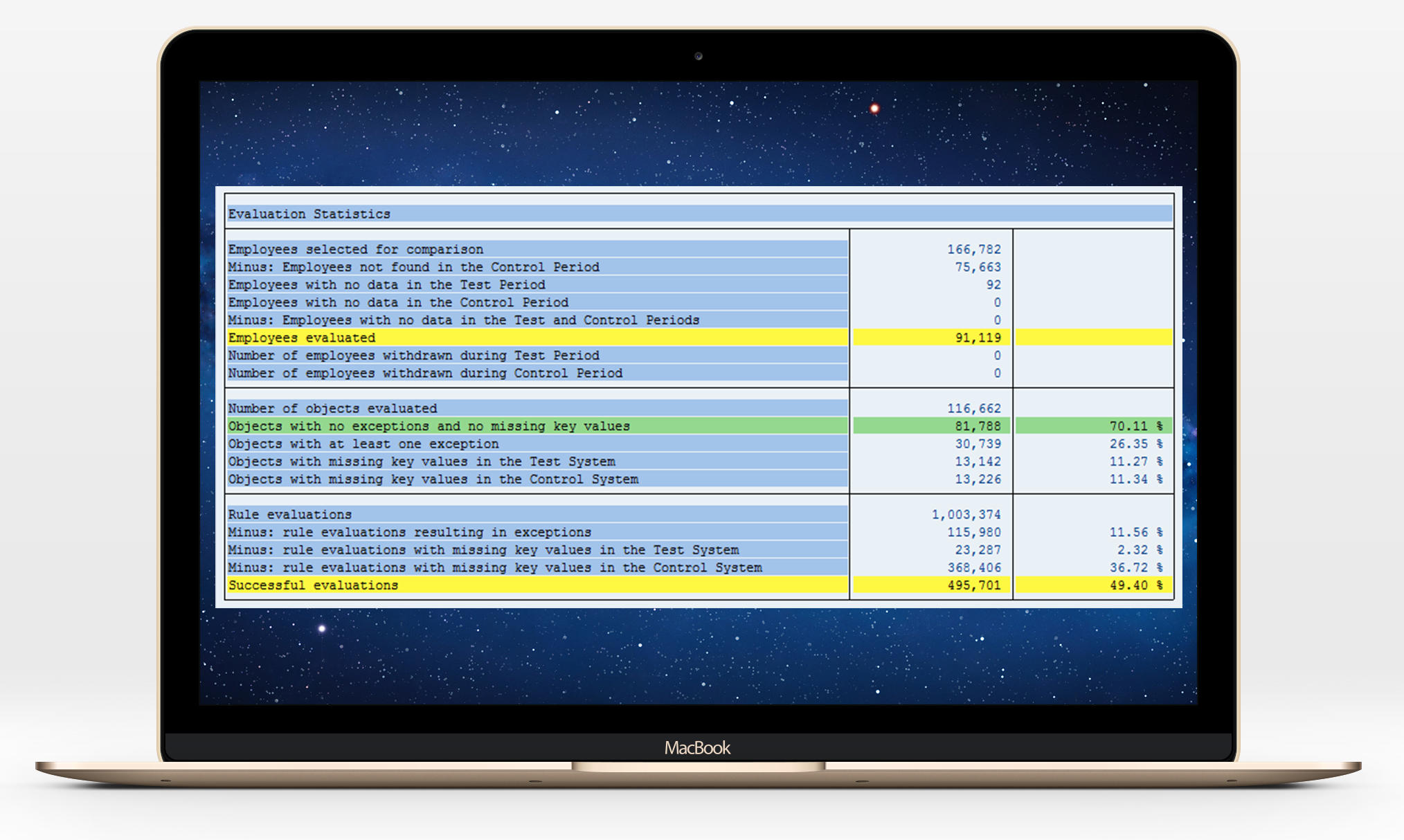 Above: Variance Monitor 3 Summarizing Statistics
Using Query Manager, we supported the project with some utility reports and customer-specified dashboards. Not only did we report on payroll result comparisons executed with Variance Monitor, but we also summarised and reported on Leave Accrual comparison data, prepared by a third-party product and saved into twelve different file formats. What stood out was the built-in formula language used to classify conditionally, count and add up data, the QM4 file data source extension, and the charts and graphs delivered by the Document Builder extension.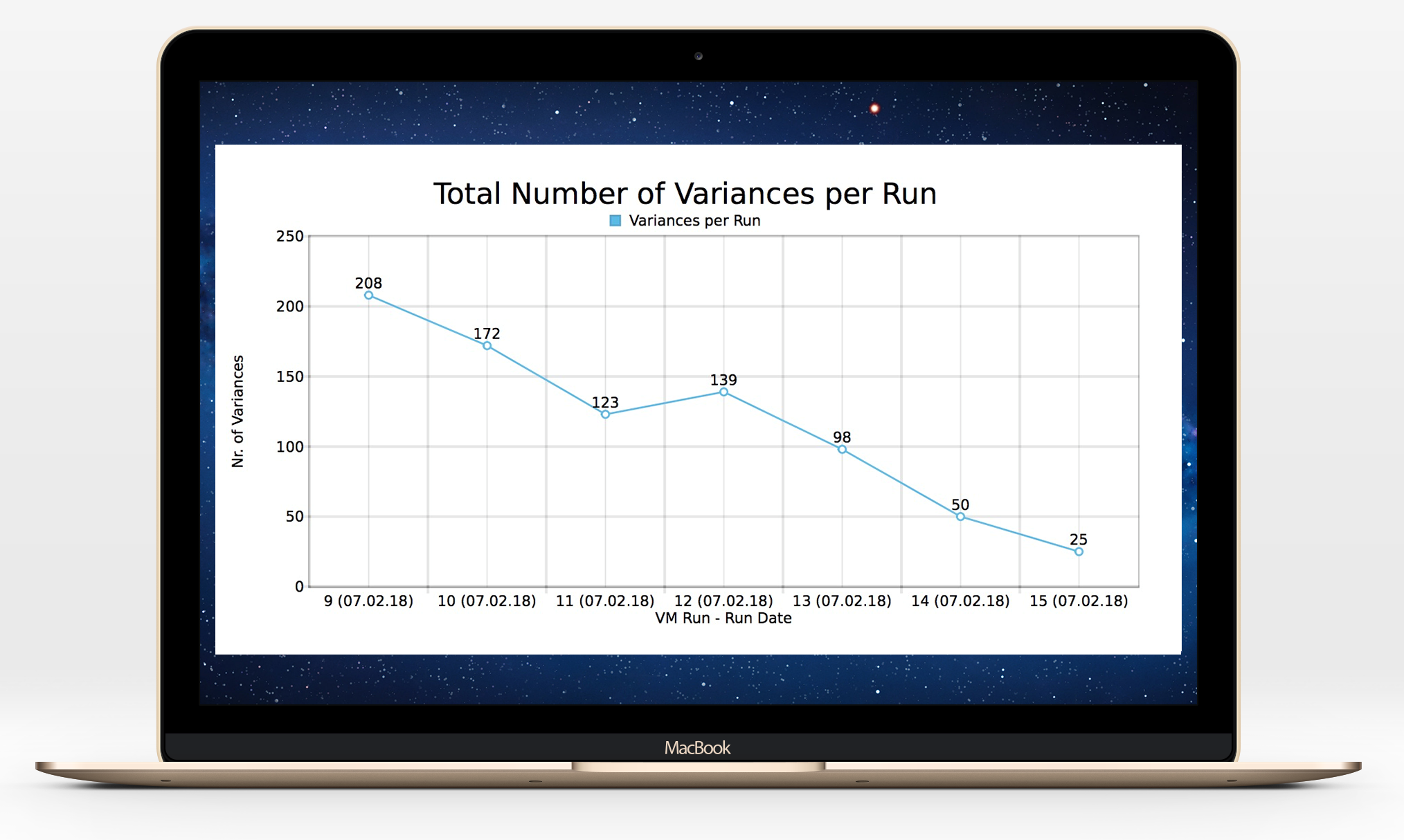 Above: Sample Query Manager 4 Run-by-Run Comparison: Total Number of Variances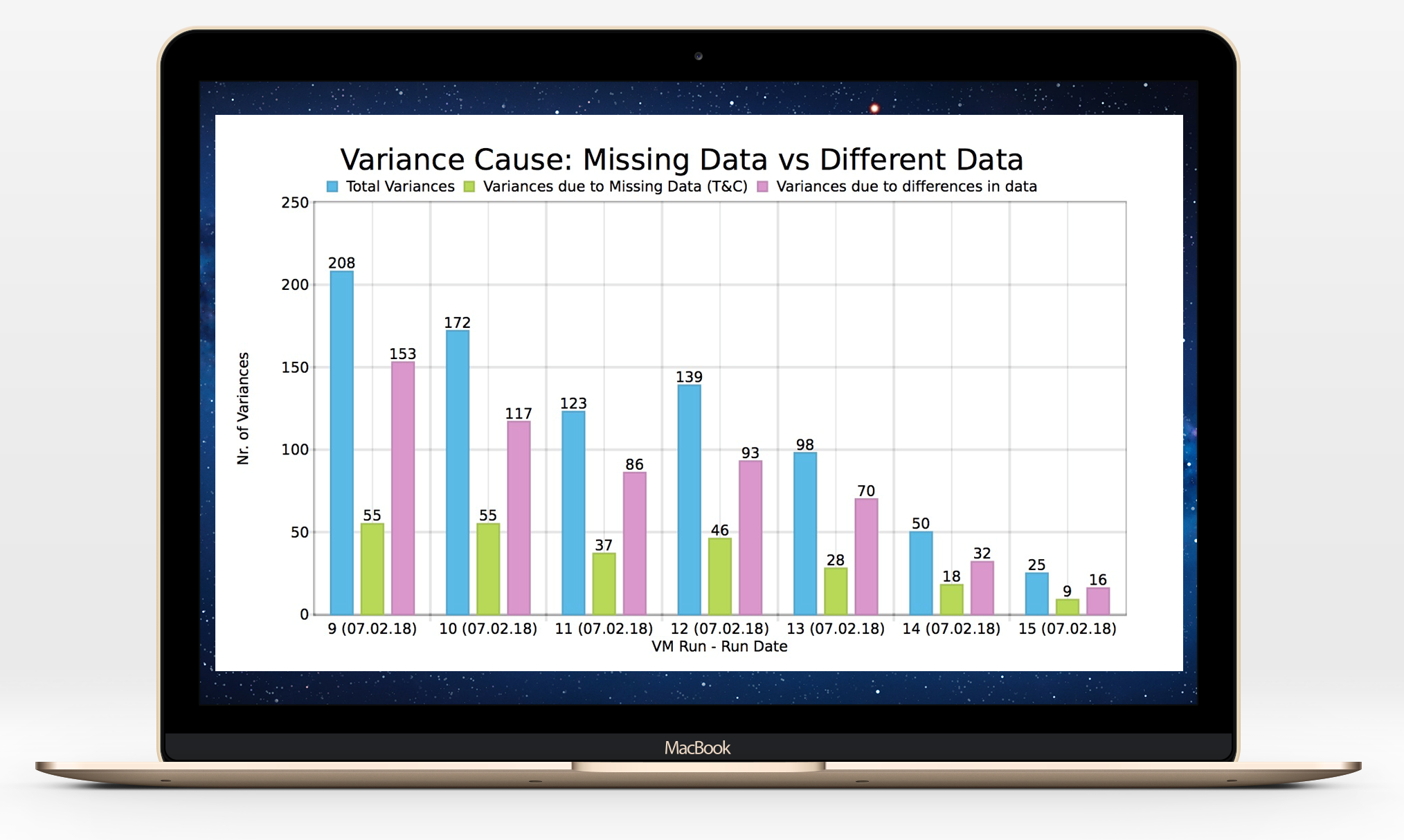 Above: Sample Query Manager 4 Run-by-Run Comparison: Source of Variances
We looked at the holistic needs of the project, combining all of our solutions to deliver quality data, fast and effective automated testing and practical visualisation of the data. This helped the project to meet tight project deadlines and keep all stakeholders informed in real time.