Keeping an eye on employees and time tracking
I enjoyed reading 'The Future of Work Arrives Early: How HR leaders are Leveraging the Lessons of Disruption' published by Oxford Economics here.
"Oxford Economics and the Society for Human Resource Management (SHRM) partnered with SAP SuccessFactors to understand the emerging realities facing employers and employees –and next steps for leaders in 2021 and beyond.
As the contours of the post-pandemic workplace start to come into focus after months of ongoing change, companies around the world are bracing for even more disruption. To understand these trends, we fielded two surveys in ten countries in August and September of 2020, building on a series of research reports on the chaotic labor market published during the second quarter of this year. This report provides an overview of research results related to workplace changes, talent strategies, technology adoption, and the equity issues that are woven through all of these topics – and suggests a plan for balancing these sometimes-competing demands in the months and years ahead."
A section that really caught my eye was labeled Fast Facts on the Shift to Remote Work, where over half of the survey respondents expected to have greater flexibility regarding remote work as a response to COVID-19 as detailed below:
United States (64%)
United Kingdom (57%)
Spain (54%)
Germany (54%)
Canada (54%)
It's been interesting to see how various types of employees have adapted to the remote working environment. For me, the only switch was the cancelation of all travel, as I already worked from a home office when not on the road, and the increase in the number of 'on-camera' meetings that required showering and dressing (at least from the waist up). Friends and family in different industries (not software related) have had different experiences as well. One of the challenges I have heard, from both employers and employees, is identifying who is REALLY working.
How can an employer tell if employees are really working while at home?
In some jobs it is easy for employers to measure production or task completion via hard data (salespeople log 100 calls a day or programmers complete X number of lines of code for example). However, for many jobs, there are not tangible, quantifiable items to measure. It has become interesting how employers have shifted to identifying when people are working and what they are doing. I have one friend whose employer monitors activity, based on mouse movement, with the rationale that if the mouse is moving, work is being completed. Another friend agreed (consent required) to have her camera on, at her workstation all day, so the virtual office really is a virtual office for her as she can be seen by colleagues and management and is accessible as needed just as if she was working in an office.
According to Workplace Fairness, a non-profit focusing on employee rights, employers can legally monitor almost anything an employee does at work as long as the reason for monitoring is important enough to the business. A broad explanation that I assume has dozens of caveats and country- and industry-specific regulations.
Tracking time in the new normal
While we are all interested in learning when the new normal starts and what that will mean for the physical workplace, the ability to track employee time (where they are and what they are doing) is more important than ever. For customers with SAP SuccessFactors Employee Central, there is an extension for timesheets that makes mobile time capture and approvals easier, leveraging employee phones. It has the added benefit of providing advanced management and reporting features, without having to give ALL employees access to SuccessFactors Employee Central for capturing time. The solution is part of the EPI-USE Labs arsenal and is called GeoClock.
Why GeoClock?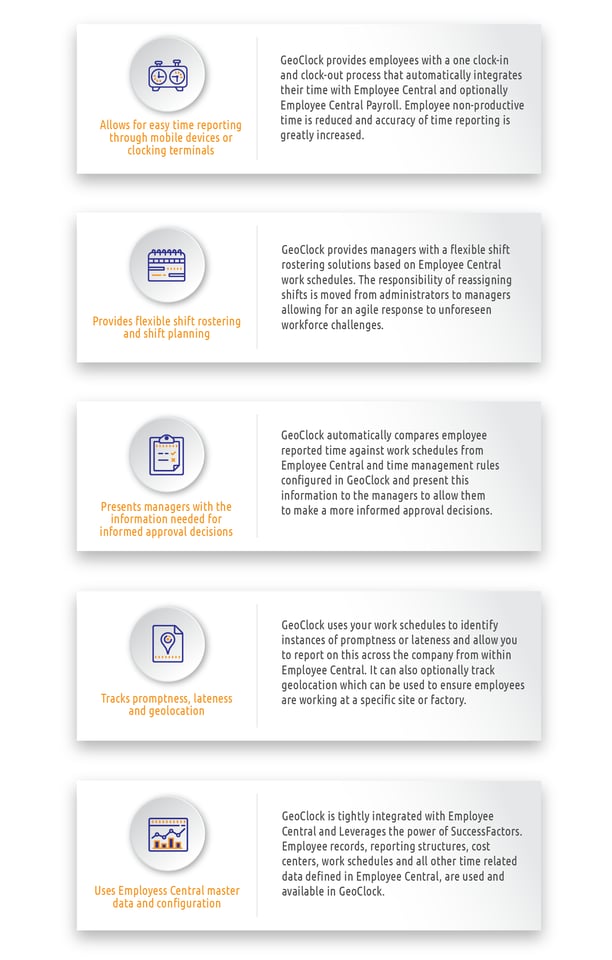 Find out more at epiuselabs.com/geoclock.