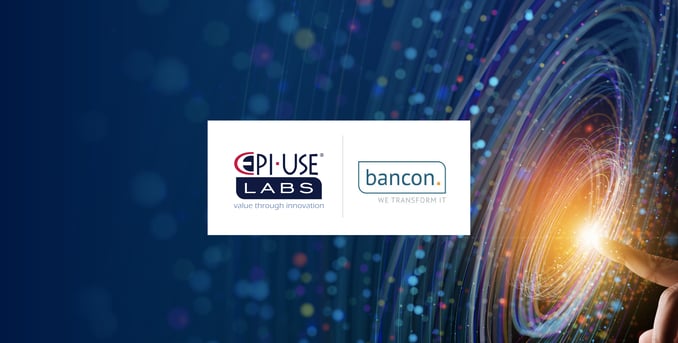 Manchester, United Kingdom
EPI-USE Labs and bancon GmbH ‒ both leading experts in SAP® transformation ‒ have formed an alliance to provide comprehensive SAP System Landscape Optimisation (SLO) and S/4HANA® transformation services to the global SAP market.
The collaboration will draw on EPI-USE Labs' Data Sync Manager™ (DSM) Landscape Transformation suite and bancon's bPostingEngine (bPE) to provide two primary client needs, viz. (1) a streamlined service for reorganising and cleaning up SAP systems and (2) SAP S/4HANA transformation and migration services. Leveraging the two firms' software assets allows for speedier deployment and improved efficiency, when compared with more conventional means of managing data transformation projects.
Wilfried Schulte, Global Data Transformation Director at bancon, said, 'Organisations typically have to deal with inefficiencies when working with multiple service providers. We have a well-established track record of working with EPI-USE Labs on several engagements, and realised bancon could better and more efficiently service clients, working in a more formal arrangement with EPI-USE Labs.'
Combining DSM and bPE means that clients benefit from simple, automated solutions to complex problems. The combination of these mature SAP transformation software products, offers clients a rapid, robust, object-based approach, rooted in sophisticated data model mapping and separated from a rich functional layer. It is suitable for clients using legacy ABAP systems, a modern cloud API-drive or a hybrid environment. DSM provides a broad range of data ETL services that can be used for clients to support many kinds of transformations and builds of SAP landscapes, while the bPostingEngine performs a critical function in automating the identification, reversal and posting of Open Items between Company Codes or between systems.
'With EPI-USE Labs' DSM software suite, our PRISM™ migration technology and bancon's bPE, we have arguably the most comprehensive technology suite on the market, in this arena', said Jamie Neilan, Associate Partner at EPI-USE Labs. The combined approach allows for execution of automated transformation processes for the most complex of SAP data projects in an audit-compliant way, and bancon adds a wealth of experience in automating the posting of Open Items in SAP, which is key to many transformation scenarios such as merging company codes, reallocating plants or shifting to SAP S/4HANA with a selective data approach. This has typically been a challenge in transformation projects, as items open in the system can be a rapidly changing dataset. Standard SAP technologies (such as LSMW and migration workbenches) work, but they don't adequately automate a complex process, leaving human error as a real concern in high-pressure projects.
Decades of combined research and development have gone into developing these technology stacks, to ensure SAP data is handled in the most cost-effective and efficient manner. EPI-USE Labs endeavours to apply a 'Lean Secure' paradigm for all projects where software automation is key to providing Value through Innovation (the tagline for EPI-USE Labs). 'Previously, Open Items transfers was not something we were addressing, while we focused on mapping and manipulating the massive SAP data model across a variety of systems, and bPostingEngine's focus is deeply complementary to our work', added Neilan.
Transformation examples using these software products include the following:


Company code merges;
Global enterprise restructuring, an example of which is logical separation including plant reallocations, and master data transformations or extensions;
SAP S/4HANA selective (Hybrid) transformative one-step migration from legacy systems;
Migration to new SAP platforms from a mix of legacy systems in the banking industry; and
Transformation for the Utilities sector.
For more information, contact Wilfried Schulte at wilfried.schulte@bancon-it.com or Jamie Neilan at jamie@labs.epiuse.com
About EPI-USE Labs
With 40 years of experience, EPI-USE Labs provides software and managed services to over 1,350 clients across 49 countries. They help their clients transform their SAP landscapes and optimise the performance, management, and security of their SAP® and SAP SuccessFactors® systems.
EPI-USE Labs is part of groupelephant.com, which employs 3,500 people across 40 countries. The Group is a largely employee-owned group of boutique services firms and software companies, non-profits and impact investment organisations. groupelephant.com funds and operates the non-profit Elephants, Rhinos & People ('ERP'), focusing on the preservation of at-risk elephants and rhinos in Southern Africa, through the economic upliftment of rural people in areas adjacent to these threatened species.

www.epiuselabs.com
About bancon Group
bancon was founded in 2001 and is a certified SAP and SAP Fioneer partner, headquartered in Walldorf, Germany. They serve the global SAP community via their six regional hubs in Walldorf, London, Bratislava, Cape Town, Bangalore and Singapore. They can transform a wide range of business challenges through data management, consultancy, design, development and implementation.
bancon have been innovating with SAP in a variety of ways since the foundational release of many of their products, from product design and client implementation, through to in-house development that now makes up the SAP standard solutions. Be it transforming an SAP data landscape or designing innovative technical solutions, bancon can quickly assess business needs in order to determine what outcomes will have the greatest impact on the bottom line.
bancon have an agile team which means projects are not prolonged beyond what is necessary. Their approach is different to larger consultancies. They get straight to the heart of the problem and solve it in the leanest, most efficient way.

https://bancon-it.com/