Before changes in SAP® landscapes can be used in production, they must be tested in non-productive systems to ensure functionality, security and compliance. These development, test or training systems are often a full copy of the entire productive system, although in most cases a small sample of the data would be sufficient for testing purposes.
What is SAP TDMS?
To set up such lean test clients, SAP has a solution called SAP Test Data Migration Server (TDMS), which was originally developed for ECC landscapes. The technology was based on the assumption that 90% of the data can be found in 10-20% of the tables. Which tables are part of that 10-20% differs between different industries, and even specific SAP systems, depending on choices made during implementation and the active functionality. To provide a completely consistent test environment with SAP TDMS, a very high configuration effort is therefore necessary. This makes the solution very complex, and it takes a lot of time and resources to implement and use the tool.
Alternative solutions to SAP TDMS
Of course, there are already alternatives on the market, such as Data Sync Manager™ (DSM), which also bring other advantages. DSM is software from EPI-USE Labs that offers a much wider range of functionality than SAP TDMS. DSM can: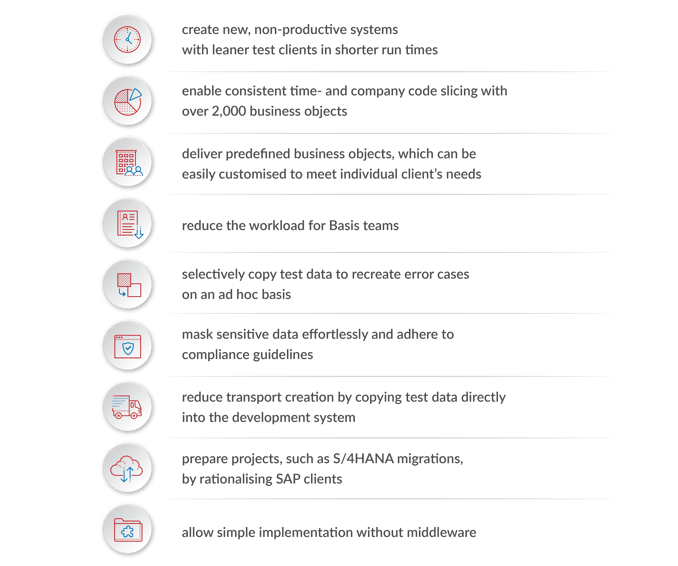 DSM is simple and user-friendly, so can be used by the business users themselves. The workload for Basis teams is thus reduced, and business departments are able to manage their own test data. The implementation is not preceded by a complex and time-consuming project. Rather, DSM is delivered as a classic SAP transport, and setup can be completed within a few days. The software is usually up and running within a week.
The move to SAP S/4HANA
Today, many organisations are moving to SAP S/4HANA, and effective test data management becomes even more important. During the move, it is crucial to validate and test business processes properly before starting the migration. However, SAP TDMS is not compatible with SAP S/4HANA. This SAP note states that the solution is neither released nor technically compatible on S/4HANA systems.
DSM can also support you in the evaluation of S/4HANA. Instead of completely copying your productive SAP ECC system, the solution allows you to extract a portion of your SAP system intelligently in a masked fashion without interrupting the operation of your existing landscape. This gives you a smaller system, your team can quickly retest configurations and business transactions, and you save costs with a smaller appliance. Read the white paper on the impact of creating good test data before, during and after your S/4HANA migration project.
After the S/4HANA migration, your SAP system becomes the digital core at the centre of a web of connected cloud systems. The integration with those systems needs to be 100% correct at all times. But those systems have different change management processes, release schedules and architectures. The test landscape and data need to be more agile than ever before to ensure these connected systems are properly tested and validated as changes occur. You need a solution like DSM to support you in this process.