The future of reporting in SAP SuccessFactors begins with Report Stories
I've been writing about the latest updates related to SAP SuccessFactors People Analytics for a while now – see my three most recent articles below – and finally Report Stories is available for clients.
What is Report Stories?
Report Stories is the new name for what used to be referred to as the Embedded Analytics Edition of SAP SuccessFactors People Analytics. People Analytics is not the name of a reporting tool, but rather an umbrella term for all things reporting, analytics, intelligence and strategy for Human Capital Management for SAP SuccessFactors.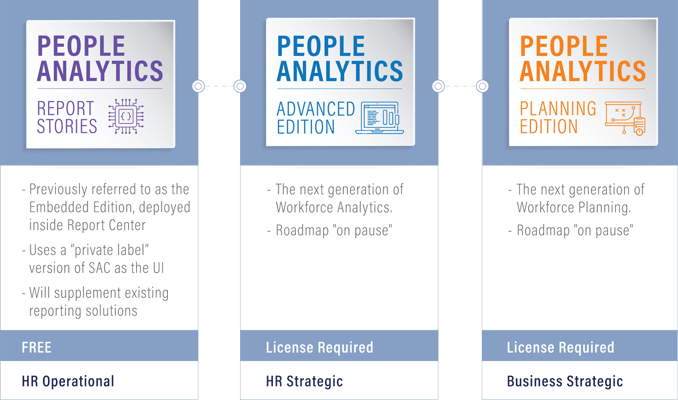 © EPI-USE Labs
People Analytics is composed of three solutions, known as Report Stories (formerly known as the Embedded Edition), the Advanced Edition and the Planning Edition, each of which has a different focus area operational, as noted in the graphic above.

The Report Stories edition consolidates all of the legacy SuccessFactors transactional reporting tools into a single tool for reporting, insights, and dashboards. It enables customers to perform cross-suite reporting based on live transactional data across the SuccessFactors Suite. Report Stories in People Analytics is being promoted as the future of operational reporting for SAP SuccessFactors and it is included in a client's SuccessFactors product license. No additional license is required to use it.
Report Stories is described as a paradigm shift and a next-generation experience for gathering insights. It is ultimately designed to become the single unified report type in SAP SuccessFactors. Although slightly behind schedule, it was made available via a staged release in the summer of 2020 for use in production environments at certain clients. The target date for a larger deployment was scheduled for late Q3 2020 and was dependent on the delivery of a fully-scalable, API-based configuration.
How do Report Stories work?
In Report Stories, users are accessing the SuccessFactors Report Center, via the traditional SuccessFactors navigation, and from there leveraging the Query Designer, similar to a wizard-style builder. This assists users in the operational report-building process, as shown in the sample below.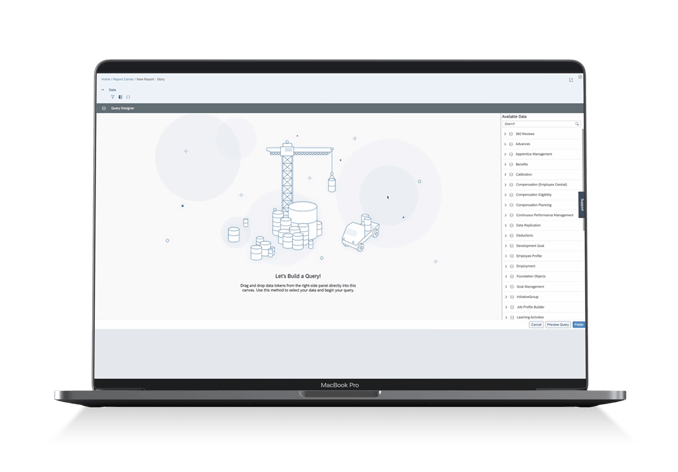 © SAP SuccessFactors 2020
Clients who have enabled Report Stories (see prerequisites below) will see an option to build a Report Story in their Query Manager Designer. They can build dynamic and interactive stories, like the sample shown below.
© SAP SuccessFactors 2020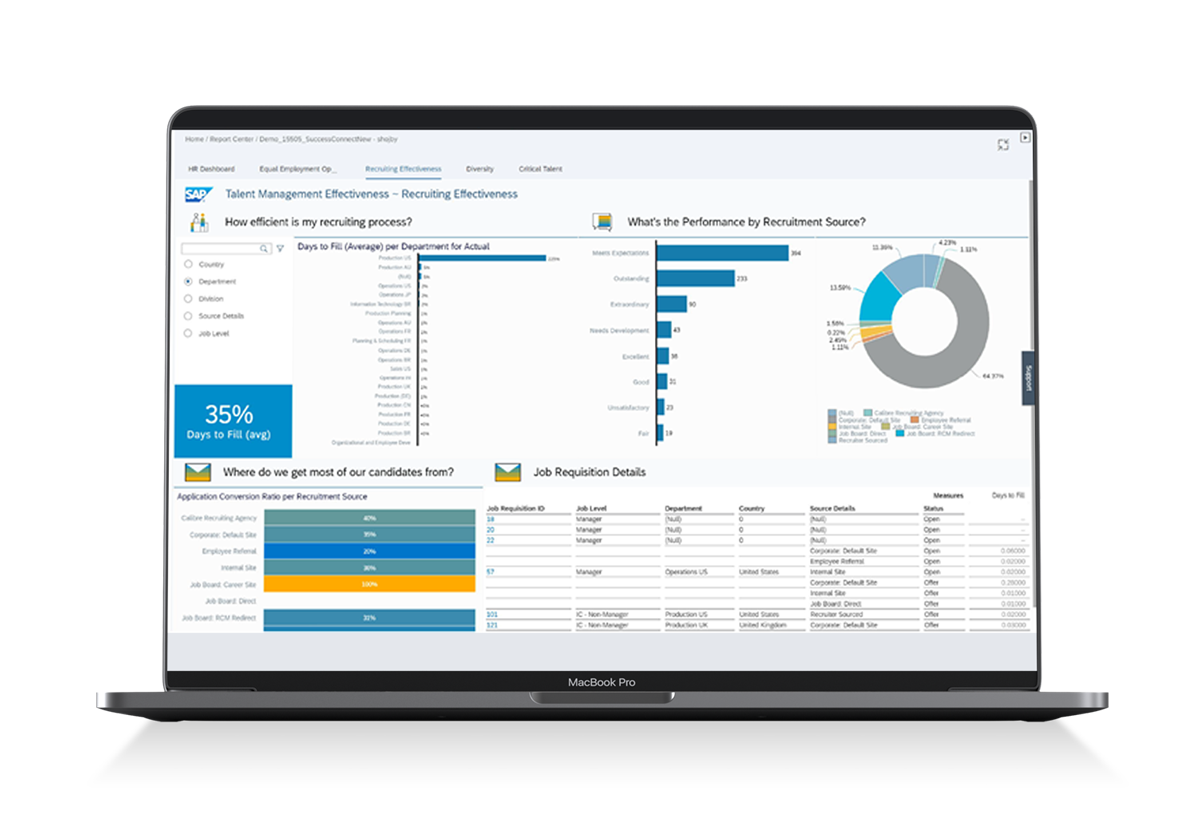 © SAP SuccessFactors 2020
What type of SuccessFactors data is planned to be available in Report Stories?
There are several different modules and submodules in SuccessFactors and lots of different functional types of data. The published Roadmap from SAP SuccessFactors catalogues the data scheduled to be available in the Report Stories Edition into three timelines, as detailed in the graphic below:
Planned at release

Planned after release

Covered elsewhere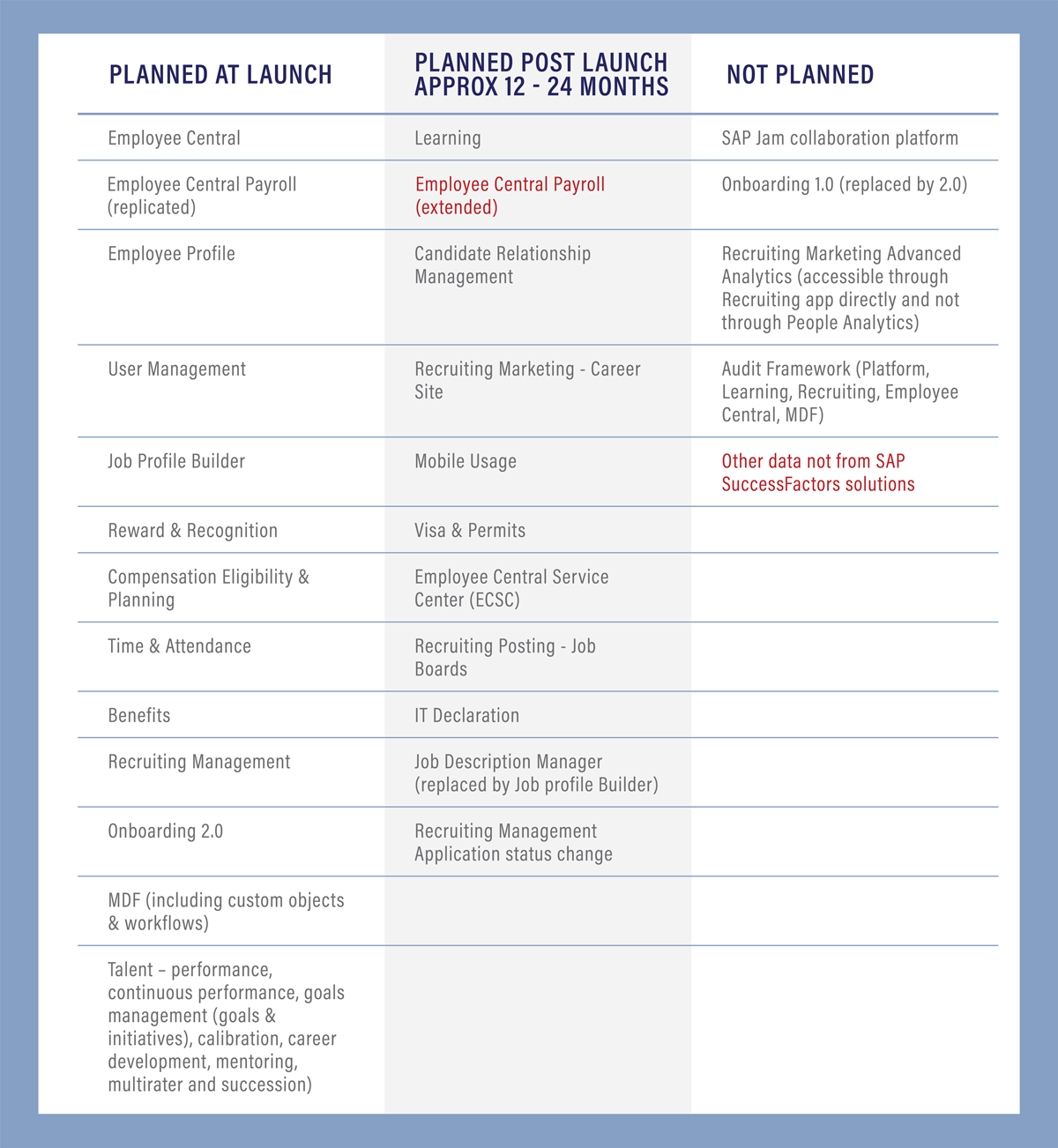 © EPI-USE Labs
Looking at the second column, you may notice that approximately half of the data sources are planned after the initial release. This could be at least 12-24 months after the formal general availability release.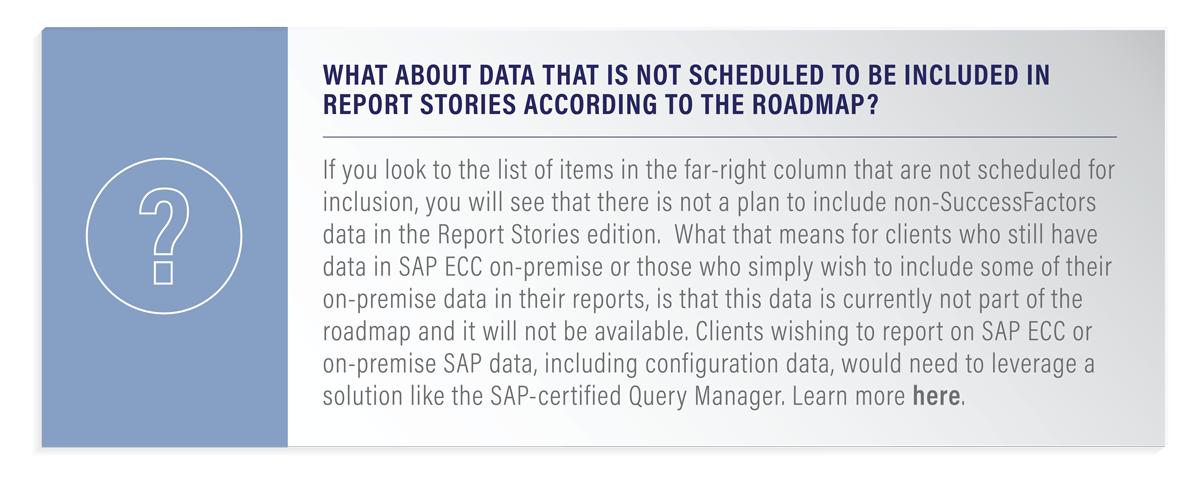 How do I get started with Report Stories?*
Step 1: Complete Prerequisites (Report Center and SAP Cloud Platform Identity Authentication Service.
Step 2: Start the People Analytics Upgrade Center task. Note: Ensure the user triggering the upgrade has a valid email address configured in the instance (required).
Step 3: Login to IPS to sync users from SFSF to People Analytics (must have S User ID information of user who configured/enabled SAP Cloud Identity Authentication.)
Step 4: Add Role Based Permissions for People Analytics
*Please note that valid SAP or SuccessFactors credentials may be required
Helpful references to get started include the following:*
Customer Community Article: SAP Cloud Identity Authentication Article. Migration to SAP Cloud Identity Authentication With IAS/IPS from Existing Systems - Innovation Alert
Customer Community Article: Report Center Upgrade Beginning Q3 2019 - Innovation Alert
Implementation Design Principles: SAP SuccessFactors People Analytics: Report Story Design & Implementation Considerations
SAP Knowledge Base Note 2877303: Quick Guide to Enable People Analytics Embedded Edition (valid SAP credentials may be required)
Blog: Enabling Report Stories in the Report Center
Online Learning: THR92 SAP SuccessFactors People Analytics Embedded Edition Academy (valid Learning Hub ID required)
Templates: Standard Story Templates
*Please note that valid SAP or SuccessFactors credentials may be required
To continue to stay in the know on all things reporting in SAP SuccessFactors, please subscribe to my blog, 'Let's Talk HCM'.