Regardless of your official reporting solution, virtually every user still loves to work in Microsoft Excel. It is an application used by millions with a user-friendly interface, complex features and functions, and a familiar user experience.
Now, I know users extract their confidential SAP and SuccessFactors HCM and Payroll data out of their secured SAP systems to work with it in Microsoft Excel. I could go on a rant here about how the moment data is taken outside of your very security-rich SAP or SuccessFactors system that it becomes vulnerable when you put it in Microsoft Excel, but I am aware that you already know this and continue to do so...taking the necessary precautions of course.

Well, now we have made it easier. Query Manager, the most popular real-time reporting solution for SAP HCM and Payroll data not only gives you the ability to download and extract your data, but now you can also work with that data with a live refresh option in Microsoft Excel!

Our Microsoft Excel-based app makes it easy to refresh, analyze, share, and present your critical SAP HCM and Payroll data, when and how you need it. Even better, you can empower your end-users with live SAP HCM data in a format they are familiar with, Microsoft Excel.

How does it work?
We have added live integration within Microsoft Excel. As shown in the picture below, users will see new options on the Microsoft Excel toolbar and a new navigation on the right.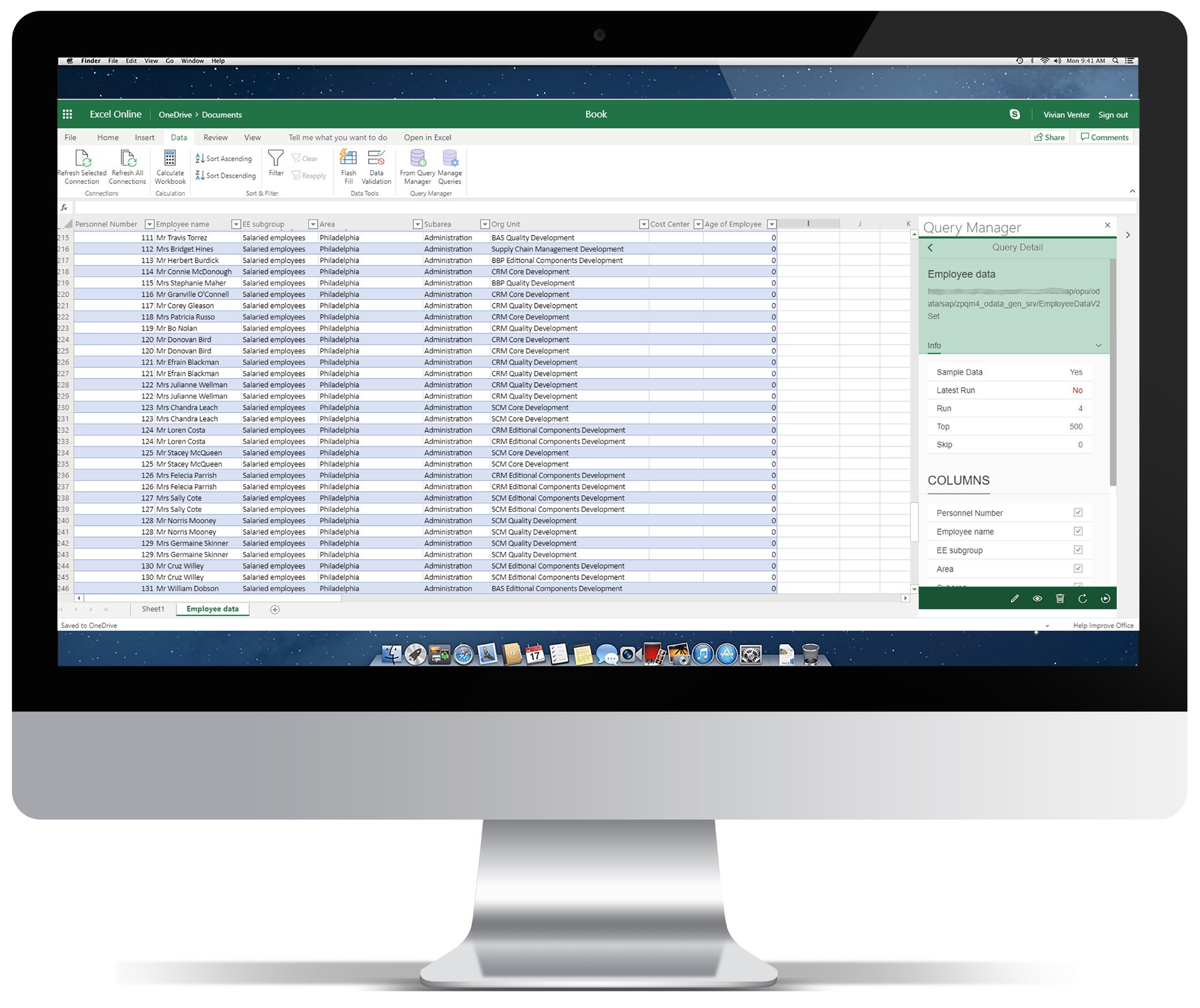 Users can leverage these new options to refresh their Microsoft Excel spreadsheet to the latest report data, by simply selecting the Refresh button on the toolbar. As an end-user you can work with your SAP report in your familiar Microsoft Excel instead of in SAP, and leverage Excel functionality including pivot tables, color formatting, charts, graphs etc – all with your dynamic SAP HCM data. What is unique about this web app is that once you have built an Excel worksheet with all the formatting and formulas that you need, you can simply hit a button to refresh your spreadsheet with your report data from SAP. Imagine the possibilities of this.
Benefits


If you would like to see a quick demo of how to work with your SAP HCM and Payroll data live in Microsoft Excel, please drop me an email and we can schedule a demonstration at your convenience.