I published a blog back in 2018, The difference between an SAP Certified Partner and an SAP Certified Solution that explained the difference between being an SAP Partner and having an SAP Certified solution. Since then, there have been new certification classifications added, as well as a heavy focus on the ability to purchase solutions via the SAP Store. So I decided to publish an update, as I often get the question: "What is the difference between SAP Certification vs. available via the SAP Store vs. SAP Partner etc.?"


SAP Certified Partner
Your first step when doing business with an organization is to make sure that as a minimum they are an SAP Certified Partner. To check if any company is an SAP Certified Partner, visit the SAP Partner Finder (as detailed in the original blog). These are samples of logos in use by vendors who are SAP Certified Partners.



© Image source SAP


Products available via the SAP Store
Let's start with the SAP Store (formerly known as the SAP App Center). You may have noticed the 'Available on the SAP Store' logo (shown here) on many partner solution websites.




© Image source SAP
Partners can sell their software via the SAP Store, as shown in the picture below. This is SAP's online marketplace. A product's inclusion on the SAP store does not mean the product has been vetted by SAP, as a product certification would for example, rather that SAP authorizes the ability for that partner to transact business via the store, and potentially share revenue with the partner.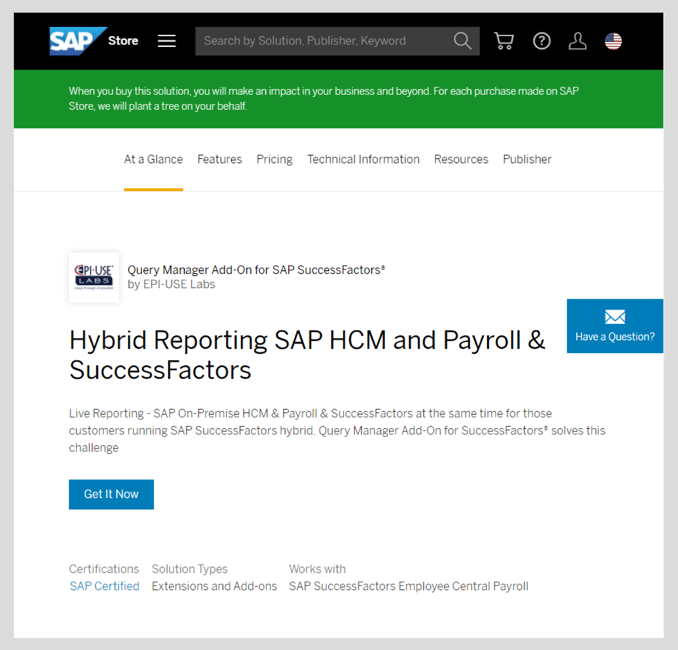 © Image source SAP
An interesting thing I like about the SAP Store is that it gives pricing estimates. Via the pricing section of an SAP Store listing, customers can get a general idea of the pricing model for software, something that was often previously only accessible via a discussion with a salesperson or via signing an NDA. In many cases the pricing is quite generic, however, at least you can estimate if a product will be $100 or $10,000 a month.

The SAP Store listing also has a section called Technical Information, which includes:
a description of the type of solution it is

which SAP solutions it is designed to work with

the category it falls under

a link for Certification.
As you may recall, in my initial blog, I focused on the recommendation that product certification was important and encouraged you to only install software on your SAP system that includes the appropriate certifications. This is still true. However, now there are different certification types that you need to be cognizant of.
SAP Certified Solutions
As mentioned in the earlier blog, it is critical when deciding to integrate software with your SAP system that you do so only with an SAP certified solution. A sample of a certification logo is shown here:



This is a requirement because doing so ensures that you can cut implementation times, lower integration costs, and be confident of compatibility with your SAP security and technology infrastructure.

A list of certified solutions can be found in the SAP Certified Solutions Directory.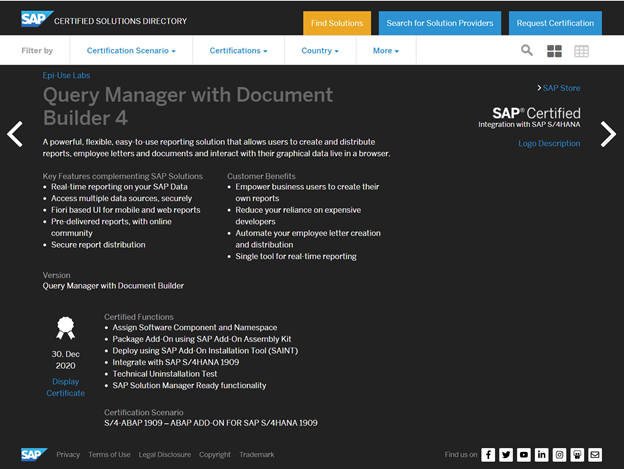 © Image source SAP

SAP Certification types and scenarios
As SAP innovation continues, so do their types of certifications, all managed via the SAP Integration and Certification Center. SAP certification shows that your technology integrates smoothly with SAP solutions, giving customers total confidence in their investment decision.
Within the Product Certification arena, there are several types of Certification Scenarios, and more than 1,000 solutions have been certified to date.

Having this Certified SAP Integration means that the software not only meets SAP's minimum requirements, but that it has also passed rigorous tests performed by the SAP team, including a requirement to continue to fulfil the necessary ongoing requirements to maintain that certification.

At the highest level, software can be certified under the following four generalized categories:
Certification Type

Compliance

Learn more

Add-on integration based on ABAP

Only third-party add-ons based on ABAP that conform to SAP standards and conventions for packaging (i.e. SAP Add-On Assembly Kit) and deployment are eligible for certification.

In general all custom objects, database tables, and fields, and data elements must exist within a registered namespace.

Please note that even with this certification you cannot modify SAP software objects such as screens, menus, programs, or function modules or update SAP tables directly.

SAP Business Technology Platform

Build and deploy new applications through SAP Business Technology Platform, such as extended application services for SAP HANA, Java, HTML5/SAPUI5, and mobile applications. It includes extensions for cloud solutions, on-premise solutions and content packages for integration with SAP Technology Platform.

SAP HANA

This certification is designed for:

Third-party client tools for business intelligence

Back-up interface for SAP HANA and/or

Extract, transform, and load tools for data replication

SAP Business One

This integration framework covers multiple integration aspects in one product:

Message-oriented middleware

Mobile server

Lightweight Business Process Management

Enables analysis and reporting

Add-on certification and

Certification for SAP Business One Cloud

Which Certification Scenario should a software product have?
With many certification scenarios to choose from, as noted on the SAP Integration Certification Finder, this is not a quick answer. What I can share is that there is one that is critical, and that is a certification related to S/4HANA.


S/4HANA Product Certification is critical for third-party software

S/4HANA is the key for all things SAP and has been for the past several years. There has recently been a campaign and offering called RISE with SAP that explains how it is embedded into the SAP framework. As the core infrastructure of all things SAP, you need to ensure that your solution is certified for S/4HANA. There are several SAP articles and blogs on this topic; I have included relevant soundbites below (valid SAP credentials may be required ).
---
"...it's highly recommended for SAP customers, to only use certified third party software, for integrating with SAP S/4HANA. This is mostly important, if the third party software runs in SAP S/4HANA ...." SAP Certification Recommendation for Partner Solutions for SAP S/4HANA
---
"In this case, it's mandatory that the customer checks with the software vendor regarding the status of the Add-On and needed packages. Additionally, customer should check if 3rd party Add-On is certified for the target SAP S/4HANA release, as this gives confirmation, that the Add-On supports the new SAP release and the upgrade will run smoothly."
List of certified ABAP Add-Ons for SAP S/4HANA
---
How can I ensure my third party vendor has S/4HANA Certification?
The SAP Store will not include this information, and it only advises if the product is certified, or not. The SAP Store entry will link to a general statement: 'These solutions have been certified by SAP to integrate with and complement SAP offerings.'

You can, however, tell if a product holds the appropriate S/4HANA certification in one of two ways:


1. Check the product website to see if the S/4HANA Logo is there
One option is to simply visit the SAP Partners product page and make sure that the S/4HANA certified logo appears there. See a sample below for the Data Sync Manager solution.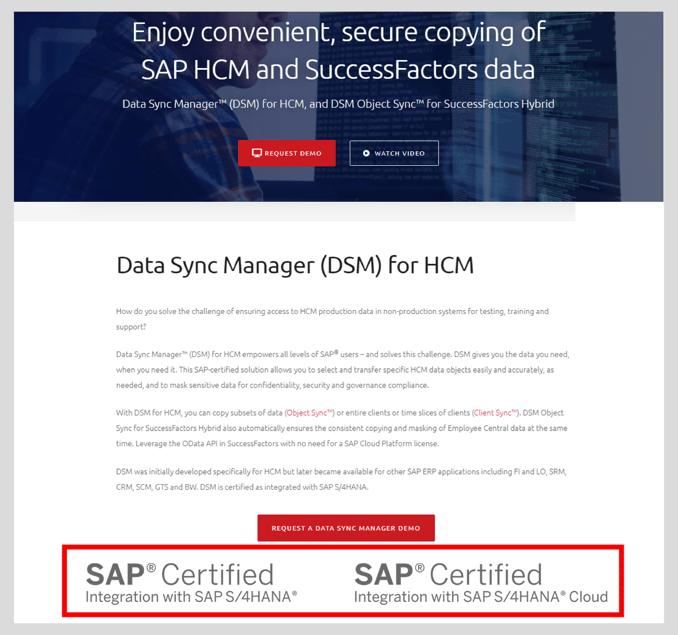 The sample picture above shows that the EPI-USE LABS Data Sync Manager solution has the appropriate integration with S/4 HANA certification (and an additional integration with S/4 HANA Cloud certification as well).


2. Check SAP's official list of certifications to see if S/4HANA Certification is noted
You can search the official SAP site. SAP maintains an official SAP Certified Solutions Directory which lists all products and their certifications types. Search for the product you are interested in to ensure that it lists the appropriate certification scenario, as shown in the picture below.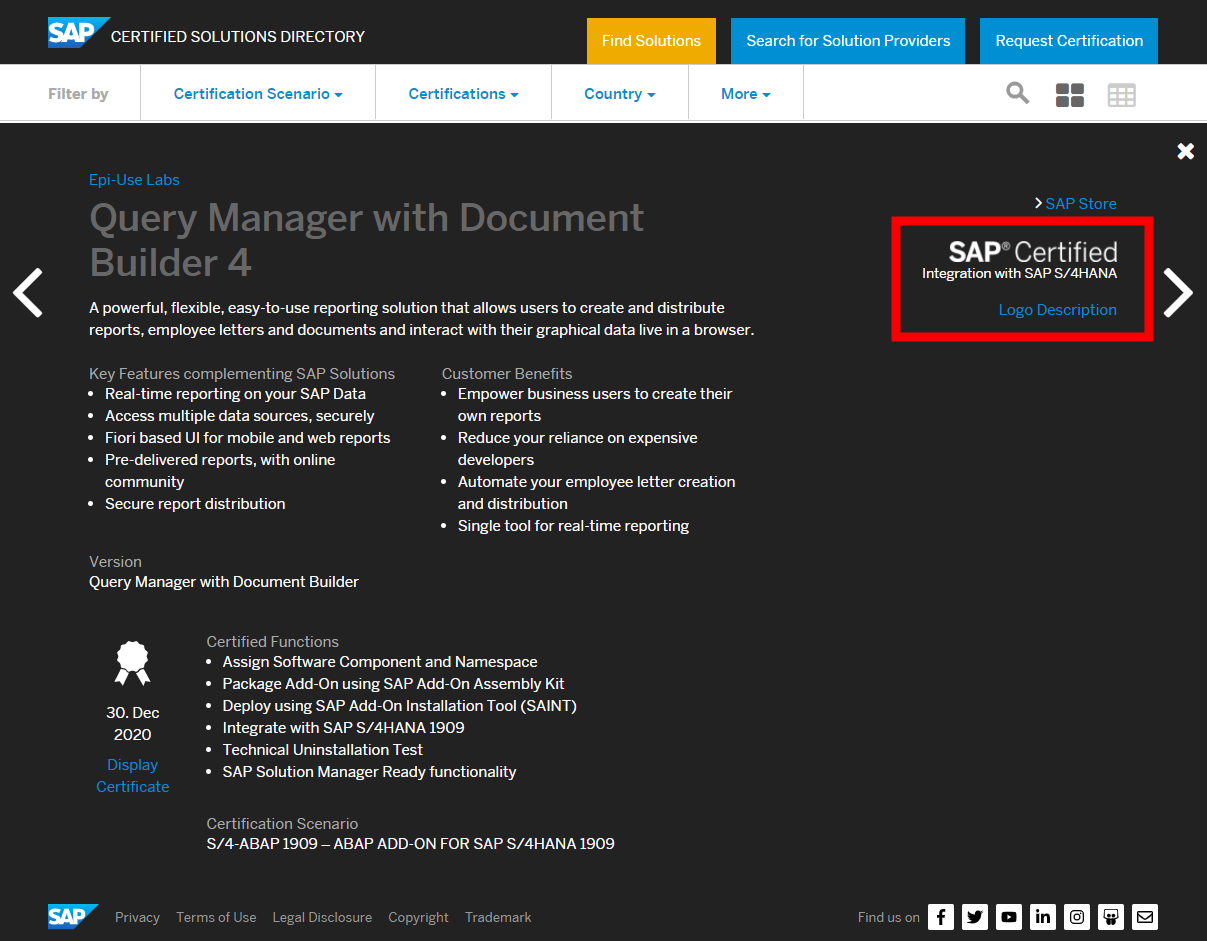 Image Source SAP ©
The sample picture above shows that the EPI-USE LABS Query Manager solution has the appropriate integration with S/4HANA certification. There are different types of certifications for solutions integrators, software providers and services providers, so you want to be sure you specify which ones are important to you when asking a partner about their own certifications.

If you work in the SAP SuccessFactors or SAP Payroll realm, please make sure that your solution is also whitelisted to be run on SuccessFactors Employee Central Payroll, see here.

PS: I am happy to share that Query Manager is the only SAP S/4HANA certified solution for real time HCM and Payroll reporting. In addition, Query Manager is also the only SAP-certified solution for real-time HCM and Payroll reporting that is also whitelisted to run on SuccessFactors Employee Central Payroll.
Thinking about staying on-premise until 2040?
As part of RISE with SAP, customers can extend their on-premise investment until calendar year-end 2040 via SAP S/4HANA Private Cloud Edition (PCE) for HCM. It is important to note that as per this SAP blog, only certain solutions, including EPI-USE Labs Data Sync Manager and Query Manager for example, are certified for use in S/4HANA Private Cloud Edition for HCM. This is simply another reason why selecting a vendor with the appropriate S/4HANA certification is critical, as it keeps your options open regardless of your path to the cloud.

If you are curious about the EPI-USE Labs' solutions please do not hesitate to reach out to me at danielle@labs.epiuse.com to learn more, or visit one of the links below: