SAP customers have plenty of educational materials to help them make the best decisions on their forward path, including those shared as part of the annual SAP SuccessFactors® SuccessConnect conference in October 2021. One of the new items is the SAP SuccessFactors TCO calculator.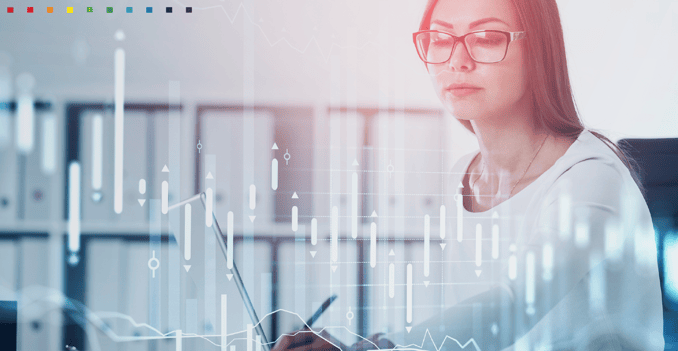 Customers are on the move, an HXM Move to be precise. There are several options open to customers for their HXM Digital Transformation, including the four options listed in the table in my recent blog, What is SAP HCM for S/4HANA On-Premise (H4S4)?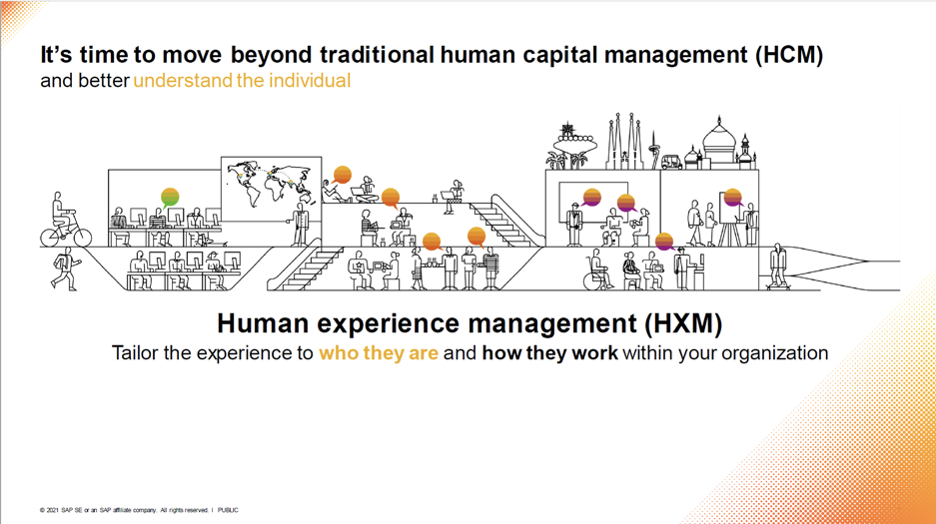 © SAP SuccessFactors 2021
Value advisory service for SAP SuccessFactors solutions
SAP customers have plenty of educational materials to assist them in making the best decisions for their organization on the forward path they should choose, including some helpful materials shared as part of the annual SAP SuccessFactors® SuccessConnect conference in October 2021. One of the new items is the total cost of ownership (TCO) calculator.
TCO calculator overview
This service can be used by customers to assist them in determining the configurable and flexible total cost of ownership (TCO). Essentially, it's a configurable and flexible TCO calculator on the SAP Value Lifecycle Manager site, to help compare different technology landscapes and deployment scenarios and their cost implications. The TCO calculator:
Allows you to compare as is costs versus to be costs based on different scenarios and customer preferences

Provides a preconfigured list of costing elements and assumptions based on the selected scenario

Provides you with the capability to edit costing elements and assumptions, and add new ones, for dynamic analysis

Provides real-time, flexible output that you can customize to the desired level of detail.
Two flexible options for the TCO calculator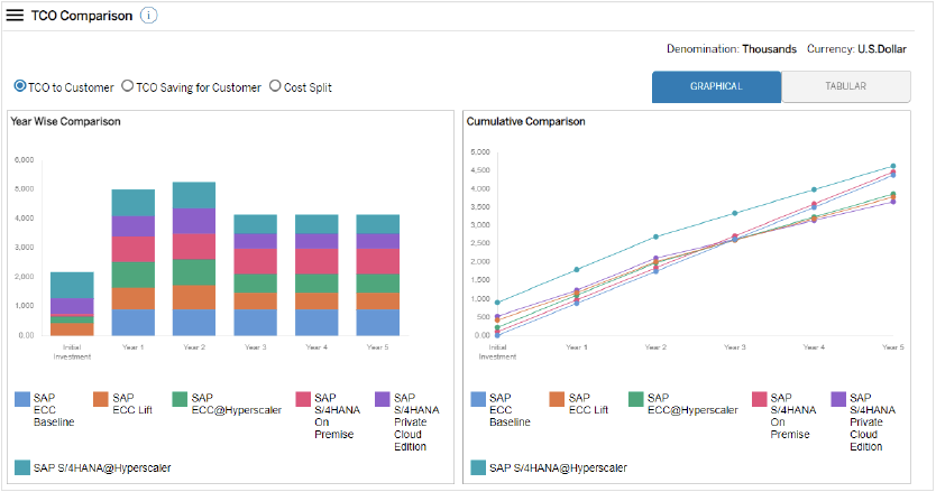 © SAP SuccessFactors 2021
1. Standalone TCO calculator
This can be used to compare an 'as is' versus 'to be'. It can be leveraged to compare and discuss different deployment scenarios and their total cost of ownership implications.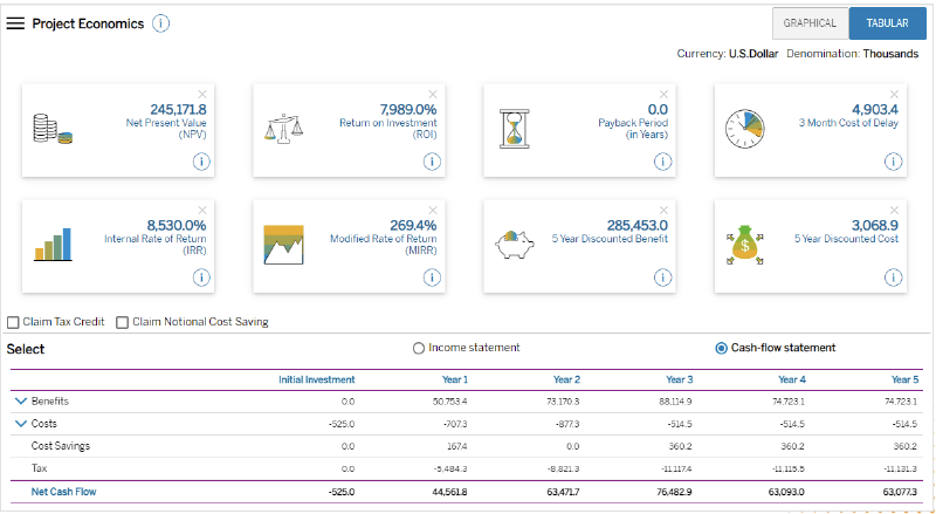 © SAP SuccessFactors 2021
2. TCO analysis within business case
This can be used to integrate TCO within a business case scenario and Return on Investment (ROI) calculation. This way allows you to create a TCO analysis within a business case without comparing 'as is' costs.
As part of the SAP Human Experience Management Movement program, SAP SuccessFactors continues to offer education and materials to its existing SAP HCM customers to expedite and simplify their migration to SAP SuccessFactors HXM in the cloud. The TCO calculator is one of the specialized tools, assets, and services that can be leveraged to make that journey easier. To learn more about how you can leverage this to assist you in your digital transformation, start at the SAP Human Experience Management Movement website.
Analyzing the complexity of your current SAP system
Deciding on your migration strategy from your SAP on-premise HCM or HCM/Payroll solution to SuccessFactors can be complicated. There is a lot happening in the marketplace, and you want to make sure you make the right decisions and start your migration at the right time, and at the right pace.
There is no one-size-fits-all strategy for every customer, and there are items that will influence which direction you should go, and how quickly or slowly you should do so. A lot of this is going to depend on the complexity of your specific SAP HCM or Payroll system. For example, you may have heard in the past that if you have complex Time and Benefits configuration, the SAP HCM for SAP S/4HANA On-Premise Edition might be a good fit for you. Alternatively, if you're looking for an affordable SaaS model, SAP SuccessFactors Employee Central Payroll might be a great fit.
Understand your migration path: PRISM free assessment tool
EPI-USE Labs offers a free assessment tool that will give you information about your SAP system to help you understand what your migration path might look like. This free assessment is simply a download which includes an SAP transport that will run on your SAP environment.
What data is collected?
The PRISM assessment collects key structural data from your system, including:

number of countries configured for Payroll

how many custom tables are in use

which Wage Types are configured, versus which are in use

custom programs

custom infotypes

...and so much more.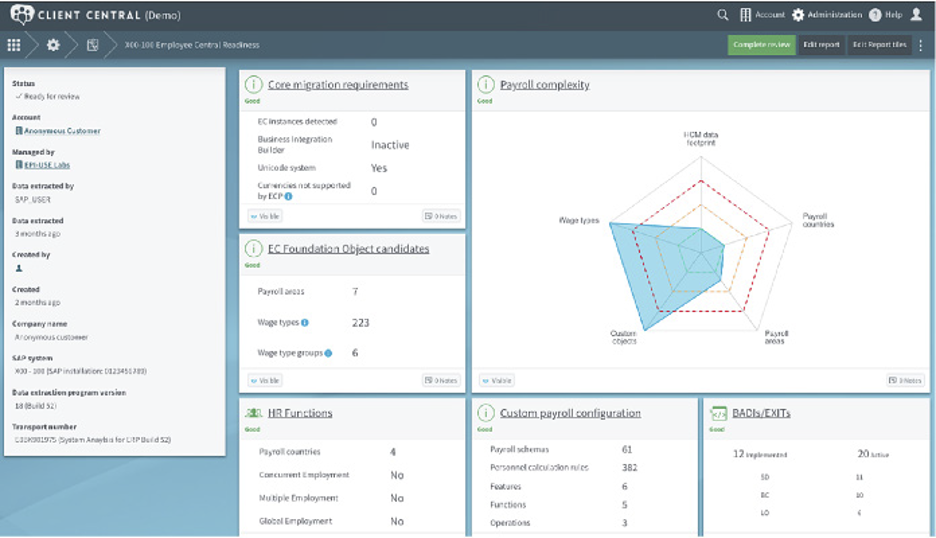 How the PRISM assessment helps decision-making
The transport applied does all of this without exposing any of your employee or confidential system data, to help you stay compliant with data privacy regulations like GDPR. The data that is returned back from the assessment is made into an interactive web dashboard, like the sample shown above. We review this with you to determine your system's complexity, and give you strategic suggestions on your best path forward.
Key benefits of doing an assessment
Delivers early insights on transformation and migration projects

Identifies critical configuration and risk areas

Accelerates project blueprint and scoping activities

Engages stakeholders with business-relevant data
Having a definitive analysis of your system's complexity is the first step in determining your next step in your SAP SuccessFactors migration.