For those SAP customers who have made the decision to move from on-premise SAP HR to SuccessFactors Employee Central, there are at least seven key things that are of the utmost importance.
These are the key items that require attention to ensure a successful migration and they range from validating the data, actually moving the data, and ensuring the data is in sync and is accurate, to – most importantly – a regularly scheduled process in place to maintain that homeostasis once the move is complete.
Based on our experience of assisting clients in several implementations, it is these seven items that continue to require attention. Below, I include actionable advice on how best to address these challenges.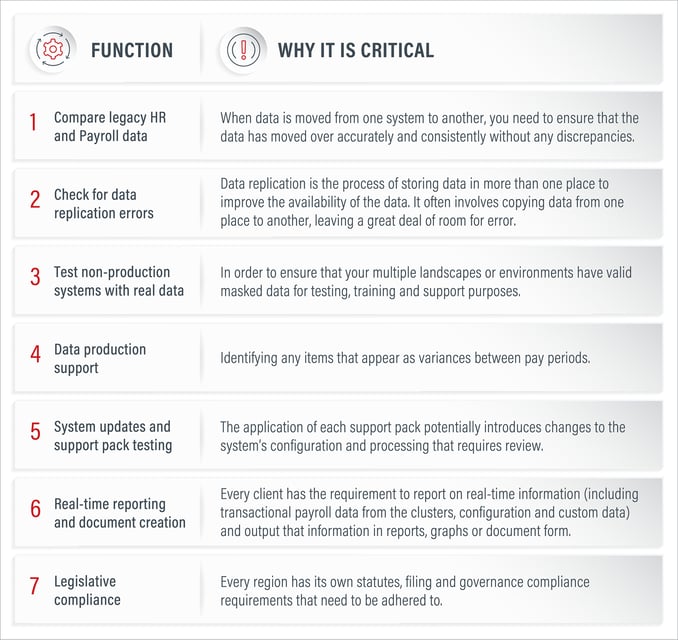 Actionable advice for managing the seven functions
Below, I include actionable advice on how best to address each of these challenges specifically.
We have the solution
EPI-USE Labs is the leader in providing software to complement your SAP or SuccessFactors systems where functionality is needed. Many of our SAP-certified solutions are used at thousands of client sites around the world every day. As many of you face the same repeatable challenges, we decided to make it easier for you to leverage these solutions with a simple HCM Productivity Suite license that includes the robust functionality available within each of the core solutions.
The solution is the HCM Productivity Suite
We packaged our solutions into our HCM Productivity Suite and, as you can see from the table below, it includes functionality to manage each of the seven critical areas.
The HCM Productivity Suite combines these three solutions – Query Manager with Document Builder, Variance Monitor and Data Sync Manager for HCM – into a single, powerful suite of software. It is designed specifically to help you through your business journey, including implementation and beyond, to maintain a consistently functioning ecosystem for SAP HCM on-premise or Hybrid SAP SuccessFactors.

These same tools can be used for multiple types of business changes
The same functions, detailed in the table above, can also be leveraged by anyone wishing to undergo either a business change, including decoupling HR from ECC or performing mergers, acquisitions or carve-outs, or a technology change, including upgrading to S/4HANA or migrating from on-premise SAP Payroll to SuccessFactors Employee Central Payroll.
Once you go live, you will still have to manage these seven critical functions
These key functions are critical, not only in ensuring a successful journey from on-premise HR to SuccessFactors Employee Central but in maintaining those environments once you go live.

It's not a one-time exercise. Sure, people may consider an Employee Central migration process complete after the data is successfully moved into SuccessFactors Employee Central. However, depending on their landscape, there may be continuous data replication processes that must continue to occur after go live. For example, if a client moves to SuccessFactors Employee Central but continues to use SAP Payroll or SuccessFactors Employee Central Payroll, they will continuously require data replication and monitoring of those same seven processes.

In addition, employers often undergo continuous business change, reorganizations, mergers and acquisitions, as well as having to adapt to technology changes. The agility to adapt accordingly with the integrated solutions to assist you are critical. To ensure a successful business journey, today, tomorrow, and beyond, you can count on the HCM Productivity Suite to adapt and innovate with you along the way.
Download my handout or watch my Q&A video on SAPinsider.