SAP extends its innovation commitment for SAP S/4HANA, provides clarity and choice on SAP Business Suite 7
On February 4th, SAP announced a maintenance commitment for SAP S/4HANA until the end of 2040. At the same time, SAP promised to provide mainstream maintenance for core applications of SAP Business Suite 7 software* until the end of 2027, followed by optional extended maintenance until the end of 2030.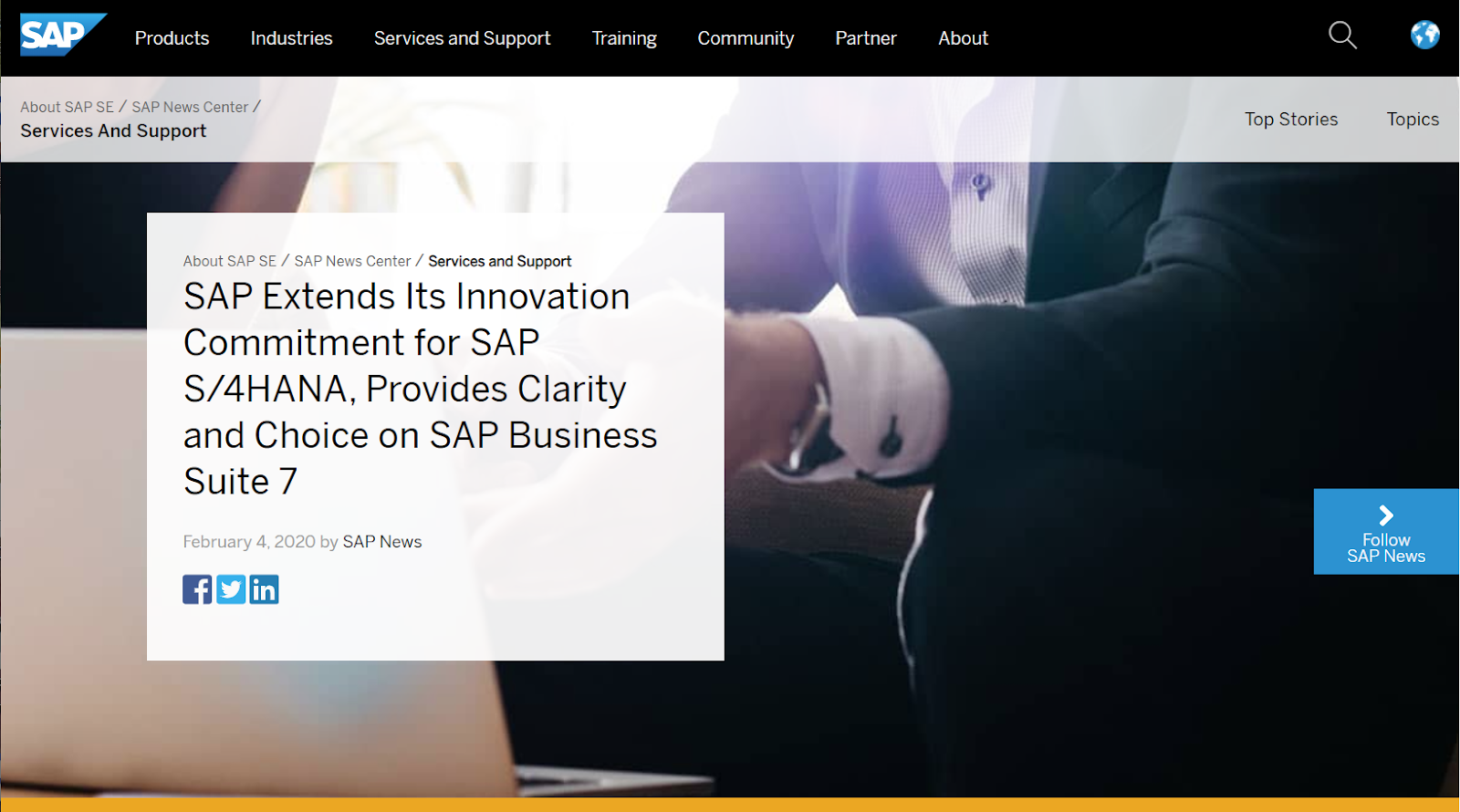 © SAP 2020
Those of you who have been keeping an eye on this space know that the migration to HANA or S/4HANA has been slower than SAP anticipated. Find out more in this ebook: The Ultimate Guide: What every SAP HCM customer must know.
Most general SAP events over the past couple of years have started by asking for a show of hands from customers indicating where they are in their S/4HANA journey.

SAP reports that approximately 13,800 customers have already chosen S/4HANA, with chosen being the key word, while there are a couple of thousand who are actually live or in the midst of an active deployment. DSAG reports that almost half of the attending customers indicated that they plan to migrate to SAP S/4HANA within the next three years. ASUG launched a poll called 'the Pulse of the SAP Customer 2020' that asked 625 US customers where they were at, and almost 60% said they were considering it as well.

*Core applications of SAP Business Suite 7 software include SAP ERP 6.0, SAP Customer Relationship Management 7.0, SAP Supply Chain Management 7.0, and SAP Supplier Relationship Management 7.0 applications and SAP Business Suite powered by SAP HANA.
So, what does this mean for Human Capital Management?
SAP's Ralf Wagner followed up with a detailed blog entitled SAP Business Suite 7 Extension: What This Means for SAP ERP Human Capital Management Customers on February 17th. This blog included an updated diagram that shows how long customers can stay on-premise, and it has been updated until 2040 as shown below. The SAP ERP HCM & Payroll are part of the SAP Business Suite 7, so the extension of mainstream maintenance as announced in the press release applies to HCM.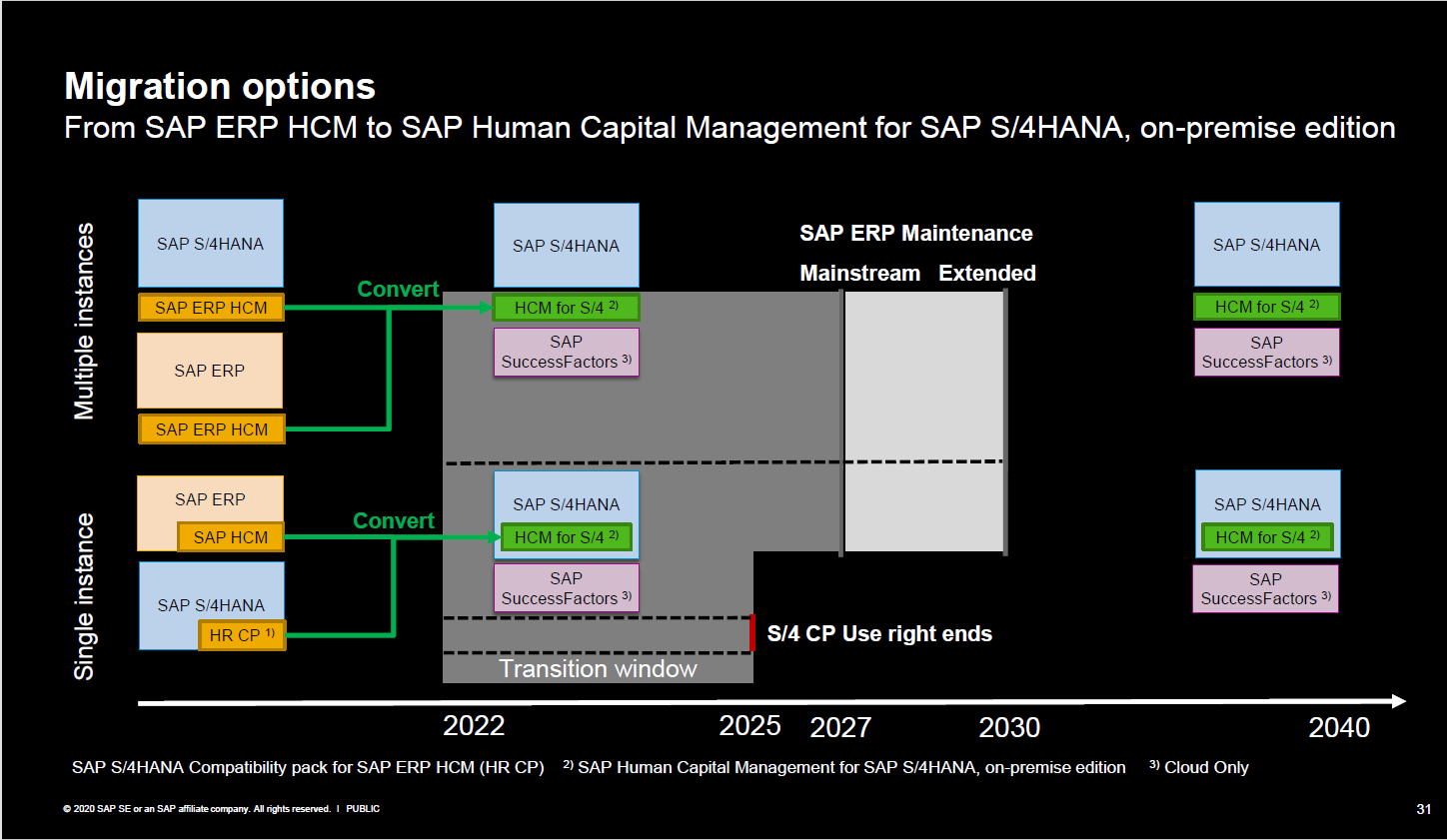 © SAP 2020
What's interesting is for those customers wanting to keep their current solution beyond 2030, they have the choice of migrating from SAP Business Suite 7 to SAP Human Capital Management for SAP S/4HANA, on-premise edition when it becomes available in Q3 2022.
My impression is that even though SAP advertises their SAP Human Capital Management for SAP S/4HANA, on-premise edition as a bridge solution to give customers additional time to fully move to SAP SuccessFactors, I speculate that they will continue to protect customer investments well beyond the continually changing dates.

It's my impression that many companies focus on HCM and Payroll last. So their HANA focus or cloud focus has been on areas of the business like Finance and Logistics, and for those customers currently using SAP On-Premise Payroll as is, they are taking a "if it ain't broke don't fix it" mindset, and will revisit their strategy once the rest of the business plans in the organization are complete.
SAP is listening to their customers
I am pleased that SAP SuccessFactors has continued to adapt with customers' needs. I also like the fact that their messaging around HCM often starts with a commitment to honor On-Premise investments. The slide shown below is often the first for each HCM-related update, which is used to remind customers that SAP has two investment directions, and that they give both appropriate attention and support.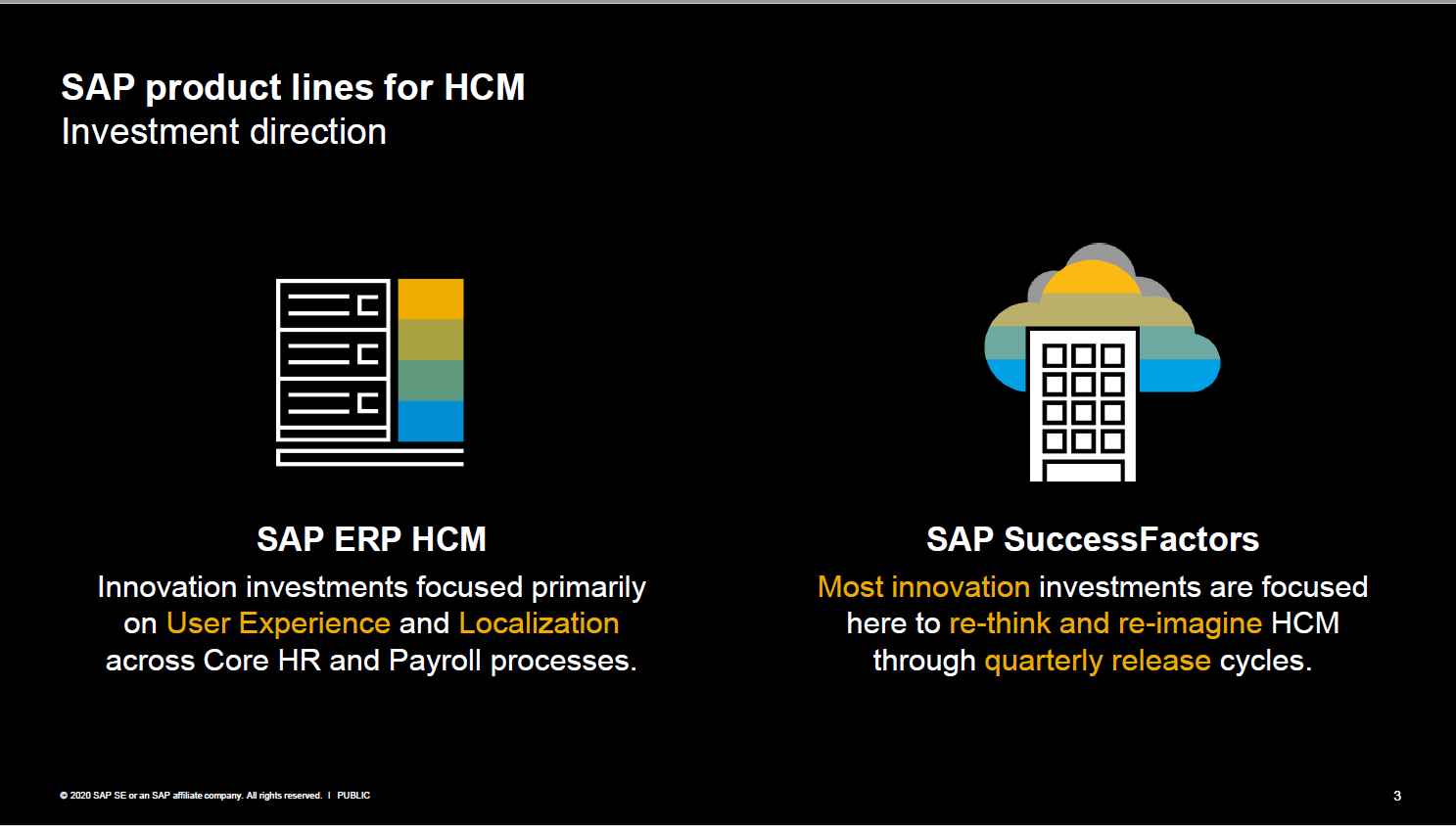 © SAP 2020

The acknowledgment that SAP may be a "cloud first", but not a "cloud only" company, is what I believe the existing On-Premise HCM customers really needed to hear. I also like the fact that in their summary, SAP included the following:
They encourage all their 15,000 ERP HCM customers to move to SAP SuccessFactors to accelerate their digital HR transformations

They also recognize that a subset of their SAP ERP HCM customers will want to run their On-Premise environment for the foreseeable future

Customers' investments will be protected.
Choosing your path to SuccessFactors? Try this free assessment