Name of event: ASUG Higher Education SIG Meeting
Date: November 7-8
Venue: Baylor College of Medicine Medical Center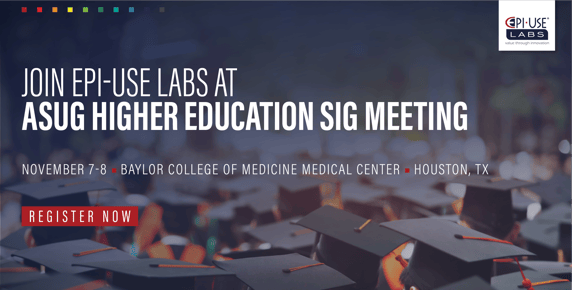 The ASUG Higher Education SIG meeting takes place on November 7-8 in Houston, Texas. EPI-USE Labs is an official sponsor at this year's event. Our team will be there to share best practices, tips and advice on how to optimize your SAP landscape.
Don't miss our session on November 7 at 1:45 PM, 'A practical guide to understanding S/4 HANA and S/4 Migrations. How Purdue University transformed their processes to drive next generation growth.
In this presentation Jennifer Spaulding from EPI-USE Labs will discuss the changes in the data model going from traditional SAP to S/4, and how to appropriately plan for and execute a successful migration. Implementing HANA for S/4, or as a BW sidecar, is a much more invasive and time consuming project than just standing up a new appliance. Achieving the modernization benefits of HANA quickly, while eliminating the outdated laborious testing methods that cause project delays is increasingly becoming an important part of any modernization effort.The presentation will also cover some of what to expect before, during and post go live technically and also from a business perspective, detailing the project work done at Purdue University during their Successful S/4 project working with the teams at EPI-USE and EPI-USE Labs.

View the full agenda here.
Stop by and see us, and meet with an expert to discuss your needs.
LEARN. GAIN INSIGHT. NETWORK.
We look forward to seeing you in Houston!