Name of event: ASUG Seattle Chapter Meeting
Date: February 20, 2020
Venue: Impact Hub Seattle | Seattle | WA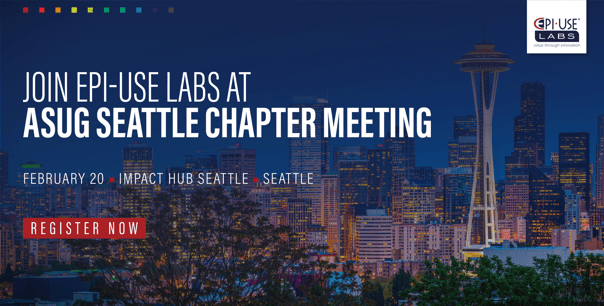 The ASUG Seattle Chapter meeting takes place on February 20th in Seattle, Washington. EPI-USE Labs is an official sponsor at this year's event. Our team will be there to share best practice, tips and advice on how to optimize your SAP landscape.
When it comes to integrating SAP Payroll with SuccessFactors Employee Central, there are many considerations to take into account. Deciding on the optimal path to SuccessFactors can be complex, but there is a solution that will take out the risk and accelerate your journey to ECP.
Join us to learn about EPI-USE Labs' PRISM Migration Services which will help you move your on-premise SAP Payroll to SuccessFactors' Employee Central Payroll (ECP) quickly and easily, without requiring a full re-implementation.
Don't miss our session on February 20th at 11:00 AM, 'How to Optimize & Accelerate Your Migration to SAP SuccessFactors Employee Central & Cloud Payroll".
In this presentation, you'll learn how PRISM Migration Services can help you to:
Reduce your risk when moving to the new ECP payroll engine

Remove the need for payroll re-implementation

Transform HCM data for ECP migration




Intelligently slice your payroll data

Automate reconciliations

Build a hybrid reporting solution – post go-live
Stop by and see us, and meet with an expert to discuss your needs.
LEARN. GAIN INSIGHT. NETWORK.
We look forward to seeing you!