Join us at the SAP for Utilities event in San Diego on September 18th-20th, North America's Leading Event for Utilities Organizations Using SAP.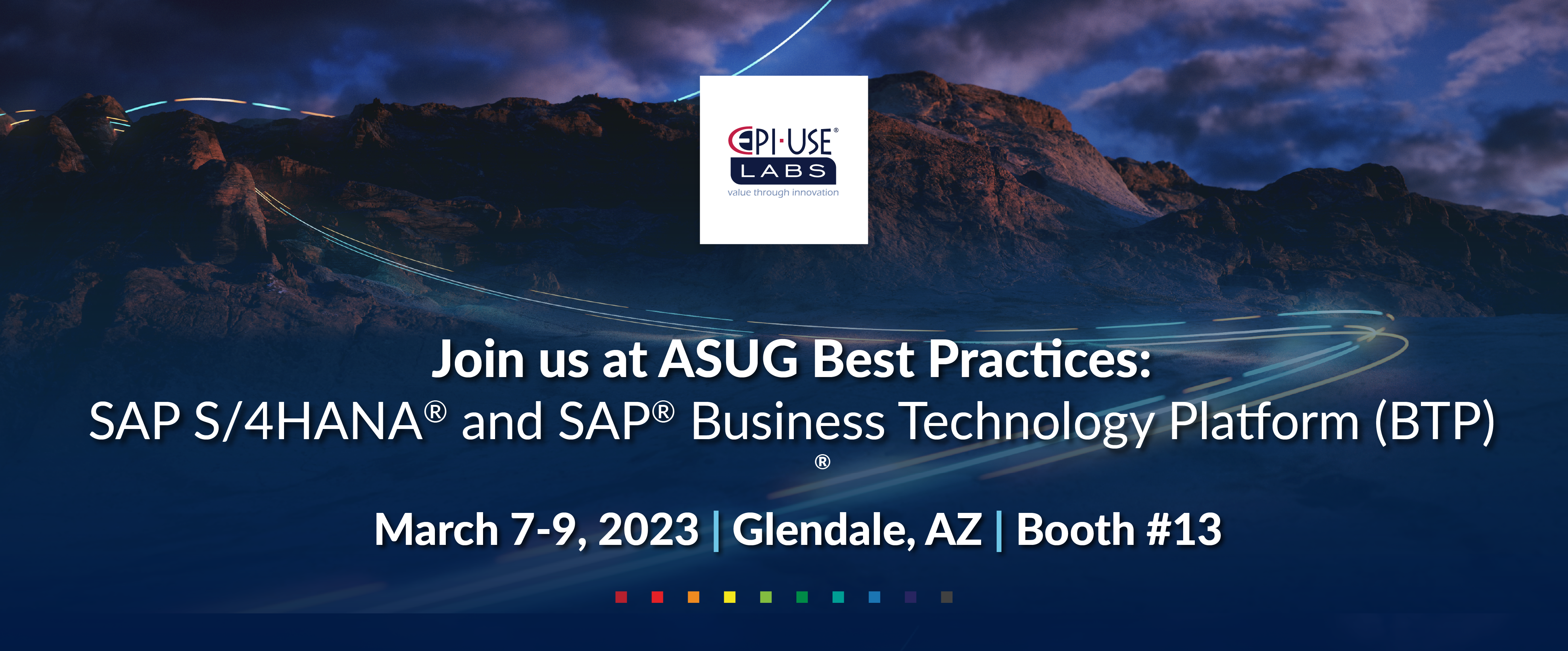 EPI-USE Labs is pleased to be a Silver Sponsor at the ASUG Best Practices: SAP S/4HANA® and Business Technology Platform (BTP) Conference
Join us in sunny Arizona from March 7-9th, and connect with others in the SAP ecosystem. Come and see us at Booth #13; our team will be there to discuss all your business challenges and upcoming projects.
Here are the hot topics for this year's event:
Configure SAP BTP to achieve business goals.

Establish SAP S/4HANA® Cloud business case: We can help you simplify, streamline, and secure your SAP S/4HANA landscape. Receive a free S/4HANA Readiness Assessment!

Understand the future of work – upskilling and reskilling for the workforce of tomorrow.

Promote efficient intelligent automation with RISE with SAP® - we can help you with implementation strategies for RISE and what benefits it can bring to your business. EPI-USE Labs offers a unique assessment service providing recommended actions before embarking on RISE with SAP.

How and why to integrate SAP BTP with SAP S/4HANA Cloud.
How can we help companies running SAP S/4HANA and BTP? Stop by booth 13 to learn about:
Cutting your upgrade and SAP S/4HANA costs dramatically: Our team will be available to chat with you about your unique technology challenges and to share best practices, tips, and advice on how to optimize your SAP test data management before, during, and after the move to S/4HANA

We can help you

simplify, streamline, and secure your SAP S/4HANA landscape

. Receive a free S/4HANA Readiness Assessment.

Best practices for designing and running lean, secure S/4HANA systems that ensure your business can maximize future upgrades.

How to speed up your testing processes by up to 90% using Data Sync Manager:

Get fresh, accurate data in your non-production systems

Refresh entire clients quickly and reduces post-processing effort (BDLS)

Get data on demand – when you need it, where you need it

Protect sensitive data
Stop by booth 13 to win a Nintendo Switch!

Follow @EPIUSELabs on Twitter for event updates and all the latest #ASUG news!
We can't wait to see you in Arizona!