EPI-USE Labs is delighted to be a sponsor at this year's Mastering SAP Conference for the African region, to be held virtually from Monday 12 to Thursday 14 October. Mastering SAP combines three independent conferences: HR & Payroll, Finance, and Technologies, each with their own key topics, schedule, and speakers.
Our focus for this year's event is key solutions that will help organisations in their SAP SuccessFactors journey.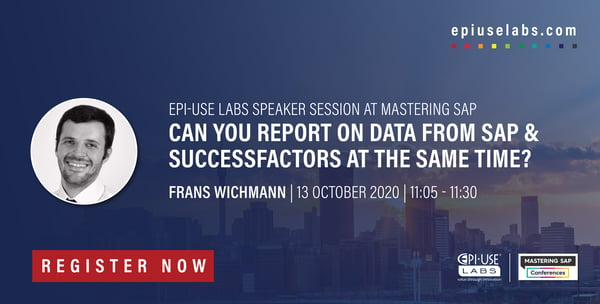 Frans Wichmann, software engineer at EPI-USE Labs will present on 13 October from 11:05 to 11:30, on the topic: Can you report on data from SAP and SuccessFactors at the same time?
Of course you can! EPI-USE Labs will demonstrate how to draw on SAP and SuccessFactors data in the same report, using Query Manager™. These days, many companies are running a hybrid HCM landscape, with some data in SuccessFactors and the rest (often including payroll) still on-premise. This session will show you how to reduce complexity with HCM reporting, and how to provide professional business reports.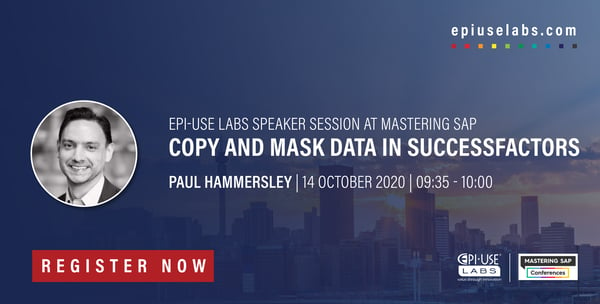 Paul Hammersley (VP ALM Product Portfolio) will present on 14 October from 9:35 to 10:00, on the topic: Copy and mask data in SuccessFactors
Paul's session will focus on how you can get consistent data in your SuccessFactors test systems. In addition to this, many organisations are worried about sensitive personal data and complying with the POPI Act. Join this session to see how you can copy and/or mask your data using Data Sync Manager™ specifically for SAP SuccessFactors.
Apart from these two sessions which we hope you'll find interesting, we will also be available throughout the conference at the EPI-USE Labs virtual booth under the expo section of the conference app. Please pop in to say 'hello' and to talk to one of our experts about your needs.
Visit our booth or speakers session to stand a chance to be eligible for product discounts on the SAP SuccessFactors integration reporting solution.
Meet the team:
Cyndi Johnson
Marketing
Hilton Anspach
Regional manager
Sanele Malwane
Account executive

Anton Groenewald

Account executive