Query Manager now has a Runtime-Only License
In the SAP HCM space, EPI-USE Labs is most popularly known for it world-class SAP-certified reporting solution, Query Manager with Document Builder. Query Manager, which is also certified to run on SuccessFactors Employee Central Payroll, is the leading third-party solution for SAP HCM and Payroll reporting, with thousands of users around the world using it every day to satisfy their reporting requirements.
We have found that the majority of our clients love the ability to create their own reports, whether they be simple Personnel Management lists of terminated employees, or complex retro pay calculations leveraging User Exit Code.

We also know that some clients prefer to have their reports built for them. These clients are happy to point out what their business goals are (such as: we need to be able to identify high performers) and which business decisions they want to make from the data retrieved (such as: we need to make sure that they are on a training plan and that they have successors identified for their roles). These clients take advantage of our expertise in data science and analytics so we can propose reports that can be used to best evaluate their business requirements, and provide them with actionable insights that they can use to drive their business. Other clients simply provide a detailed list of the types of specific data they wish to see in a report, and ask us to build it for them.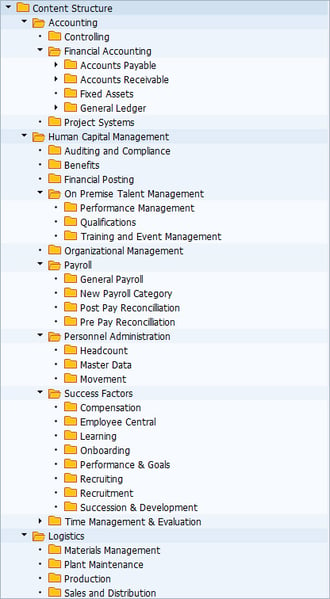 Both of these scenarios can be achieved by our clients without them having to buy a full-blown Query Manager license. Instead, they can simply purchase a Query Manager Runtime License which includes a customized package of hours to develop the reports required. The Runtime license can be installed via a transport. Users that are given access will see a screen similar to the one shown on the right, which depicts a directory that looks similar to SAP Easy Menu. It is designed as a Human Capital Management report directory structure with sub-nodes for each of the application areas included within the Query Manager solution. They can also modify their own nodes (with the appropriate authorizations).
From here, users can execute any of the reports that they have access to. Every field in each report will validate against their existing SAP security authorizations. Customers can create, save and delete their own variants for the reports. They can also maintain their own menu structure for reports developed for them by our excellent Services teams.

If you are curious to learn more about our Query Manager Runtime Only license, please feel free to reach out to us.