There is a lot of information published about the mass digitalization of HR and the latest HR trends. However, there is not much information about how HR service delivery can be enhanced through better processes to make changes to mass employee data.
The task of updating data such as Job Information and Position or Organizational Data can be a regular occurrence. This could be because of the intake of interns, seasonal staff, mergers, acquisitions and organizational restructuring that the company might have. The challenge is that SuccessFactors requires users to make these changes through manual changes in the system or a set of standard SuccessFactors tools.
Standard SAP SuccessFactors mass data tools
As part of the standard SuccessFactors suite, there are a few tools available that can be used to perform mass changes on data within SuccessFactors. This data includes Employee and Employment-related data, as well as meta data framework-based data such as Organizational Structure Data and custom customer specific objects.
The tools below are available as standard within SuccessFactors: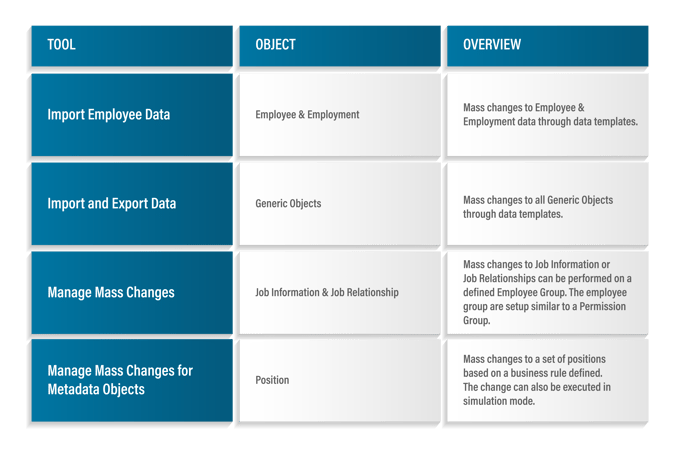 Each standard tool has its own purpose within the SuccessFactors suite, either to perform mass data loads, or mass changes on a set of data; however, each of them has benefits and shortcomings, as outlined below:
The challenge: Manual data changes are slow and risky
Most of these tools are time-consuming, so Managers and HR Administrators have to spend more time on capturing or updating data, and less time on their day-to-day activities. These tools are also complex, and not always user friendly to use.
SuccessFactors currently does not offer any controlled mass editing functionality, thus the standard tools do not take standard Role-Based Permissions into account, which could result in a user updating data outside of their target population. SuccessFactors also does not accommodate the trigger of pre-configured workflows to managers or HR administrators.
Audit information on mass imports and changes is also currently limited through the standard SuccessFactors Tools. HR Administrators require a single workbench that allows them to proactively react to business changes. The changes should be auditable, subject to approvals and controlled through the areas of responsibility and role-based permissions.
The solution: Automating mass data changes from a single view
Most users wish that they had a simplified way to edit data in bulk through a single dashboard. That's where Mass Data Workbench by EPI-USE Labs comes in, offered as SaaS (Software as a Service).
Mass Data Workbench is a secure extension that allows users to perform mass data changes through a modern interface. The tool respects role-based permissions and associations while using your standard configured workflows linked to your business rules to ensure the appropriate approvals are made for all mass changes. All data remains within SuccessFactors; no data will be stored outside of SuccessFactors.
Once the mass changes have been made on the dashboard, users will also have the ability to view a consolidated view of the changes applied and workflows to be approved, accompanied by an audit trail.
This means faster updates to mass data changes, which leads to quicker turnaround time of previously time-consuming activities. It also ensures more improved data integrity and consistency through the mass capturing and saving of data through the Mass Data Workbench.
Mass Data Workbench is generally recommended to companies with any of the following criteria: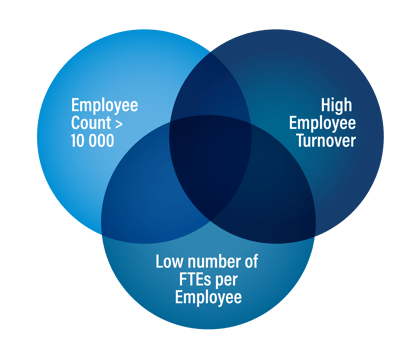 Mass Data Workbench is a comprehensive solution which overcomes many of the challenges presented by the standard SAP SuccessFactors mass data tools.